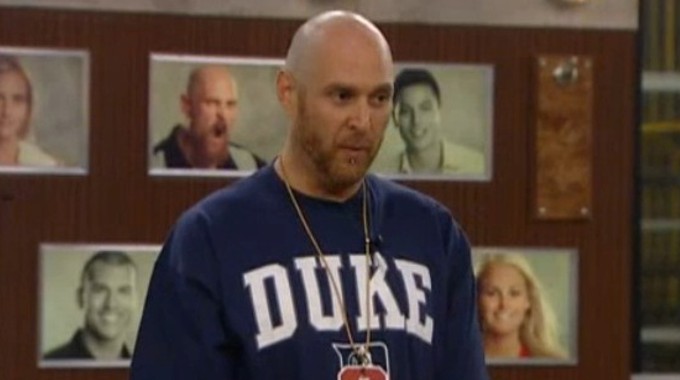 Last week we had the most intense night we've ever seen in the Big Brother 22 house. Unfortunately – it was not enough to completely save this season, but at least we had some desperately desired drama – and now are into the home stretch of the All-Star season. The Committee is officially dismantled – and it's every person for themselves (or for Cody as you will read).
This week, the Big Brother voters have been going back and forth debating who should be sent packing and while it seems like a lock they will vote out Tyler, Christmas still has a few hours to get on their nerves before the vote. BUT FIRST – let's take a look at how everyone did this week.
Cody Calafiore – 5 strips of Bacon – HoH & Veto for the 2nd time in 2 calendar weeks has really made this "Cody's game to lose." Having a mentor like Derrick has really helped Cody this time around, as he's thinking steps ahead and not just at the task at hand. He has protected himself with 2 soldiers while still not completely alienating himself to the other 3 people in the house despite having to nominate 2 of them. Regardless of who goes home tonight, Cody is in a decent spot – but his vulnerability lies in the hands of his soldiers winning HoH tonight to keep him safe.
Memphis Garrett – 3 strips of Bacon – bravo Memphis for finally getting David out during the Triple Eviction – although there was almost a flip that would have gotten Nicole out – but like everything else this season, someone (read as Enzo) took the easy way out. However – this worked to Memphis' advantage and his formation of 2 Wise Guy alliances seems to be a genius move at this point. Other than Tyler & Nicole – he has deals with the other 3. With Tyler seemingly leaving, it looks like if Memphis or Christmas do not win HoH – Memphis will find himself on the block (for the first time this season). As long as he's on the block next to Christmas, he should survive to the final 4.
Enzo Palumbo & Nicole Franzel – 1 strip of Bacon to share (although – they will probably give it to Cody) – OK… I have referenced it a couple of times now – Enzo & Nicole are both so far up Cody's…. they can tell what he had for breakfast, lunch, and dinner for the past 8 weeks. They are both playing the game to appease Cody – and not making their own moves. This will not be seen as genius gameplay by the jury – so they need to realize if they want to win $500K – they need to get rid of him. Although it looks like both of them will gladly lose to him. This speaks volumes for how great Cody is playing. The CBS only viewers may disagree with my assessment as they are both getting great edits – but neither are the masterminds they think they are. There is still a glimmer of hope for both – but don't count on it.
Christmas Abbott – 2 strips of Tofu – I think Christmas is finally realizing that her HGs are getting annoyed by her. Every conversation she has with them always revolves around her – and that is NOT the way to play a social game. Ask people about their lives – don't tell people about yours. She's just so lucky that she's sitting next to Tyler – if it was ANYONE else – she'd be a goner for sure. Last week I was starting to respect her game, but this week – she has gone back to being the cuckoo bird we have had to put up with for almost 2 full seasons. At the same time – I would love to see her win this HoH – as that will get us some drama as she'd be going after the Cody/Nicole/Enzo trio.
That only leaves 1 person to be the Tofurkey of the Week – and that title goes to Tyler Crispen. For the first time all season – Tyler is getting Tofu as his magic spell over his HGs finally wore off. (According to Nicole Anthony it is his scent that made people feel at ease with him). For the first time in his BB career – he found himself in real trouble – so it's not surprising he did not know how to talk his way out of it. But that's ok – he's a comp beast and should have had no problem winning the Veto to keep himself safe. Wait – he timed out??? What the??? I personally think once he realized he was going a little long, he probably sat out and waited for the timer to get to 25 minutes to make himself look like less of a threat. The whole telling of Enzo about the Committee and lying to him about what Cody's real plan would have been was so bad. Bottom line – he mistimed his shot at Nicole during the 2nd of 3 evictions on Thursday – and never pulled himself out of that ditch. Had he not tried that – he may still have been nominated by Cody this week – but would have been the pawn vs. Christmas. For the conspiracy theorists out there – are you wondering if Allison Grodner is trying to figure out a way to save her son this week?
OK – there ya have it – another week in the books – and one week closer to this season being OVER! I think for the first time ever – most of us are looking forward to this season ending instead of getting sad. It's OK – we have other things to look forward to like… like… ANYTHING!
My question of the week is this – besides Cody – who do you think has the ability to win it all and why?
Let me know what you think of my rankings and answer the Question of the Week in the comments section below.
Catch me here every week during the BB season for my rankings. If you want more of my thoughts during the season. follow me on Twitter @HeavyMetalTeddy – and listen to my Podcast – @BigBrothersPod.
From outside the Big Brother House – I am Adam Poch – reminding you to Be kind to mankind!!!