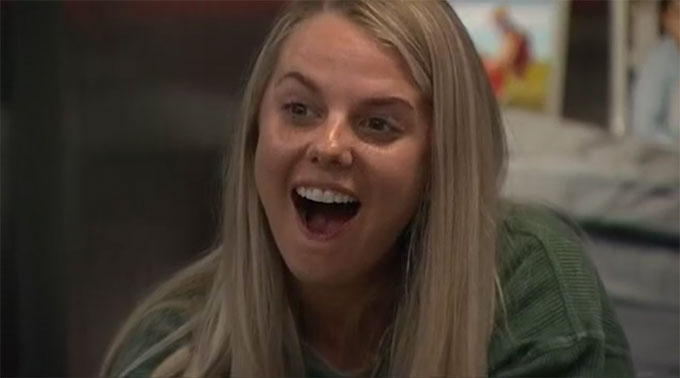 Believe it or not, Wednesday night was one of the more active Big Brother 22 Eviction Eves as Enzo tried to talk Cody into flipping the vote and sending Christmas out. Cody was open to the idea, but Nicole kept reeling them back in. That discussion went on for quite some time, but it seems like Nicole is set on her target. Could the guys go against her wishes though? Read on to get all of the details.
If you've got the Live Feeds (Free Trial) then you can watch all of these moments with the Flashback feature to go back and watch those important conversations or funny scenes you may have missed.
Big Brother 22 Live Feed Highlights – Wednesday, October 14, 2020:
4:08 PM BBT – Memphis asks Christmas if he leaves is there anything she'd want him to tell the jury about her game. He says he could help her win if she tells him what to tell the jury for her. He talks about how the jury doesn't really have enough time to decide how to vote based on the few questions they get to ask on finale night.

5:45 PM BBT – Everyone is quiet, just laying around and kind of napping.

6:30 PM BBT – The house is still pretty quiet.

7:35 PM BBT – Enzo tells Nicole that Memphis keeps thinking he's safe and he kind of feels bad about it. Enzo says maybe they will tell Memphis 10 minutes before eviction. Nicole says that's OK with her if they want to tell him.

7:37 PM BBT – Nicole says that Christmas still hasn't talked to Cody about the vote. Enzo says he told Christmas she has to talk to Cody because otherwise she looks too comfortable. Enzo and Nicole both say they don't care which one goes now.

7:39 PM BBT – Enzo, talking to himself, says he wants Christmas to go.

8:41 PM BBT – Enzo tells Cody that he feels bad that Memphis thinks he's staying so they have to tell him.

8:42 PM BBT – Enzo says he doesn't think he told Christmas that Cody wanted to keep her. Cody says he thinks Enzo definitely told her that. Cody says Christmas still hasn't talked to him about the vote. Enzo says he wants to get rid of Christmas, but "you guys want to get rid of Memphis." Cody says he will get rid of Christmas, and tells her to talk to Nicole. Enzo says Christmas is all over the place and she just needs to go.

8:43 PM BBT – Enzo says Christmas said her slate with Nicole is clean so that means she can team up with Nicole. Enzo says if Memphis stays then Nicole will definitely go after Memphis next. Cody says Nicole will go after Christmas if Memphis goes this week. He says he believes that 100 percent.

8:44 PM BBT – Enzo tells Cody he doesn't think Nicole takes Cody to Final 2. He says maybe she will take Christmas. Enzo says with Memphis staying this week, Cody could be safer next week than he would be if Christmas stays. Enzo thinks Memphis would cut Nicole over Cody, but Christmas wouldn't.

8:46 PM BBT – Cody says Memphis let it slip earlier that he won his Final 4 veto so he needs to go (anyone who watched BB10 knows that's no secret).

8:47 PM BBT – Enzo says he knows Christmas cuts Cody over Nicole for sure. Enzo thinks Memphis rides the three guys into the Final 3. Cody thinks Memphis cuts Cody at Final 4. Enzo says there's just more of a possibility of Cody staying if Memphis is the voter, but Christmas will definitely not keep Cody. They keep going back and forth on this and aren't agreeing.

8:48 PM BBT – Enzo and Cody agree that they want Christmas out more than Memphis. But Cody says strategically Memphis going is better. Enzo says it's bad no matter which one stays so why not get rid of Christmas.

8:50 PM BBT – Cody lets Enzo know that if Christmas wins HOH and Cody wins veto he will send Nicole home over Enzo.

8:51 PM BBT – Nicole comes in and Enzo tells her they're going to split the votes and she has to decide who goes home. Cody says it will be better TV if they do that and then Nicole cuts Christmas live. Nicole asks if they want Christmas to go.

8:52 PM BBT – Cody tells Nicole that maybe Christmas does need to go. Nicole thinks Enzo is influencing Cody. Enzo says that Christmas has almost won more recent comps than Memphis.

8:54 PM BBT – Cody says he still wants Memphis out and he was just testing Nicole. Cody says that he hates the thought of Christmas cutting bothers him. He says he's just going to win HOH anyway.

8:56 PM BBT – Cody and Nicole think they should blindside Memphis. Nicole says that's the safer way because Memphis won't know who to be upset with. Enzo says Memphis will be mad at everyone. Cody says he has no problem blindsiding Memphis.

8:58 PM BBT – Nicole says it would be much more fun to blindside Christmas than Memphis. Cody says then they'll do it. Nicole tells him no and they better not do that and blindside her as well. Cody asks if they did blindside her and vote out Christmas would she cut one of them at final 4. She says she would. But they're all laughing and joking about it.

9:02 PM BBT – Enzo and Nicole remind Cody that he won OTEV and so he has the OTEV curse and can't win this season.

9:08 PM BBT – Cody says if Christmas doesn't talk to him at all, they should vote her out. Nicole says that's risky. But Enzo and Cody say it really bothers them that she hasn't talked to Cody. Nicole says but that's proof she's the worst player. Nicole says even Christmas's HOH was bad. She says Christmas had a good relationship with Da'Vonne and Bayleigh and still nominated them.

9:10 PM BBT – Christmas enters the HOH room and breaks up all the talk.

10:03 PM BBT – Cody tells Nicole she doesn't have to worry about Enzo flipping the vote. He says Enzo just likes to talk it out more than most people. Cody also says Enzo is just worried because he doesn't win comps and he just wants to make sure he's making the right choice or would need a backup plan.

10:20 PM BBT – Memphis is laying out on the floor and says he'll sleep there because the mattresses are too soft and he's got a bad back.

11:10 PM BBT – Enzo stresses to Cody that he wants Christmas gone and he can't stand her.

11:30 PM BBT – Code, Enzo, and Nicole are upstairs in the HOH room chatting about the other HGs.

11:45 PM BBT – Enzo says he's determined to win HOH on Thursday and will keep Cody safe.

12:00 AM BBT – Everyone is sleeping. Memphis got back in bed and Enzo is sleeping on the HOH couch again.
Enzo made a good push to switch it up and keep his ally Memphis after he had sold him and the Wise Guys out but it's too late now. Nicole is set on her plan and Cody is going with it which means so will Enzo by the time they vote. The question remaining is whether or not Memphis will see it coming.
You can watch all of these Big Brother events using the archives Flashback, the DVR-like feature of this year's Live Feeds which means it's always live, even when you missed it! Sign-up now to get the free trial to watch it all live & uncensored.

Gallery: Live Feeds Highlights
Download our Big Brother App, join us on Facebook & Twitter, and get our Email Updates for more!