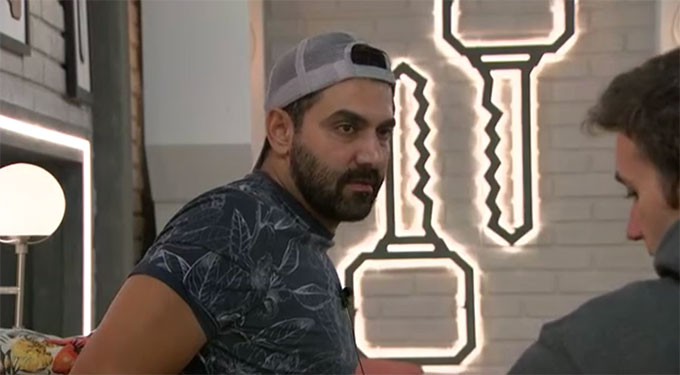 It's probably a little too late to save Kaysar in the Big Brother 22 house, but others are starting to realize what's going on around them. Ian, thanks to the help of the wall yeller, has the game all figured out for the most part. He's got some things still wrong, but everything else is pretty spot-on. Read on to find out what he thinks is actually going on this season. He mapped it all out for Kaysar Tuesday night before the Feeds cut and didn't return until late into the night.
If you've got the Live Feeds (Free Trial) then you can watch all of these moments with the Flashback feature to go back and watch those important conversations or funny scenes you may have missed.
Big Brother 22 Live Feed Highlights – Tuesday, September 1, 2020:
3:05 PM BBT – Cody tells Enzo that Tyler feels on the outs of their alliance because he's the only one who didn't know that Nicole knew about the Slick Six alliance. Enzo says he's going after Dani now.

3:15 PM BBT – Nicole is upset about the wall yeller. Da'Vonne tells her she hasn't heard her name come up after that. Nicole says that's good, but she just feels defeated. She said she was already being forced not to play because Janelle was talking crap about her and then this happens. She says she said she just feels drained.

3:28 PM BBT – Da'Vonne makes sure that she and Nicole are still solid. Nicole tells her that she wouldn't take Da'Vonne out and she's let others know that.

3:32 PM BBT – Dani tells Nicole that Cody just made a nasty comment to her and she wanted to punch him in the face. She doesn't understand what his problem is. Dani says she told Cody and Enzo that she talked to Tyler and the squashed any issues. Cody says "I didn't tell you to talk to Tyler." She said she told him she doesn't do what he says and to never talk to her like that.

3:36 PM BBT – Nicole and Dani blame Bayleigh for how Cody and Enzo are acting. They think she's saying something to them. Nicole says that's why she wants Bayleigh out.

3:54 PM BBT – Dani decides to check in with Bayleigh. She tells her she feels like she hasn't seen her in days. Bayliegh says she probably hasn't. Dani asks what's wrong with her and Bayleigh says nothing, she's not good at constant communication with people.

4:00 PM BBT – Dani asks Bayleigh if she still wants Memphis out next week. Bayleigh says she thinks people are drifting away from that idea because his back is hurt and he's not threatening. Bayleigh says everyone is acting like the next HOH his really important since Kaysar and Janelle are gone and there will be new targets. Dani said if their alliance is actually all together then there's nothing to worry about.

4:44 PM BBT – Dani tells Cody she thinks Da'Vonne and Bayleigh will out their alliance to the person who wins HOH. Dani says they and Tyler and Enzo need to be on the same page if that happens so they can deny it. Cody says Tyler makes him nervous and might not cover it up with them.

4:47 PM BBT – Dani lets Cody know what Nicole told her last nigh about Bayleigh telling Christmas if she wins HOH she has some info for her. Dani tells Cody to swear not to say anything. He agrees. She says Nicole thinks Bayleigh is planning to throw Dani and Cody under the bus. Dani tells him about Bayleigh saying Memphis is no longer a threat and that she wouldn't say who she would go after instead.

4:53 PM BBT Cody tells Dani he's concerned about Tyler and how he's upset about not knowing Nicole knows about the Slick Six. Dani says that's her fault and she takes full responsibility.

4:56 PM BBT – Cody says he's done with the Slick Six and will put them (Bayleigh and Da'Vonne) on the block.

5:11 PM BBT – Dani says if Da'Vonne and Bayleigh both go on the block the house is going to go crazy. Cody says it will be good TV but he will just hide.

5:18 PM BBT – Nicole tells Ian that she heard Da'Vonne said she couldn't put them up because of her history with Nicole and Bayleigh said she'd do it. Ian says of the two of them he'd go over her.

6:13 PM BBT – Ian tells Kaysar he's not looking forward to seeing him go and that he will probably be out next. Kaysar tells Ian he knows he's going home this week, but he hasn't resigned. He says he is going to still see if he can get some votes.

6:18 PM BBT – Kaysar tells Ian someone has to take a shot at Cody and Tyler because it seem like no one has the guts to do it.

6:20 PM BBT – Ian and Kaysar agree that Dani is in the best position in the game. Kaysar asks Ian if he thinks Nicole and Cody have a final 2 deal. Ian says he doesn't know about that.

6:25 PM BBT – Ian tells Kaysar he's pretty sure he has everything figured out but can't tell him more until Thursday. Kaysar asks if there's any info he has that could help him stay this week. Ian says no, not against Christmas.

6:34 PM BBT – Ian decides to lay it out for Kaysar. He says he thinks there is a fake guys alliance, but only David and Enzo think it's real. Then he says Tyler is ranked higher than those two in the alliance, but he's not really in the inner circle. Ian says when they heard the yeller outside, he looked at Tyler and could see fear in his eyes.

6:40 PM BBT – Kaysar believes Ian now that Tyler isn't the inner core. He says maybe the move is to put up Cody and Dani to blow up those alliances. Ian says he's going to try his hardest to win HOH.

6:42 PM BBT – Kaysar asks Ian if he thinks any of the alliances were made pregame and feeds cut. Feeds come back to Ian saying he thinks Cody and Nicole are the core and even Dani is expendable.

6:44 PM BBT – Ian says he thinks that Cody's job was to round up Enzo, David, and Dani and Nicole's job was to get Ian and maybe Christmas  (he's referring to the rumor that Derrick set this all up for them pregame).

6:50 PM BBT – Kaysar says from a production standpoint this season is a snoozefest.

6:54 PM BBT – Kaysar tells Ian that he and Bayleigh and Da'Vonne need each other and they cannot go after one another. Ian says he agrees.

6:55 PM BBT – Feeds have cut to Stars…

4:25 AM BBT – Feeds return. HGs are all asleep.
We don't know why the Feeds cut out for nearly ten hours but there was supposedly someone roaming the area near the back corner of the lot who may have set off concerns about another Wall Yeller. That could have been enough to send the Feeds to Stars as punishment for the rest of us. That stinks.
You can watch all of these Big Brother events using the archives Flashback, the DVR-like feature of this year's Live Feeds which means it's always live, even when you missed it! Sign-up now to get the free trial to watch it all live & uncensored.

Gallery: Live Feeds Highlights
Download our Big Brother App, join us on Facebook & Twitter, and get our Email Updates for more!