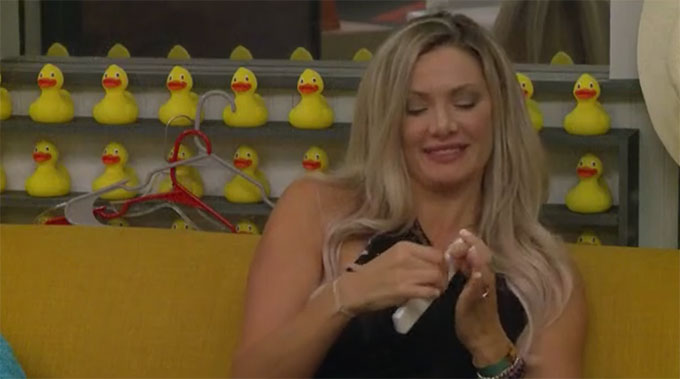 It was a confusing night in the Big Brother 22 house, as Nicole A continued to campaign hard, while the other HGs went back and forth on who they're going to keep. It's still confusing what exactly is going to happen, but it does seem Nicole A might finally have realized she could be wrong about Janelle and Kaysar working against her.
If you've got the Live Feeds (Free Trial) then you can watch all of these moments with the Flashback feature to go back and watch those important conversations or funny scenes you may have missed.
Big Brother 22 Live Feed Highlights – Wednesday, August 19, 2020:
4:12 PM BBT – Nicole A goes to talk to Nicole F. Nicole A tries to pitch to her. Nicole F says she doesn't know what she's going to do. She says she's going over the pros and cons for each vote. She tells Nicole A she's worried if she keeps her she will just go back to Janelle. Nicole A says to give her the opportunity to prove she won't do that.

4:15 PM BBT – David and Bayleigh discuss how he can appeal to Kaysar. David thinks he needs to work Kaysar's emotions.

4:16 PM BBT – Nicole F tells Nicole A she hasn't heard people aren't voting to keep her. Kaysar comes and asks to talk to Nicole A.

4:28 PM BBT – Nicole F tells Christmas and Dani that Nicole A wants to hold a house meeting. Dani said she told Nicole A not to do that because Janelle will just yell at her and make her cry. Nicole F says a house meeting would be entertaining but it could end up exposing their games.

4:30 PM BBT – Dani, Nicole F and Christmas say they believe Nicole A would go after Janelle and Kaysar if she stays, but they don't think that's enough reason to flip their votes. They wonder if David would go after Janelle and Kaysar though.

4:35 PM BBT – Talk turns to the upcoming HOH comp. Dani nnd Nicole F think it's going to be a competition that pits two players against each other. They agree they have to pick Janelle and Kaysar every time until they're out. Dani says this will show everyone's cards.

4:50 PM BBT – Nicole A tells Janelle that she feels she set her up. Janelle asks her if she's serious. Nicole tells her that after she got nominated Janelle and Kaysar seemed not to care. Janelle says they've been working non-stop to try to get her to stay. Janelle says that's not the game she plays and has always played a loyal game.

5:18 PM BBT – Kaysar finally catches Nicole A. He tells her that he and Janelle have been fighting so hard for her and he feels so guilty he couldn't help her. Nicole A tells him she felt like it was all a set up. He says that is not at all true.

5:24 PM BBT – Nicole A tells Kaysar she has been trashing them to everyone and if she goes home and sees they really were trying to help her she will feel terrible. He tells her not to worry about it. He says it doesn't matter what she said about them. He says he just wants her to stay and be part of an alliance with them.

5:34 PM BBT – Kaysar tells Nicole A he knows what it's like to play back to back seasons and he has regrets from his second season. He said he thinks he took it for granted.

5:53 PM BBT – Nicole A and Kevin are talking about votes. She says that Day said she doesn't care if David gets voted out or not, she's not voting him out. So she knows she can't count on Day's vote.

6:20 PM BBT – Janelle and Kaysar talk about having to convince Da'Vonne to save Nicole A. They agree their game is over if Nicole A leaves.

6:52 PM BBT – Cody tells Christmas they have to make sure they all pick Janelle and Kaysar to go up in the HOH competition until they're out.

7:03 PM BBT – Cody says he's going to be a have-not because Kaysar is going to pick him. Christmas says Janelle wants Kaysar to pick her so Nicole F can't. Christmas says they need to make sure Nicole F goes first so she can pick Janelle before Kaysar can (yes, this was a real conversation).

7:28 PM BBT – Janelle tries to work on Day to vote out David. Day asks if Janelle really thinks Memphis will choose to evict David if there's a tie. Janelle says yes and to go ask him.

7:38 PM BBT – Janelle tells Kevin if they don't all band together they're going to look like fools. She says it's so obvious there's an alliance because they are always in the camera room together and no one is allowed in.

8:03 PM BBT – David tries to pitch to Kaysar. David pulls at his emotions, and Kaysar does feel bad, but Kaysar is too set on trying to keep Nicole A.

9:10 PM BBT – Cody tells Dani and Nicole F that he is over Da'Vonne. He says she is always whispering with Janelle.

9:15 PM BBT – Cody says they would put up Da'Vonne if Kaysar and Janelle are up and one of them wins veto. Nicole F says maybe it should be Bayleigh because Da'Vonne could end up going home some way.

10:00 PM BBT – NicA visited Memphis in the HOH room to tell him she's hearing it could be tie and wants to affirm her position with him.

10:50 PM BBT – Janelle is trying to convince Ian to vote with them and blame his vote elsewhere but he doesn't think he has anyone he can blame it on. Ian doesn't like that both David and NicA had such terrible experiences last time and now are on the Block against each other. He expects whichever stays will be used on the Block repeatedly. Janelle reveals she'll nominate Tyler and Cody if she wins HOH. Ian promises it won't be her or Kaysar if he gets it.

10:55 PM BBT – Day tells Kevin that she won't keep the personal commitment of not voting out a person of color all the way to the end, but she can't do it in Week 2. Kevin is pushing to save NicA saying they can pull together an alliance if she stays but not if she goes.

11:15 PM BBT – Ian tells Janelle he's at 55% right now on the vote and will let her know. He promises to not target her or Kaysar if he gets HOH.

11:55 PM BBT – NicA again complaining how upset she is at Janelle and Kaysar. She tells Bay that they will do the same thing to her (you mean to try to help save and protect her??). NicA is pleading with Bay for support and to not let her go out like this.

12:00 AM BBT – Have-Nots for the week is over so there is a lot of food and happiness.

1:15 AM BBT – Janelle and Kaysar chat with Bayleigh again to try and sway her to vote with them. Janelle knows Bay is scared and worried.

1:20 AM BBT – NicA is pulling HGs into the Lounge. She gets Kaysar and Christmas then wants to get Bayleigh but Janelle warns her Bay is feeling anxious right now so it's not the right time. NicA is angry again. Janelle promises NicA her vote and asks what else she can offer.

1:30 AM BBT – Bayleigh joins them and the discussion continues with Kevin, Christmas, Janelle, and Day. Kaysar and Janelle need their four votes to force the tie to Memphis.

1:40 AM BBT – Janelle warns them the other group are all friends on the outside. She says it is Franzel, Dani, Enzo, and Cody plus the add-on of Tyler then Ian is close with Franzel.

1:45 AM BBT – NicA has Janelle & Kaysar leave so she can talk with the others. Bayleigh won't promise NicA her vote and needs until tomorrow to consider it. NicA believes she'll be evicted.

1:47 AM BBT – Dani walked by the Lounge and listened through the door. She reports back to her alliance that NicA thinks they have six votes and needs Memphis to break it.

1:55 AM BBT – Cody, Enzo, Tyler, and Dani say they aren't worried about the votes. Dani says the other side thinks they have Christmas but they don't.

2:15 AM BBT – Bay left the Lounge, spoke with Christmas about her frustrations, and then goes back to the photo bedroom. She's telling Cody, Enzo, Tyler, and Dani about the meeting that just happened. Bay says she won't give NicA her vote.

2:40 AM BBT – Kevin and NicA tell Janelle and Kaysar that they don't have the votes after Bay, Day, and Christmas all said no because they're worried about being on the wrong side of the house.

2:55 AM BBT – Kaysar thinks he can get Ian to vote with them but NicA says he will not vote opposite Franzel.

3:00 AM BBT – Kaysar continues to push that they can get the numbers together. Kevin gets frustrated that Kaysar talks about numbers instead of people. Kevin says the three votes they need (Christmas, Bay, and Day) don't trust Janelle and Kaysar which is making this difficult.

3:25 AM BBT – Kevin talks with Day about the vote. She says NicA needs to go so they can keep their low profile alliances together. Day doesn't believe Christmas about considering her vote. She believes that's a lie.

3:50 AM BBT – Janelle promises that Memphis said he'd break the tie in NicA's favor. NicA doesn't understand why he won't confirm that to her. Janelle says she'll get private meetings with Memphis so they can feel better about the vote.

3:50 AM BBT – Day tells Kevin that none of this effort matters if they don't have Christmas's vote so they need to work on that.

4:00 AM BBT – Janelle continues to encourage NicA. She promises NicA she wants her to stay. Janelle heads off to bed.

4:00 AM BBT – Day promises Kevin she'll be with him until the end.

4:15 AM BBT – NicA stays up and camtalks her apologies to friends and family for going out so early.
Lot of effort again by Janelle and Kaysar who know they're in a bad spot with the numbers dropping but it seems unlikely they can pull this off. They believe Christmas is their pivot vote but it could be Ian, if he were willing. We'll see more chatter on Thursday ahead of the second eviction vote.
You can watch all of these Big Brother events using the archives Flashback, the DVR-like feature of this year's Live Feeds which means it's always live, even when you missed it! Sign-up now to get the free trial to watch it all live & uncensored.


Gallery: Live Feeds Highlights
Download our Big Brother App, join us on Facebook & Twitter, and get our Email Updates for more!