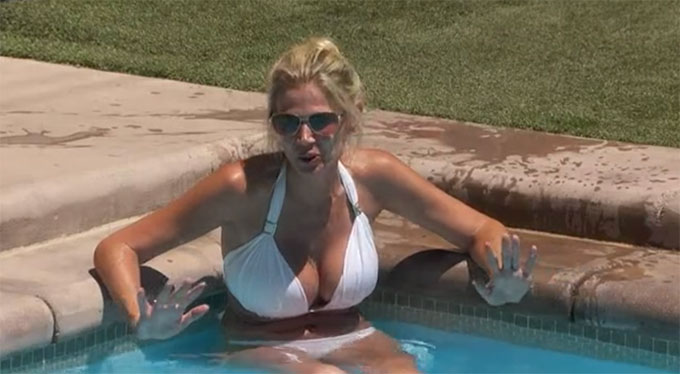 Thursday is fast approaching for the Big Brother 22 All-Stars, and one nominee has yet to really campaign. For some reason Keesha is just kind of riding out this nomination, and that likely isn't going to bode well for her. But on the (kind of) plus side, the HGs did get a booze delivery tonight … following a round of Covid-19 tests.
If you've got the Live Feeds (Free Trial) then you can watch all of these moments with the Flashback feature to go back and watch those important conversations or funny scenes you may have missed.
Big Brother 22 Live Feed Highlights – Tuesday, August 11, 2020:
3:06 PM BBT – HGs discuss that tonight is the night they get tested for Covid-19 again. Janelle says they told her if someone tests positive they get removed from the game. Enzo says if one person has it the season is done. Janelle says no, only the one who has it goes. Nicole and Memphis say it's so contagious that if one of them has it they probably all would have it.

3:23 PM BBT – Dani and Tyler talk about how they feel comfortable with each other and are down for the alliance of six. Talk turns to the vote. They both say they want to keep Kevin.

3:33 PM BBT – Janelle tells Keesha that she has her vote so she needs to hang out with other people to try to secure their votes.

4:00 PM BBT – David and Nicole agree that they want Kevin to stay this week.

4:46 PM BBT – Janelle has been doing Nicole A's makeup. She shows it off to the camera.

6:15 PM BBT – Keesha tells Janelle that she thinks she is screwed because no one is saying anything to her. Janelle says she doesn't think everyone has decided.

6:19 PM BBT – Christmas and Bayleigh agree that people seem to be leaning toward keeping Kevin this week.

6:25 PM BBT – Ian and Nicole bond over being the only winners. They hope there are bigger fish to fry than them even though they won the game before. Nicole says Janelle and Kaysar are legends so they are seen as bigger threats for sure. Nicole asks Ian if he's going to cut her like he did to Boogie. He says he definitely won't.

7:18 PM BBT – Kevin tells Bayleigh that he has been worried about Janelle but he hopes he can actually work with her.

7:25 PM BBT – Kevin talks to Nicole A about the vote. He says he thinks Janelle, Kaysar, and Memphis want Keesha to stay and are campaigning against him instead of for Keesha. Nicole A says she thinks so too and adds that they have Ian's vote and think they have hers as well. Kevin asks her to swear to god she's keeping him. She says yes. He tells her they are Final 2.

7:30 PM BBT – Dani asks Da'Vonne what she thinks of Janelle and Kaysar being a pair. Da'Vonne says it's possible and very dangerous. Dani says it's not possible, it's obvious it's a thing. Da'Vonne says no one will ever be able to get between that. Dani says Janelle is really good at the game on many levels.

7:35 PM BBT – Dani says she thinks fans are really going to like her and Da'Vonne working together. Dani says she saw a lot of stuff online about people wanting them to work together and with Janelle.

7:45 PM BBT – Keesha asks Tyler if he knows anything. He says no one has talked to him about the vote at all.

7:58 PM BBT – HGs are getting called to the DR one by one for their Covid-19 tests.

8:20 PM BBT – Tyler and Christmas talk about the six-person alliance. They said if no one shares anything with them when they have their first meeting, then they'll know it's not legit.

8:28 PM BBT – Cody tells Tyler that the person he feels most comfortable playing with is him. He tells Tyler he will take care of him.

8:30 PM BBT – Cody says that Dani told him Kaysar got bad vibes from Cody when they talked last, so he thinks if Kaysar wins HOH he could put him on the block. Tyler says Kaysar told him he wanted to work with Cody and Tyler.

8:32 PM BBT –  The HGs have got some wine and beer.

8:46 PM BBT – HGs gather for a toast.

9:00 PM BBT – HGs enjoying the back yard, playing pool, hanging out in the lukewarm hot tub.

10:00 PM BBT – HGs continue to hangout and enjoy the night.

11:00 PM BBT – Final hour of the HNs so food is being prepared.

11:45 PM BBT – Bay warns Janelle that the vote is leaning toward keeping Kevin over Keesha. Janelle expects Nicole A will keep Keesha but Bay counters that she thought she was keeping Kevin.

11:55 PM BBT – Janelle tells Bay that Franzel is with Cody. She notes that Kevin and Christmas seem close so if those two are on the other side of them then it could be trouble. Bay again notes it looks like Nicole A is supporting Kevin and being around him a lot but Janelle counters it's because they're both HNs.

12:50 AM BBT – Cody and Kaysar are talking. Kaysar says they should target the "neutral" players like Kevin in this situation. Cody asks what he did to make Kaysar nervous enough to use the Safety Suite. Cody promises that neither he nor Janelle was a target for him.

1:00 AM BBT – Cody says he wants to keep Kevin because he could be a vote for him down the road.

2:10 AM BBT – Christmas and Memphis wonder if Bay and Janelle are close and suspect they are. Memphis says it seems like Janelle and Kaysar are isolated.

2:15 AM BBT – Kevin meets with Nicole A in the hammock. She suggests a 5-HG alliance with them and Ian, Day, and David.

2:20 AM BBT – Nicole says she's close to Janelle and Kaysar so she can help if they get HOH.

2:30 AM BBT – Day camtalks that her top priority is herself then Bay and after that, it's Cody, Dani, and Enzo. She isn't sure if she can trust Franzel.

3:00 AM BBT – Kevin knows Janelle is coming for him (she campaigned against Kevin to Nicole A in a bid to keep Keesha). Nicole says she'll deny being with Kevin.

3:10 AM BBT – Kevin says Tyler pulled him aside today and promised he was on his side. Nicole A says Cody has also told her he (C) wants to see Kevin stay.

3:45 AM BBT – Nicole A stayed out to camtalk after Kevin went in. She says it wouldn't be the worst if Keesha stayed, but she prefers Kevin for her game.

4:30 AM BBT – HGs are all asleep.
Janelle put in the work today but it looks to have backfired as her conversations were shared and now Kevin knows Janelle is actively working against him to keep Keesha. The votes are stacking up against Keesha but we've still got two days to go before the first live vote of Big Brother 22.
You can watch all of these Big Brother events using the archives Flashback, the DVR-like feature of this year's Live Feeds which means it's always live, even when you missed it! Sign-up now to get the free trial to watch it all live & uncensored.


Gallery: Live Feeds Highlights
Download our Big Brother App, join us on Facebook & Twitter, and get our Email Updates for more!