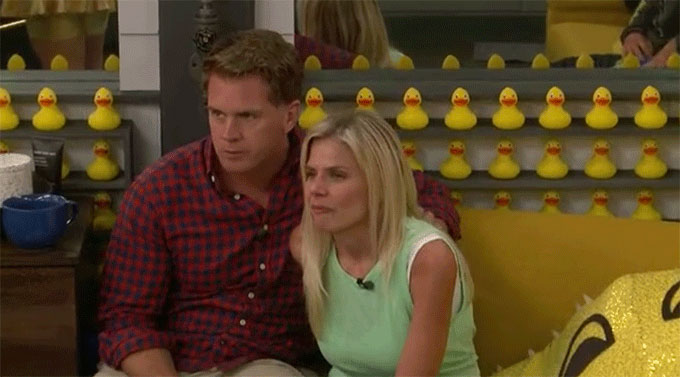 The first round of Big Brother 22 nominations came out Friday night and it left one of the All-Stars in tears. Cody had little to go on for his nominations as they have only been in the Big Brother All-Stars house for 48 hours, but there were a couple of people clearly not on his pre-game chat list. Read on to find out how the nominations took the news.
If you've got the Live Feeds (Free Trial) then you can watch all of these moments with the Flashback feature to go back and watch those important conversations or funny scenes you may have missed.
Big Brother 22 Live Feed Highlights – Friday, August 7, 2020:
6:03 PM BBT – Feeds return from the nomination ceremony. Cody nominated Keesha and Kevin. Keesha is cry and people are offering her and Kevin hugs.
6:06 PM BBT – Da'Vonne tells Keesha that her gut is out of this world. Keesha said yeah, she knew she was going up. Da'Vonne didn't think Cody would nominate Keesha.
6:07 PM BBT – Nicole A asks Cody what he wants to happen as HOH with the nominations. He tells her he doesn't have a preference and that there was no reason to put Keesha and Kevin up.
6:08 PM BBT – Kevin goes to talk to Cody in the HOH room. Cody tells Kevin he is sorry and that he had no actual reason for his n nominations. Kevin tells Cody he has no ill will toward him.
6:11 PM BBT – Keesha says she knew it was going to be her and Kevin. Da'Vonne says you could tell Kevin had no idea because you could see the heartbreak on his face.
6:17 PM BBT – Da'Vonne and Dani comfort Keesha, but she says she's fine. She says she's going to talk to Cody because she's not one of those people who isolates herself. She says the game has officially begun.
6:22 PM BBT – Before Cody and Kevin conclude their talk, they discuss working together on the down-low.
6:30 PM BBT – Cody tells Nicole F that he likes Kevin is doesn't know why he nominated him. Talk turns to Enzo and Nicole tells Cody she doesn't think Enzo trusts her. She says she thinks he's scared of her because she won her season.
6:35 PM BBT – Keesha enters the HOH room to talk to Cody, so Nicole F leaves. Cody apologizes to Keesha and tells her he had no idea what else to do. He said neither she nor Kevin did anything to be nominated and he wishes they had so it would have been easier. Cody tells her there's still so much time and a veto to be played. He says he might regret his nominations in a day or two and have an actual target by then. Keesha says "so I'm not necessarily your target?" Cody says no, not at all, and nobody else suggested he nominate her either. He says it's just because they had talked the least.
6:58 PM BBT – Dani tells Nicole A that she has to apologize to her for not getting back to her about going on her podcast. She says that she was so afraid to do the podcast because all the casting was going on and she didn't want to slip up and reveal that she was going on All-Stars. Nicole says no worries and says she can come on the show afterward.
7:00 PM BBT – Nicole A and Dani say they thought there'd be some unlikeable people on the cast to make things like nominations easier. They agree that everyone is nice and it will be hard to put people up.
7:52 PM BBT – Nicole F tells Dani that she got a weird vibe from Janelle. Dani tells Nicole that she doesn't trust Janelle at all. Nicole says that Janelle said she trusts Dani. Da'Vonne said the same thing, Dani says.
7:53 PM BBT – Janelle and Dani finally talk. Janelle mentions they haven't talked at all yet. Dani asks why she played in the safety comp. Janelle says she didn't feel comfortable with what Cody was saying and didn't believe him. She said she felt very unsafe and when Kaysar said he'd play she decided she would too.
7:56 PM BBT – Janelle asks Dani if she's heard anything or knows if anything is going on. Dani says she hasn't and thinks nobody is playing the game. Dani does tell Janelle that Da'Vonne likes Janelle and Bayleigh. Janelle asks Dani if she thinks Nicole F is working with Cody. Dani says she was wondering that but doesn't know. Janelle says she's very suspicious of Nicole and Cody because Nicole kept acting worried and asked if she should go talk to Cody. Janelle says that would be like herself being worried if Kaysar was HOH.
7:59 PM BBT – Dani tells Janelle that she thought Cody would go for Nicole A. Janelle says "you seriously didn't think he was going to target me?" Dani says she didn't get that vibe, but she didn't really get any vibe. Janelle asks Dani if she thinks Tyler and Cody are together. Dani says she doesn't know but thinks Tyler is just really lost without Angela and Kaycee.
8:45 PM BBT – Kaysar and Kevin catch up. Kaysar says he hasn't seen Kevin much. Kevin says he's been in the have-not room. Kevin says he's not isolating or anything, but he's just shy and awkward. He reminds Kaysar that he was cast for Big Brother 11 to be a part of the awkward off-beat clique. Kevin promises he's going to fight for the veto.
8:50 PM BBT – HGs are playing charades.
9:25 PM BBT – Most HGs are in the kitchen eating and chatting.
9:35 PM BBT – Keesha and Da'Vonne catch up in the storage room. They discuss the nominations and Keesha starts to get emotional again.
10:25 PM BBT – Memphis and Keesha review the situation. He thinks if the vote were tomorrow then she'd stay. He worries that if HGs see the two of them as a powerhouse pair with Janelle and Kaysar then it could be bad news for her chances against Kevin. Memphis admits if he had won HOH then he would have put up two of the younger HGs so he understands why this happened.
10:30 PM BBT – Memphis mistakenly believes Cody and Franzel are not close even though they were on the same season.
10:40 PM BBT – Keesha worries Cody told Kevin that he was just a pawn against her. Memphis expects Ian to play under the radar, just like Dan did.
10:50 PM BBT – Memphis tells Keesha he'd throw the Veto comp so she has a better chance of winning it. (Someone better explain to him how the renom works!) He wants Keesha to ask Kaysar to throw it too if he plays.
11:05 PM BBT – Enzo and Nicole A worry that there must be game talk but neither of them is included in it.
11:15 PM BBT – Day is pitching an alliance to Cody and says they could work with Bay and Enzo. Cody suggests they may want a bigger alliance than the four.
11:25 PM BBT – Dani warns Cody that the house is seeing him pairing with Nicole. She suggests he work with Bay and Day too because she sees them working with Janelle. Dani also warns Cody that Franzel is not liked in the house and that could hurt his game.
11:30 PM BBT – Cody expects Franzel will be nominated if either Janelle or Day get HOH. Dani suggests he keep his distance from Franzel.
12:00 AM BBT – Nicole and Ian agree they expected more past winners like Josh and Kaycee. She says with Dan and Derrick, those two couldn't have claimed they got lucky in their wins.
12:25 AM BBT – Nicole A talks with Kevin and Day. Kevin thinks Enzo is playing both sides and Nicole suggests Enzo is low ranked within them. Da'Vonne thought Ian would have been a bigger target than Keesha.
12:35 AM BBT – Kaysar tells Keesha that he thinks Cody is trying to BD Memphis. Kaysar thinks it's a bad idea for any of them to throw the Veto comp because they already have targets on them. Kaysar says Memphis needs to wake up to the threat. He doesn't expect the House to vote against Kevin.
1:05 AM BBT – Kaysar talks with Janelle and says they need to get Memphis alone tomorrow and warn him of what's going on. He's sure that Memphis will be the renom. Kaysar tells Janelle that Bay said there was an all-girls alliance but Janelle questions why she would have told Kaysar.
1:20 AM BBT – Janelle warns Kaysar about playing too hard to save Keesha. She says she won't play hard for the Veto if she gets picked. She really wants him to lay low and play it cool for awhile.
2:20 AM BBT – Kevin, Day, and Nicole A contemplate who they could present as a bigger target to Cody to keep them safe. Kevin thinks Tyler and Janelle will be the puppet masters. Nicole thinks Janelle is close with Cody because she told Nicole she was safe.
2:50 AM BBT – Ian talks with Cody who says he isn't close with Franzel and claims he's worried about her.
3:00 AM BBT – Ian tells Cody he wants to work with David and likes him. Cody says he's still trying to figure David out. Cody says they need another pair to surround the two of them.
3:10 AM BBT – Ian promises Cody he will not use the Veto if he wins it tomorrow.
3:30 AM BBT – HGs are off to sleep.
Lots of alliance building and smoke blowing in the house overnight. Keesha remains the target for Cody but the Veto can change everything and that's expected on Saturday with the Veto meeting on Monday. Stay close for those spoilers.
You can watch all of these Big Brother events using the archives Flashback, the DVR-like feature of this year's Live Feeds which means it's always live, even when you missed it! Sign-up now to get the free trial to watch it all live & uncensored.

Gallery: Live Feeds Highlights
Download our Big Brother App, join us on Facebook & Twitter, and get our Email Updates for more!