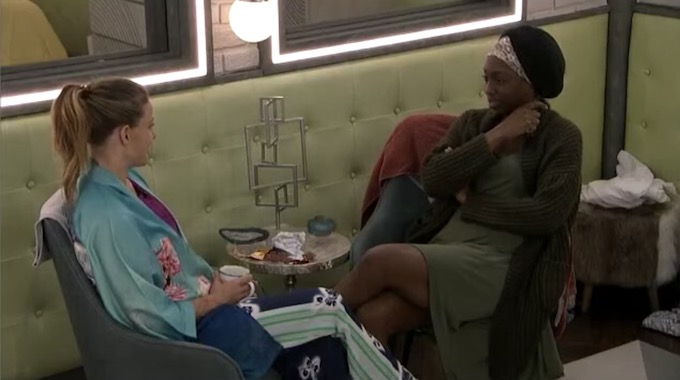 It is Eviction Day in the Big Brother house and the HGs have made up their minds on who will be evicted. Now it's time to prep for the upcoming week and a couple of the HGs are feeling a little nervous about what could be coming next week. Read on to get all the details!
If you've got the Live Feeds (Free Trial) then you can watch all of these moments with the Flashback feature to go back and watch those important conversations or funny scenes you may have missed.
Big Brother 22 Live Feed Highlights – Thursday, September 24, 2020:
8:15 AM BBT – HGs are waking up.

8:28 AM BBT – Day tells David that she can easily get two votes and if he is her third then she might be able to get four. She asks him if she can secure three votes, would he mind being her fourth. After a long pause, he tells her that he wouldn't mind being her fourth if she can secure three.

9:38 AM BBT – Kevin talks to his husband in the lounge (just in case it's his last day) and tells him that he loves him a lot and he has been going through a lot of highs and lows, but he has enjoyed his time here.

9:40 AM BBT – Enzo tells David that he can't work with Day anymore and adds that at least with Kevin, when he tells him something he keeps it to himself. David says that Day always wants to fact-check.

9:42 AM BBT – Enzo tells David that he has to win this HOH, he can't stress it enough. He tells David that if Enzo or Tyler win it, then he is good. Enzo tells him he doesn't want him going anywhere this week.

9:54 AM BBT – Dani tells Memphis that she is frustrated because everyone is always looking out for themselves, but everything she does is for everyone else. Dani then tells Memphis about her power. She tells him that she is willing to use it on him today.

9:56 AM BBT – Dani tells Memphis that she told Day about the power so that she wouldn't use the POV. She is pretty sure that Kevin knows about her power now and she doesn't want him to know that she used it on Memphis because that will prove they are working together. She is worried that if Kevin then wins, he will put her up.

10:08 AM BBT – Dani leaves the HOH after Memphis tells her that he has her back.

10:09 AM BBT – Dani asks to be called into the DR (presumably to use her power). She is called moments later while in the kitchen and Memphis says "oh f*ck" in the HOH room.

10:23 AM BBT – After brief fish, Cody and Kevin say "sounds like Jordan" and then fish again.

10:33 AM BBT – Memphis tells Enzo that he thinks it might be the slip and slide comp tonight. He doesn't think it's going to be questions or a DE. Enzo tells Memphis that he told Kevin that he is voting for him to stay tonight. Enzo tells Memphis that Dani and Day were up until 4 AM talking.

10:42 AM BBT – Feeds cut for tech rehearsals.

12:05 PM BBT – Feeds are back.

12:19 PM BBT – Nicole and Cody talk about how Dani is acting about using her power. They don't know if she did, but Nicole mentions how it's smart for her to use it to give them an advantage in tonight's HOH. She tells Cody that Dani is worried that she will become the number one target if she uses it, but Nicole doesn't understand why.

12:28 PM BBT – Day tells Christmas that she is not someone in this game that she thinks she needs to shoot at, it would be dumb for her game. She mentions how there are only four women left in the house. Day tells her that there are things that need to happen inside the house and if they don't they might as well all head to the jury house and write the check.

12:38 PM BBT – Day tells Christmas that she doesn't want to put her in a position to jeopardize her game, but things are going to get ugly in the house. Christmas says it always does right around now. Day tells Christmas if she needs to confirm with anyone how they are voting, she can. She thinks that she has two for sure and she has one more to lock in.

1:10 PM BBT – Christmas tells David that Day isn't an emotional player, she is a gamer. She tells David that you can't make gmae moves based on your personal emotions.

1:22 PM BBT – Kevin asks Day if she is getting confirmations and she says yes, but it doesn't matter because it's not enough. Kevin says he wonders if there is anyone giving double confirmations.

1:23 PM BBT – Kevin says he wonders if Memphis and Dani are working together. Day doesn't think so though, she thinks that Dani is just scared. Kevin says that she was called to the DR right after she left the HOH room this morning.

1:26 PM BBT – Kevin tells Day that Christmas told him that she would vote for him but when he checked in with her again, she said to give her a couple of hours.

1:34 PM BBT – David tells Kevin that she thinks that Day is doing the Janelle thing where she is telling people she has the votes needed to stay so that they jump onboard with keeping her. He tells Kevin that he isn't voting to keep her, he doesn't like that she is constantly throwing things in his face every time she gets mad at him.

1:45 PM BBT – David is telling Nicole how there are so many levels to this game. There are people in the house playing with the jury in mind when he is just going day to day hoping not to get put on the block. He adds that if he even gets to the end, he doesn't think anyone would vote for him because he is a rookie.

1:50 PM BBT – Nicole tells Christmas that there is no doubt in her mind that David and Kevin are going put her up if they win HOH. After Christmas leaves the room, Nicole mumbles to herself that she hopes that Dani used her damn power.

2:03 PM BBT – Feeds go down for live show prep.
Nicole is feeling really nervous about Kevin or David winning HOH tonight. Based on how the conversations have gone on in the house, it sounds like Nicole may have asked Dani to use her power this week to allow Memphis to play in tonight's HOH, but will that plan backfire? It sounds like the majority of the house is in agreeance that Dani has to go sooner rather than later, but I'm not expecting anyone to take that shot before the DE. Make sure you check back to find out who is evicted and who wins HOH coming up later tonight!
You can watch all of these Big Brother events using the archives Flashback, the DVR-like feature of this year's Live Feeds which means it's always live, even when you missed it! Sign-up now to get the free trial to watch it all live & uncensored.

Gallery: Live Feeds Highlights
Download our Big Brother App, join us on Facebook & Twitter, and get our Email Updates for more!