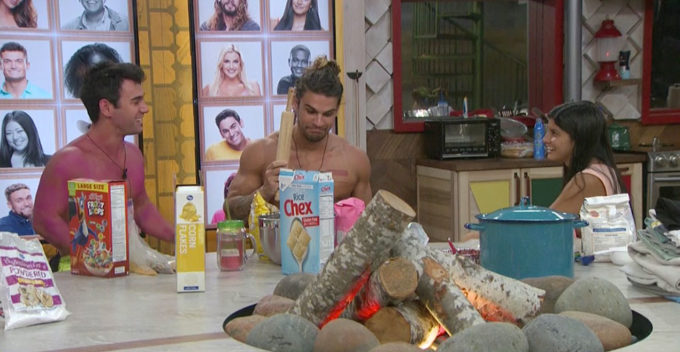 We haven't looked at the Big Brother 21 alliances and deals for a week or so, mostly because nothing much has changed, and the house is kind of split like 9-3 or 10-2 or 11-1 now… it's really hard to say.
The one thing that is certain is that the Six Shooters are still in control, and with people like Jessica, Cliff and Kathryn in the house, they might as well be called the Nine Shooters. And then even Nick has pledged his loyalty back to them. So as soon as Sam goes this week, which is what will most likely happen, it's going to be the whole house against Nicole. And that's just sad and boring. So even though there's basically a big clump of an alliance at the moment, let's attempt to break this down.
The Six Shooters are Jack, Christie, Holly, Jackson, Tommy and Analyse. They have a deal with Cliff for him getting rid of Bella for them, and they're also using Kathryn as a silent member. They're also putting some trust back into Nick, who has vowed that if he wins HOH this week, he will prove to them he's with them. So that's three people devoted to this majority alliance, even though they aren't in the alliance and would be the first three to go if it came down to that. None of it makes sense, but here we are.
And then there's Jessica, who isn't even being used by the majority. She just thinks she's in it or doesn't know what an alliance is or something. She just doesn't want to make any of them mad, especially Christie, who I think Jessica must think is their queen or warden. I feel like this group is having some kind of psychological reaction to who is in control and who isn't and think there's no changing that. It's like the Stanford Prison Experiment or something. It's so bizarre to me.
Within the Six Shooters are some closer relationships and some that are starting to show cracks. Christie, Tommy, Analyse and Holly plan to eventually cut the guys so they can be a final four. But Analyse isn't too happy with Holly because of how Jackson acted when they wanted to make a deal during the last HOH competition. And more recently, Analyse and Kat have been butting heads and that is making Holly annoyed with Analyse.
Analyse also wanted Nicole to go over Sam this week, so some of her allies are suspicious of that. And Jackson continues to annoy Christie.
And then there are the final 2 deals. Tommy and Christie have a solid final 2. Jack and Jackson have a shaky final 2. And Tommy and Jack have one that I think only Tommy would honor.
The majority alliance is definitely showing signs of cracking, but I think we can expect them to stick together until a few more people go. Then it will be fun to see who gets turned on first.
Now that our heads are spinning, check out the latest alliances and deals chart from Twitter's @89razorskate20: