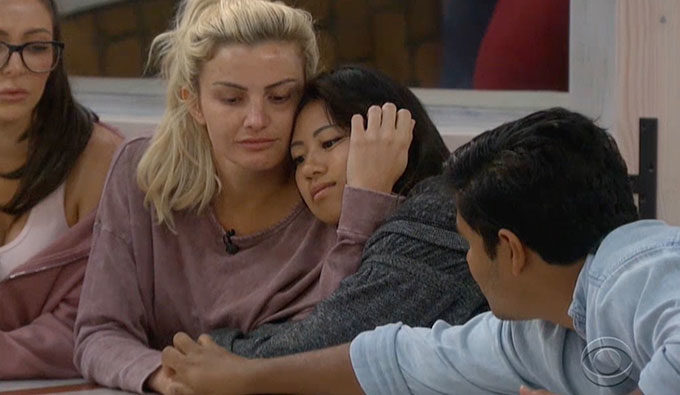 We are still in that extra long Week 1 of Big Brother 21, but after the Veto Ceremony yesterday, we have all the information this week we need, aside from who is going home on Wednesday. So this is your one-stop spot for everything that has gone down so far this week.
Head of Household
We already know that Christie won the first Head of Household, so unless you're just tuning in this is not news to you.
Whacktivity Comp
As we saw Sunday night, Ovi was the first person to win the competition. His power grants him the ability to take over a Head of Household's reigns and force them to make new nominations in the middle of the night. The nominations that are essentially being vetoed would be safe for the week. This is a fun power, but will it ever get to be used?
Nominations
On Sunday night we saw that Christie's initial nominees for the week were Kathryn and Cliff. Kathryn was kind of the target with Cliff as the pawn, but a lot of other people have a few others in mind if the Power of Veto competition were to allow it.
Power of Veto
And here's where we get to the actual spoilers if you haven't been reading our other spoilers. Sam won the Power of Veto and a backdoor plan was immediately set into motion. The initial plan was to backdoor Kemi because Jack really doesn't like her and thinks she's been throwing out his name along with other members of the Gr8ful alliance (this isn't exactly true). But Christie went back and forth a bit on whether or not she wanted to do Jack's bidding. In the end, she decided not to play Jack's game and came up with a new target.
Veto Ceremony
Christie let Sam know that he didn't even have to use the veto if he didn't want to, but Sam wanted some TV time so he decided to go ahead and save Cliff during the Veto Ceremony. Christie did not go with the Kemi plan, but instead nominated Ovi, who is now the target over Kathryn. Ovi can't use his Whackivity power because it has to be used the night of the initial nomination ceremony. So if Ovi is evicted this week, then that's yet another Big Brother twist that has flopped hard the past few seasons.
So that's the roundup of events leading up to Week 1's live eviction. Right now Ovi seems to be doomed, but Kathryn has been paranoid and upset the entire week and it's getting on a lot of people's nerves. She has also said she'd just rather go home at this point, so don't count Ovi out just yet.
Click graphic to view larger