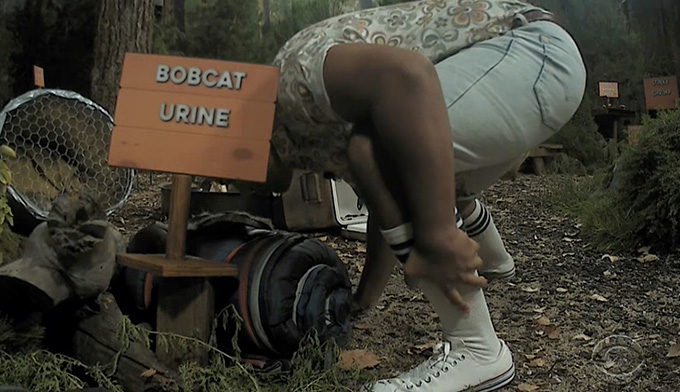 Big Brother 21's Sunday night episode brought us the first "Whacktivity Comp," some nominees and some new outro music.
The episode picked up right after Christie became the first Head of Household of the season. Jackson thinks he's still running the show while everyone else starts battling nerves because they don't really know this person who just won the first HOH of the season. Ovi is being awkward and Kathryn is already paranoid because she was one of the first ones out of the HOH competition. But at least she can control Jackson, she tells some of the other girls.
Isabella relays to Christie that Kat thinks she can control Jackson so that puts her on Christie's radar. She thinks Kat would be an easy first target. But that still leaves another seat to fill. Nick suggests Cliff would be an easy pawn and would easily stay over Kat.
And since it's like Day 3 and nothing has solidified yet Jackson and Jack think it's the prefect time to form an alliance. And then Gr8ful is born with Christie, Jack, Nick, Tommy, Holly, Bella, Analyse and Jackson. They're all excited to be in a powerful alliance and ready to take on the season.
Christie decides that Cliff is the person that will be sitting next to Kat. And she tells him that he's going to be the pawn. He's not happy because he knows how that can go, but he just nods and agrees.
It doesn't take long for the eight to get out because Ovi overhears Nick, Jack and Tommy thinking about it. Ovi doesn't hear any details but knows there's the idea of an eight person alliance. He decides to let Analyse know what he heard, but little does he know she's in on the alliance. And she runs and tells the others.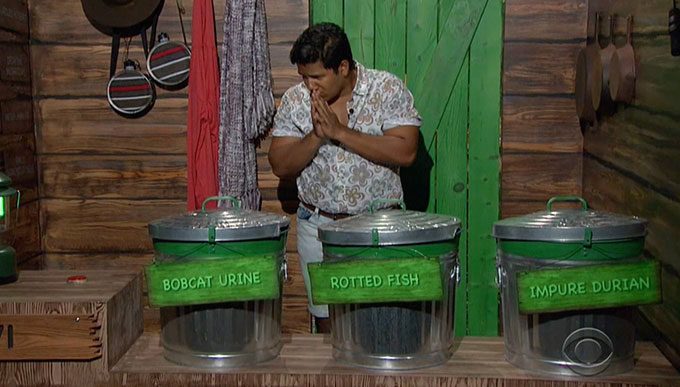 It's time for the first Whacktivity Comp. They're told to head to the back yard to sign up for their Whacktivity. Their optinos are Chaos, Panic or Nightmare. Only 5 HGs will play each week and the winner gets a secret power. A random draw determined their sign up order. The HGs all sign up and then learn when their competitions will take place.
Chaos will be played during week 2 and consists of Holly, Tommy, Jackson, Sam and Jack. Panic will go down week 3 and consists of Anaylse, Nick, Kemi, Jessica and Christie. So the Nightmare comp will be played immediately with Kat, Balla, Nicole, Cliff and Ovi.
Those five players have to identity the smell of some rancid stuff in three trashcans. They have to match the smells from the campsite to their trash cans. The first person to correctly ID all three smells win and wins a secret power. And they're off smelling stuff like coyote urine, bad shrimp and rotten tomatoes. No one got all three correct the first or second rounds. But after round 3 it's revealed that Ovi won. He learns in the Diary Room that  he has earned a power that can make an HOH's reign a nightmare. It can be used after a nomination ceremony, and the HOH will be awaken in the middle of the night and the will have to make two new nominees and the two nominated originally would be safe. Who had the power will remain a secret.
Feeling good after that win, Ovi decides to call some people together to form an alliance. Unfortunately he calls all the people already in that alliance of eight. They all play it off with him and pretend to agree they're down for an alliance with him.
Before the nomination ceremony, Kemi decides to talk to Christie to make sure she's at least had some time with the HOH. Unfortunately Jack is also in the room. Kemi tells Chrisite and Jack that she thinks Ovi is dangerous and suggests he might be a good nominee this week. And for some reason that little comment set Jack off. He found that to be very aggressive on Kemi's part and Christie goes along with it. But that doesn't effect Chrisite's plans.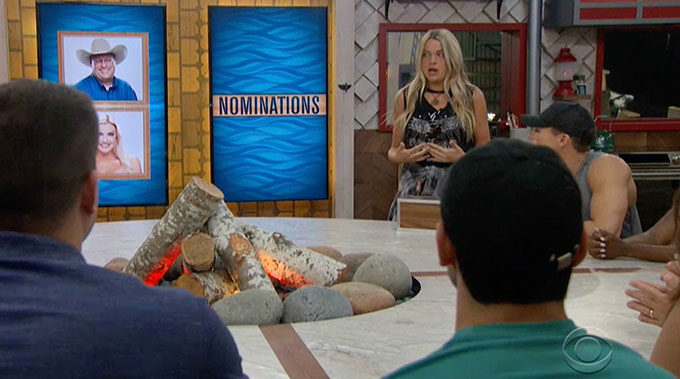 At the first nomination ceremony it's Kat and Cliff who found themselves on the block, just like Christie planned. But after what went down with Kemi and Ovi, Christie let's us know in the Diary Room that Kat or Cliff might not be who she wants to go home this week after all.