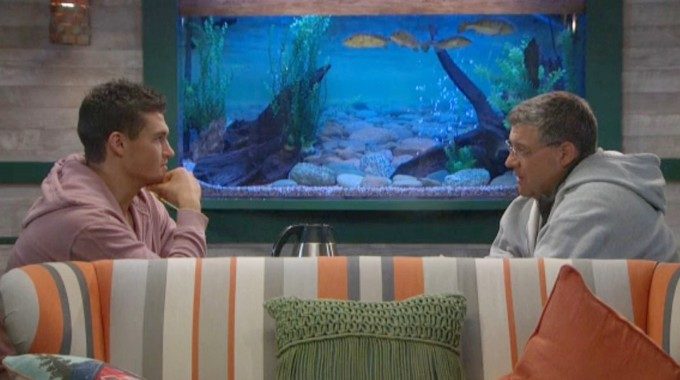 Big Brother 21 has its Final 3 all set and ready to be revealed on Thursday night when this week's Veto holder casts the one and only vote in the F4 eviction. Ready for the Big Brother spoilers on who is moving ahead and who is getting the deserved results of a bad choice? Let's take a look.
Last Thursday we learned there was a crazy turn of events as the plan to keep Tommy over Holly was scuttled at the last minute to keep the final showmance intact and fighting to save each other. Tommy had offered to throw the F4 HOH to Cliff and Nicole while Jackson watched from the sidelines but Holly matched his offer and added on throwing the Veto comp to boot. In a moment of foolishness, the allies accepted the offer and Holly stayed. Bad move.
You see, the F4 of Jackson, Holly, Cliff, and Nicole already had a deal. They would get to the F4 together and evict all others. It wasn't a long-standing deal but both pairs were working together on it and it went well. Then in the last round of one-more-to-go Cliff and Nicole realized they had a better option and renegotiated the terms of the deal. That's a two-way street.
Holly kept up her end of the deal and threw the HOH comp to Nicole. Now Cliff stood vulnerable but felt confident that Jackson and Holly would hold their end of this revised deal. But wait, if Cliff & Nicole can change the terms of the agreement when they're in a position of power then why can't Jackson and Holly? And here we go.
Jackson and Holly had agreed in this new deal with Cliff and Nicole that Holly would go at F4. Cliff really believes they'll stick to this deal! It's crazy and foolish but he actually expects that to happen. Nah, nope.
Jackson won the Veto on Saturday and quickly confirmed to the camera that he'd be taking Holly, not Cliff to the end. Well no duh! Of course he would do that. Holly is Jackson's closest ally and he needs her as backup in case he doesn't win his way to F2. No HG with a pulse would vote out their #1 over a handshake on a broken deal.
We can confidently expect that Jackson will use the Veto, get Cliff on the Block, and vote him out on Thursday. No doubts about it. Our F3 will be Nicole, Jackson, and Holly.
Few mistakes were made along the way here. Obviously Nicole & Cliff should have kept Tommy because in this position I think we'd see Jackson vote out Tommy over Cliff, especially knowing Tommy has a built-in vote with Christie and more from the Shooters who he stuck with while Jackson & Holly split away. Jackson would have seen his odds as better for competing against Cliff than Tommy for sure.
But even if Tommy was still voted out then Cliff made a mistake getting Holly to throw the HOH comp, but this one is more of a backup contingency and he would have to have been planning for the worst-case scenario. That being Nicole and Cliff not making it to F2 together. If Holly was HOH right now then it'd be Cliff and Nicole on the Block. Cliff's chances would be better against Nicole than Holly with Jackson as the sole vote. At the very least Cliff would have a chance to campaign and sway. I think Jackson would have kept Cliff over the recently more successful Nicole but it could have been close.
It's too late now to do anything about that and Cliff really needed for Nicole or him to have won the Veto on Saturday. Nicole came close and lost to Jackson by a couple of minutes while Cliff lost by about 25 minutes. No one else to blame on that.
So what do you think of our Final 3 for Big Brother 21? Are you sad to see Cliff go or is the F3 with Jackson and Holly together more exciting? Nicole will have to win her way to the end and here comes the opportunity for Jackson and Holly to make their own mistake if they don't carefully weigh out who can best beat Nicole in Round 2 should she fall in Round 1. Plenty of excitement left to be had in these final days of BB21!