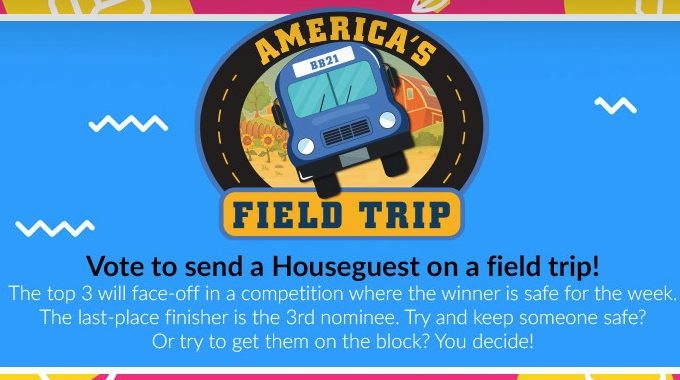 For more than a week viewers voted on a moving target twist that would send three of the Houseguests off on the "America's Field Trip" where they'd battle it out for a chance at safety, a punishment, or the first Third Nominee of the season. Voting ended Friday morning and we've got the spoilers on who went on the Field Trip.
The trick here in the voting was with who would fall in and out of eligibility. Over a week ago Jack and Tommy were in the mix and being voted on for the twist but then Jack was evicted and Tommy won HOH taking both HGs out of the running. It's easy to expect Jack was a top pick which now shifts us to take the 4th place HG in the poll. Then given Tommy's position in the Shooters and a peek at our poll suggests he could have easily been in the top 4 spots which means we're down to the 5th ranked HG. Perhaps they should have narrowed the voting window. Ah well, anyway here are the results.
This was definitely a rough twist for the Shooters. Christie, Analyse, and Jackson were all sent on Field Trip. First place won safety for the week. Second got a punishment. Last place heads to the Block.
Big Brother 21 – Field Trip:
Safety: Jackson
Punishment: Analyse
3rd Nom: Christie
Tommy's nominations are coming up and these results would impact his available choices, not that he would have gone for any of them anyway. He wouldn't have been able to nominate the "safe for the week" HG nor can he nominate the already nominated "3rd Nom". With that in mind, it won't impact Tommy's nomination plans.
What do you think of how this turned out? Happy to see Jackson safe and Christie on the Block? We'll have to take a look at how this could mix up the week's plans for Tommy but with the Veto ahead on Saturday a lot could still change.