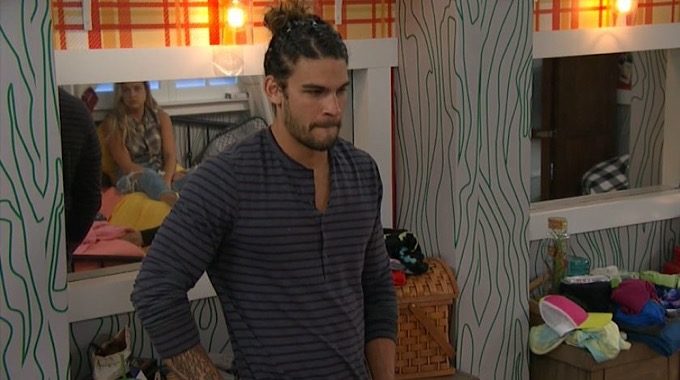 This week we had another shift in power in the Big Brother 21 house, which left everyone from the alliance, formerly known as the Six Shooters scrambling for cover. Now the nominations have been made and the POV Players have been picked, we have a pretty good idea of what could happen this week. Read on to find out!
With Jessica in the HOH and Jack and Jackson on the block, Jessica has come up with a plan to make sure that Christie and Jack think that Jackson is her real target this week. That way Jack feels nice and safe and Christie's power goes unused. As much as we hate to see a good power go to waste, I think most of us will let it slide this one time. Especially because Jack is the real target this week, not Jackson.
Jessica, Jack, and Jackson will be joined by Kat, Tommy, and Nick in this week's POV. After a picture of the backyard showed that the comp was a catapult comp of some kind, this really doesn't play into anyone's hand specifically. Unlike a physical comp which would play into Jack and Jackson's favor.
The fact that this is a luck comp is telling us that there is a chance that the noms could stay the same and Jack could be walking out the door come Thursday's live eviction. However, if Tommy wins the POV, there is a good chance that he might try to save Jack. We will have to wait and find out!
We'll have the spoilers as soon as things are revealed on the Feeds. Download our Big Brother App, join us on Facebook & Twitter, and get our Email Updates for lots more Big Brother coverage.
Did you know you can get a Free Trial to check out the Live Feed in-house cameras for Big Brother? Watch any moment from the season both live and in the past with the Flashback feature. If you haven't tried the Feeds yet then this is your week to do it! It's twenty cents a day and the cheapest entertainment you'll find all summer.