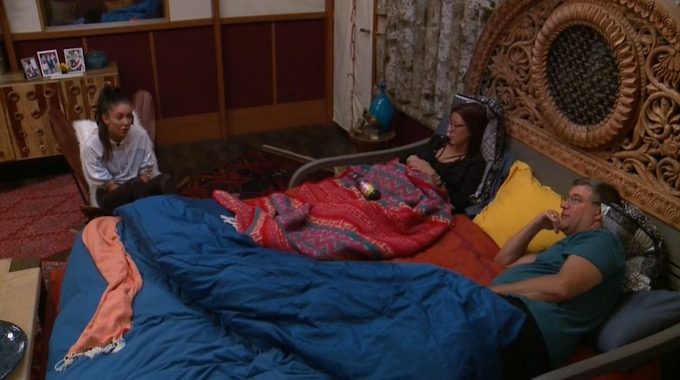 It is week 12 in the Big Brother 21 house and we are down to the final four. With that being said, this week's Power of Veto is going to speak volumes as to who we can expect to see in the final three next week. If they are all supposed to be gunning it for this Power of Veto in order to save themselves, why are there still deals being made? Read on to find out what kind of deals are being made and what we can expect to happen depending on who wins Saturday's Power of Veto competition.
Nicole is HOH, Jackson and Holly are sitting on the block and as it stands, Cliff will be the sole voter at Thursday night's eviction. Now, let's rewind a bit to the HOH competition from Thursday night. Cliff fell early on and claims that his arms were falling asleep, keep in mind, he was up there for no more than 10 minutes. Holly then threw the HOH to Nicole as part of a deal she made in order for them to keep her over Tommy.
Holly has made it known that she will not be throwing the POV this week and she will be gunning for it just as hard as anyone else. With that being said, Holly has made a deal with Cliff to evict Jackson is she should win and Jackson has made a deal to evict Holly if he should win. Now, this deal may or may not have been held up, however, Cliff shot himself in the foot telling Jackson that he would take Nicole to F2 over him. Why he would tell him that, I'm not sure, but it has sealed Cliff's fate if Holly or Jackson win the POV.
Cliff promised Nicole that if she won the POV that he would vote whatever way she wanted him to, but Nicole feels guilty for making Holly throw the HOH and Nicole told Cliff that she felt obligated to take Holly to F3. Cliff told her that he already promised Jackson he would take Jackson to F3 and told the cameras last night that he intends to keep that promise if he is the sole vote. I suspect this will also be the case if Cliff should win the POV on his own.
Who do you want to see win today's Power of Veto competition?
We'll have the spoilers as soon as things are revealed on the Feeds. Download our Big Brother App, join us on Facebook & Twitter, and get our Email Updates for lots more Big Brother coverage.
Did you know you can get a Free Trial to check out the Live Feed in-house cameras for Big Brother? Watch any moment from the season both live and in the past with the Flashback feature. If you haven't tried the Feeds yet then this is your week to do it! It's twenty cents a day and the cheapest entertainment you'll find all summer.