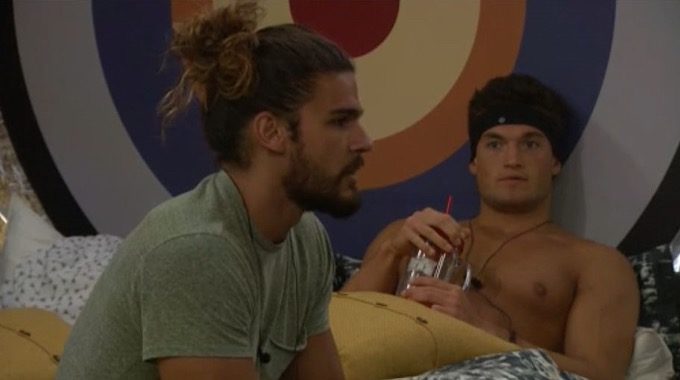 Ovi got wind yesterday on the Big Brother live feeds that he might not have the votes to stay like he has been told. To make sure that he did, he made his rounds and talked to everyone in the house again about their vote. In a last-ditch effort, Ovi told Jack and Jackson about his Nightmare Power. He told them every single detail of the power.
On the live feeds (Cams 3/4 at 11:32 PM BBT), Ovi pulls Jack and Jackson aside to make a huge deal with them. Ovi starts by telling Jackson that he knows that Jackson is in a position and he understands that if Jack backs him, that would make Jack a target. He adds that Kat is bad for their games and that what he is about to tell them has to stay between them. They give him their word that it will.
He then tells them that he can be a shield for them. He tells them about his power, how long it lasts, everything. He tells them that if they keep him, bring in Analyse, Holly, Tommy, Cliff, and Nicole and he stays, he will use the power to save them if they end up on the block. He tells them that even if they don't go up next week, he can use it anytime within the first six weeks. He also tells them that with them competing for the power next week, they can have an even bigger advantage.
Jack mentions to Ovi that he should use it to protect Christie because she is the HOH and she is worried about going up next week. Jack tells him that if next week Christie ends up on the block, he should use it on her instead of Jack. Ovi reiterates that they can't tell anyone about this power. Ovi makes it a point to say that if he is voted out and then there is a Battle Back, he will fight to get back into the house and the power will come back in with him.
Jack and Jackson talk about it a little and mention that they can get the vote to flip by making Kat spiral again by planting seeds with her. They do fill Christie and Tommy in on this power right after this conversation, but Christie is convinced that because Ovi didn't come to her and tell her that he must be against her. She tells them that he has to go and the power has to go with him.
What do you think Jack and Jackson should do? Do they try to get Kat to spiral so they can flip the vote without Christie's blessing? Or do they stick to the plan and vote out Ovi and hope that he doesn't go to the other side of the house with this same deal?
Download our Big Brother App, join us on Facebook & Twitter, and get our Email Updates for more!