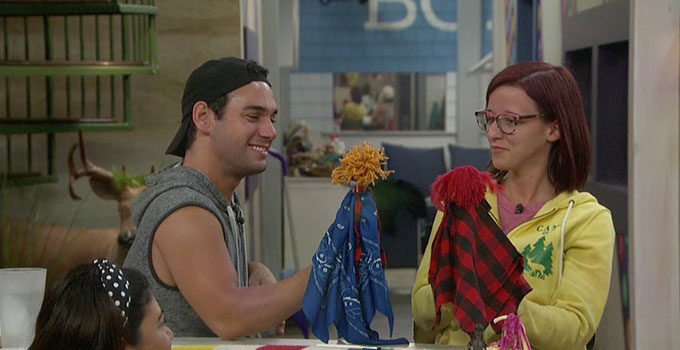 It was Double Eviction Eve in the Big Brother 21 house, and the Houseguests seem to really be onto the idea that two of them will be heading home Thursday night. Jessica did some campaigning, and it was enough to make Cliff nervous that Nicole was going to flip. But Nicole has decided to stick with Cliff, it seems. But more interesting than that were the second eviction scenarios that HGs discussed. Read on to find out who might be in trouble during the second eviction of the night.
If you've got the Live Feeds (Free Trial) then you can watch all of these moments with the Flashback feature to go back and watch those important conversations or funny scenes you may have missed.
Big Brother 21 Live Feed Highlights – Wednesday, September 4, 2019:
3:15 PM BBT – Tommy asks Cliff what is the plan is moving forward. Cliff says he doesn't know truly. Tommy tells Cliff he knows they haven't always been on the same team but he loves and respects him.
3:16 PM BBT – Jackson tells Nicole that he knows Christie has said he and Holly are working both sides of the house, but he wants her to know that isn't true. He tells her him staying on the wall to protect her and Cliff is proof where his loyalties lie. Jackson says he shook her hand and Cliff's hand and he is sticking by that. He says they are his final 4.
3:19 PM BBT – Cliff tells Tommy that he will say he's not touching Nicole but adds that Tommy is not the target he is currently eyeballing.
3:23 PM BBT – Jackson tells Nicole he thinks Tommy and Christie are too scared to take a shot at him and Holly so they're trying to keep Jessica to do it or get Nicole on their side to do it for them. Nicole says that makes a lot of sense. Jackson tells Nicole Tommy and Christie are saying the same things to him and Holly about her and Cliff.
3:30 PM BBT – Nicole and Jackson both subtly agree that keeping Cliff is not smart for their games, but they're staying loyal to him. Jackson says getting rid of Cliff also paves the way for Christie and Tommy to get to the end and he's not about to do that.
3:35 PM BBT – Christie tells Cliff that ideally, Jackson would go next and then Holly. She says she would love for the four to be the two of them, Nicole and Tommy.
3:36 PM BBT – Cliff tells Christie if he wins tomorrow and goes after Holly and Jackson to please have his back. She says she will and asks him to do the same. Cliff says if he gets her support he would promise that the target would be whichever one of Holly or Jackson survives the next eviction.
3:40 PM BBT – Christie and Cliff agree it would be easier to take out Jackson or Holly if it's a double eviction so there's no time to think about or deal with the repercussions.
3:46 PM BBT – Cliff says he's not really going to campaign anymore. He says he will just go with the flow. Christie says she thinks the vote will be unanimous for him to stay.
4:52 PM BBT – Jessica talking to Jackson. She's letting him know that if it's a tie and he keeps her, she could easily go up on the block next week for him. Jackson tells her that he isn't sure what he would want to do about breaking a tie. He says he needs to do some more talking to people.
5:05 PM BBT – Cliff tells Nicole that he isn't sure what he would do if he won HOH. He says he's still leaning toward sticking with Holly and Jackson. Nicole says she's back to leaning that way too.
5:10 PM BBT – Holly says if Cliff and Nicole went back on their word with them that would be really rotten. Jackson tells Holly she definitely shouldn't throw the HOH. She says she won't. They both worry Christie and Tommy will take a shot at them.
5:23 PM BBT – Jessica laying it on thick with Nicole. Telling her how amazing she is and that she knows the two of them could get to the final four with Tommy and Christie.
5:52 PM BBT – Cliff and Jackson talk about Christie and Tommy putting pressure on Nicole. Cliff says Nicole said she wants to stick to their deal though.
5:56 PM BBT – Jackson and Holly tell Cliff Tommy and Christie are pushing hard for Cliff to go.
6:03 PM BBT – Cliff and Jackson both say they shook on their deal and they're honoring it. Cliff says Tommy and Christie might think Cliff is taking a shot at Jackson and Holly though. Jackson says that's good because maybe then they won't try so hard to win HOH.
6:10 PM BBT – Cliff has been throwing Nicole under the bus a little to Jackson and Holly. He's showing that after Jessica, Tommy and Christie talking to her he might not trust her as much. Cliff says he is going to talk to her some more to make sure she's good.
7:08 PM BBT – Cliff cam talks and says he might go home and if does it's because Nicole switched her vote.
7:18 P MBBT – Jessica tells Christie she's worked on Nicole and Jackson all she can. Now she just has to wait and see what they decide.
8:17 PM BBT – Tommy tells Jessica that Nicole evicting Cliff would boost her game resume.
8:38 PM BBT – Jessica tells Holly that it would make so much more sense for Jackson to evict Cliff. She says it's not very impressive for him to say with his two HOH wins he took out Analyse and Jessica.
9:03 PM BBT – Tommy and Christie don't think they have been able to sway Nicole. They think she'll be evicting Jessica.
9:10 PM BBT – Tommy says that Jackson might not be the one going if they nominate him and Holly. He says Jackson might win veto and then they have to get rid of Holly. Christie wonders if Jackson would leave Holly on the block. Tommy thinks so. They agree that one of them (Holly or Jackson) have to go no matter what.
9:18 PM BBT – Cliff and Jackson decide that if Christie and Tommy are up Christie needs to go. Jackson says she's had too many chances and it's time for her to go.
10:00 PM BBT – Jackson lets Jessica know that if it comes down to a tie he would most likely keep Cliff. Jessica goes into how it doesn't look great on paper that he took out Analyse and now her.
10:20 PM BBT – Jackson warns Jess that if it's a tie he's most likely going to vote her out over Cliff. He encourages Jess to keep campaigning.
10:35 PM BBT – Christie talks with Jackson and says Cliff is worrying her. She wonders why he (C) feels so confident.
10:40 PM BBT – Jackson reminds Christie that Jess has been his target and the other noms were just pawns to make it happen.
10:40 PM BBT – Jess relays to Nicole that Jackson is going to break a tie against her (J). Nicole deflects saying she hasn't decided her vote yet.
10:50 PM BBT – Jackson tells Christie he's already let Cliff and Jess know his plans to tiebreak.
11:00 PM BBT – Jackson worries to Holly about Christie's intentions. He says if she wins this HOH and puts the two of them up then she (C) will lose two Jury votes.
11:15 PM BBT – Holly worries that Cliff might be the better target over Jess but she gave him her word.
11:30 PM BBT – Cliff and Jackson discuss scenarios. Cliff expects Christie would put up him and Jackson or Jackson and Holly.
11:50 PM BBT – Christie tells Cliff if Holly is out of the comp then she will through it to Cliff. She says her deal with Jackson is done and that she never swore on her sister to Jackson.
11:55 PM BBT – Tommy believes viewers are rooting for him and Christie since they're now the underdogs.
12:05 AM BBT – Cliff ran upstairs to tell Jackson and Holly what Christie just told him. Jackson and Holly are very worried and upset now.
12:20 AM BBT – Cliff tells Nicole they're playing both sides. He explains how both couples have been telling him the other couple is gunning for him. Nicole doesn't think they could possibly be the higher target over another couple.
12:35 AM BBT – Nicole tells Cliff that if she loses to anyone she wants it to be him.
12:45 AM BBT – Holly is regretting not keeping Nick over Christie. She wishes they had taken either of their opportunities. Jackson says he had to get out Sis (??).
1:30 AM BBT – Christie is anxious to go back and watch early in the season when she was convinced she was going to be renom'd. She still thinks it was possible and wants to find out what happened that week.
1:45 AM BBT – Nicole shares that Bella offered her a F2 on Day 2. Cliff says she only offered him to Jury.
2:15 AM BBT – HGs are getting ready for bed.
Jess continued to work her campaigning but it still isn't going to work. The big takeaway overnight is that Cliff has exposed Christie's intentions to target Jackson and Holly. That might have been a good secret to keep, Cliff, and now there's no chance Holly will be throwing this next HOH comp. Should be an exciting DE.
You can watch all of these Big Brother events using the archives Flashback, the DVR-like feature of this year's Live Feeds which means it's always live, even when you missed it! Sign-up now to get the free trial to watch it all live & uncensored.


Gallery: Live Feeds Highlights
Download our Big Brother App, join us on Facebook & Twitter, and get our Email Updates for more!