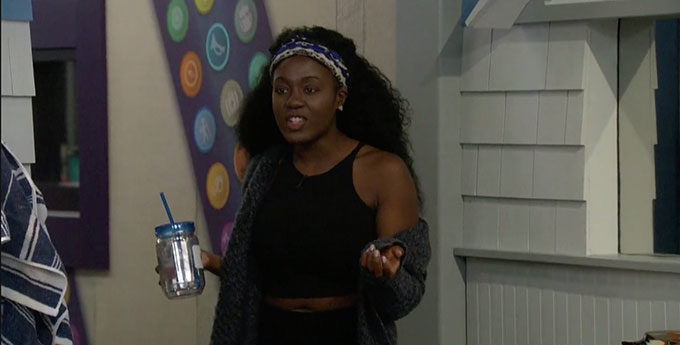 The Big Brother 21 houseguests played their first veto competition on Thursday and now they are ready for the first backdoor move of the season. Some of the houseguests have started to pick up on how the backdoor plan doesn't make sense, though, and thank that is not going to be a good look for the Christie, HOH, to make the move. So will that plan stick or not? Read on to find what everyone thinks of the veto results and what the plan for the rest of the week might be.
Watch along with us on your Feeds in All Access and get started with the 1-Week Free Trial to see what the fun is all about!


Don't forget to sign up for the Big Brother Live Feeds right now so you don't miss anything else this season. Anything you want to watch from our Highlights report is always available using the rewind feature to pick any day, time, and camera to watch it again. Enjoy!
Big Brother 21 Live Feed Highlights – Thursday, June 27, 2019:
4:55 PM BBT – Feeds return from the Veto comp after nearly seven hours. Sam has won the Veto.

5:05 PM BBT – Kathryn is upset and fears she's about to be blindsided and targeted. Jackson promises Kathryn that Sam wants Kemi out so he will use the Veto. Kathryn worries Sam will save Cliff instead of her. Jackson says she'd still be safe.

5:07 PM BBT – Sam tells Jack and Nick that he'll use the Veto however Christie wishes but he'd rather save Cliff.

5:10 PM BBT – Jackson worries about Christie and Jack being so close. Kathryn suggests HGs may want to get rid of her (K) because she's so close to Jackson too.

5:20 PM BBT – Nick tells Kathryn to calm down, stop worrying, and she'll be safe.

6:00 PM BBT – Jackson tells Bella that the odds are Cliff will be the one coming off the block. He says it doesn't make sense for Sam to use the veto on the girl.

6:45 PM BBT – Jackson mentions Kaycee got to be in the BB21 house longer than David. (Kaycee returned to host the Veto comp.)

6:52 PM BBT – Kathryn tells Jessica that she has a feeling she might be blindsided instead of Kemi. She says Bella and Kemi are still close.

7:35 PM BBT – Analyse and Holly agree that Ovi is irritating them and trying to get airtime by being over the top.

7:45 PM BBT – Jack pitches to Tommy the idea of a F5 within their alliance of 8. Tommy wants to bring along Holly and Sis (Analyse). They agree Jackson should be the 5th in the group. Tommy points out they've also got Christie for their F3 (she was not named as one of their F5).

7:55 PM BBT – Bella doesn't want to vote against Kemi especially if they already know the other person won't go. Sis suggests Bella ask Christie first.

8:05 PM BBT – Jackson says that Bella and Nick are getting close and then goes into how the need to keep Ovi an extra week and work on getting Jessica out next week after Kemi.

8:06 PM BBT – Christie mentions that the Week 3 Wacktivity Competition will consist of herself, Jessica and Sis (guessing Kemi was in that group too but they plan on her being gone). Jackson says the people playing next week are himself, Jack, Tommy, Holly and Sam.

8:10 PM BBT – Christie is confident Kathryn is safe. Jackson agrees. They discuss Sam being worrisome and dangerous. Jackson says he thinks Sam will still use the veto, however.

8:11 PM BBT – Jackson tells Christie that he could never be with Kathryn in real life. Christie asks if Kathryn wasn't in the house if he would have been more interested in Holly or Sis. He says definitely.

8:15 PM BBT – Nick says if he wins HOH next week he would put up Ovi and Kat with Ovi as the target.

8:25 PM BBT – Jessica and Nicole talking about how they don't understand why Kemi is the backdoor target. Both agree she didn't do anything to deserve it. They also agree that it will look racist if the two black people are the first two to go. Jessica says if Christie puts up Kemi it's just really not going to look good. She says Kemi likes Christie and it'll be heartbreaking.

8:27 PM BBT –  Nicole says Kemi has been a bit quiet and isn't opening up but says that should not be seen as sketchy and isn't a reason for her to be a target.

8:30 PM BBT – Nicole says if Kemi does stay this week she hopes she wins HOH and goes crazy on the guys. Jessica says she kind of wants to talk to Kemi about it but doesn't want to make any big sudden moves.

8:50 PM BBT – Cliff and Sam talk about Sam using the veto. Sam says he wants to take one of them off. Cliff said he would like the veto used on him but he's not going to beg him. Cliff says he has been distancing himself from Ovi since Ovi has been rubbing people the wrong way.

8:55 PM BBT – Nicole tells Ovi if she were to win HOH she wouldn't put up him, Jessica or Cliff but everyone else would be fair game.

9:00 PM BBT – Kathryn is still upset and Jessica tells her that there are probably more people who want Kemi to go home. Kat says she hopes so but also kind of wants to go home and see her friends.

9:03 PM BBT – Cliff is talking to Nick and Sam about who to work with. He thinks he could work with Nicole. Sam says he likes her too. He says Jessica seems to be pushing some girl power stuff. Nick and Sam are subtly trying to get Cliff to nominate Ovi if he were to win the next HOH.

9:05 PM BBT – Sam tells Cliff to still act shocked when he removes him from the veto.

9:15 PM BBT – Most of the HGs are working out in the kitchen.

9:29 PM BBT – Kathryn sees Jackson and works up some tears again. He gives her a hug.

9:31 PM BBT – Everyone is having a post-workout snack.

9:45 PM BBT – Jackson mentions Ovi is a heavy snorer.

10:35 PM BBT – Christie continues to be annoyed by Kat's paranoia over being the target. Jack agrees that Kemi needs to go instead. Christie doesn't understand why Kat doesn't relax and trust them.

10:40 PM BBT – Analyse lets Christie know that Bella wants to give Kemi a sympathy vote. Christie thinks that's a bad sign from Bella.

11:40 PM BBT – HGs are planning their DR hallway voting interaction for the live show.

12:05 AM BBT – Christie worries to Tommy that going after Kemi is a bad idea. She thinks she could be making a move to benefit Jack instead of herself. Christie admits Kemi hasn't done anything to her. Tommy suggests to Christie that she shouldn't rock the boat.

12:40 AM BBT – Christie tells Analyse that Bella is a wildcard.

12:45 AM BBT – Analyse and Christie discuss Ovi. They say he give them the creeps but they trust him over Jack.

1:25 AM BBT – Ovi is rehearsing all the details he's learned about the HGs. He has memorized quite a bit about them. Ovi says that while some HGs are already making plans to travel together he is here to win and reward his family.

2:20 AM BBT – Christie tells Holly and Analyse that she doesn't trust Jack. Analyse notes how territorial Kat is being about Jack. They discuss how Nick needs a new haircut style.

2:28 AM BBT – HGs discussing who might have "the power." (likely related to the Whacktivity Comp we'll see on Sunday)

3:15 AM BBT – Bella is feeling emotional and crying. Nick is comforting her.

4:15 AM BBT – Tommy joins Bella and Nick.

4:55 AM BBT – The last 3 HGs up decide it's time to go to bed.
There seems to be some wavering in the plan to renom Kemi and BD her out in the first eviction vote but Christie will need to get that ball rolling and build support if she's going to change plans. This first week's schedule will be a little off as they usually are, so we'll keep watching for the Veto meeting and see who does end up on the Block if someone comes down.
You can watch all of these Big Brother events using the archives Flashback, the DVR-like feature of this year's Live Feeds which means it's always live, even when you missed it! Sign-up now and get the free trial to watch it all live & uncensored.


Gallery: Live Feeds Highlights