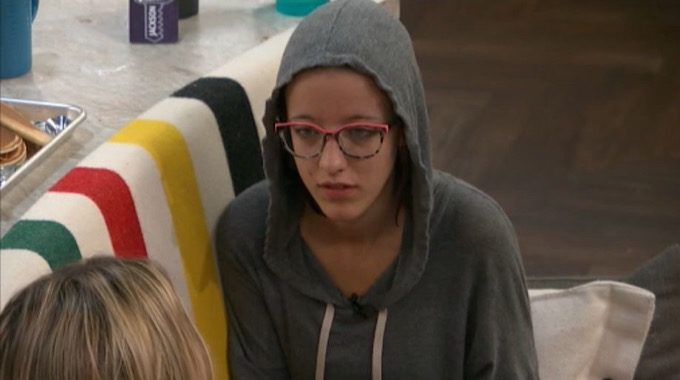 It is live vote and eviction day in the Big Brother 21 house and with the Camp Comeback twist coming to an end, three HGs will walk out of the Big Brother doors. The HGs spent the day getting ready for Thursday night's festivities and putting their final plans into place. Get all the details of those plans right here!
If you've got the Live Feeds (Free Trial) then you can watch all of these moments with the Flashback feature to go back and watch those important conversations or funny scenes you may have missed.
Big Brother 21 Live Feed Highlights – Thursday, July 18, 2019:
7:10 AM BBT – Cliff is up and talking in the Boat Room. He talks about the vote and how he is feeling going into the vote, talking to the cameras may have damaged his game, and how he hates feeling like he is out of the loop. He talks about trying to make his shoutouts in the morning less often or bringing someone else into the room so that they are less worrisome to the others. He finishes up and heads back to bed.

9:30 AM BBT – HGs are waking up.

9:55 AM BBT – Sam is telling Nick and Bella about how he saw Nicole having an emotional breakdown last night. Tells them that she told him that she would not target Nick and Bella, that she thought that Nick's speech was funny and that she had no hard feelings. Nick tells them that she said the same thing to him and Bella told them that she returned a dress to her that she gave to Nicole to keep. Bella also warns Sam that he talks too much about his strategy to the other HGs.

10:05 AM BBT – Nicole is campaigning to Tommy. Telling him that she has never mentioned Tommy's name as a target. Tommy says that he has to vote with the house.

10:15 AM BBT – Tommy goes back to Jack, Jackson, Holly, and Christie and tells them about Nicole campaigning. Jackson makes sure they know that they have to engrain it in everyone's head that they are voting Nicole out so that Nick and Bella don't get suspicious. They continue to talk about how Nick and Bella's reaction to the vote is going to determine how good they are at this game.

10:22 AM BBT – Sam tells Nick and Bella that he kept slipping up and telling Nicole yesterday was her last day in the house.

10:45 AM BBT – Nicole is campaigning to Christie. She tells her that she isn't targeting Christie and she really wants to stay in the house. Christie tells her that she believes what Nicole was saying was true and tells Nicole that until minutes before the vote, she will continue to rally for her. Christie tells Nicole that she would love to work with her if she stays in the house. Christie tells her she should talk to Jack, Analyse, Jackson, and Holly (in that order) next, but reiterates that she should talk to everyone.

11:25 AM BBT – Nicole is campaigning to Kat. Nicole is hoping that she can get enough people to see that she isn't the real threat in the house.

11:30 AM BBT – The HGs are called to the HOH for lockdown. Nicole quickly touches base with Holly before heading upstairs. Nicole tells her that she knows Cliff has been talking about targeting the couples and she has no intentions of doing that.

11:37 AM BBT – Feeds cut for HOH lockdown.

1:22 PM BBT – Feeds come back. We get the tail end of Nicole and Jack talking in the Archery Room. He tells her that whatever happens is meant to happen for her.

1:27 PM BBT – Jackson is telling Jack about his conversation with David last night. Jackson tells Jack that he has been doing things to get under people's skin and stir the pot. For instance, the rogue vote, tells him that he has been eating all of Nick's HOH basket food, and he tossed Nick's cookie dough.

1:41 PM BBT – Kat is telling Holly about a conversation she had with Nicole. Holly tells Kat about the plan to keep Nicole but tells her that she can still vote to evict Nicole so that she doesn't end up screwed when Nick and Bella lose it. Holly is telling her that no matter what happens tonight, Sam and Bella can not win tonight.

2:04 PM BBT – Kat is in the Storage Room when Cliff walks in. He is asking about the votes and Kat tells him that she wouldn't vote to evict him and she confirmed with Nick who confirmed with Analyse and Christie.

2:43 PM BBT – Ovi and Cliff are going over the days and events and Cliff is dog-earring pages in his bible to keep track of the days.

3:18 PM BBT – Feeds go down.
Pretty quiet Eviction Day in the Big Brother house as the HGs got ready for tonight's show. Nick and Bella are convinced that Nicole is going to be voted out, Cliff is convinced that he is safe, and Kat has been filled in on the flip vote so that she doesn't think anyone is conspiring against her. Stay tuned for spoilers coming up a little later today!
You can watch all of these Big Brother events using the archives Flashback, the DVR-like feature of this year's Live Feeds which means it's always live, even when you missed it! Sign-up now to get the free trial to watch it all live & uncensored.


Gallery: Live Feeds Highlights
Download our Big Brother App, join us on Facebook & Twitter, and get our Email Updates for more!