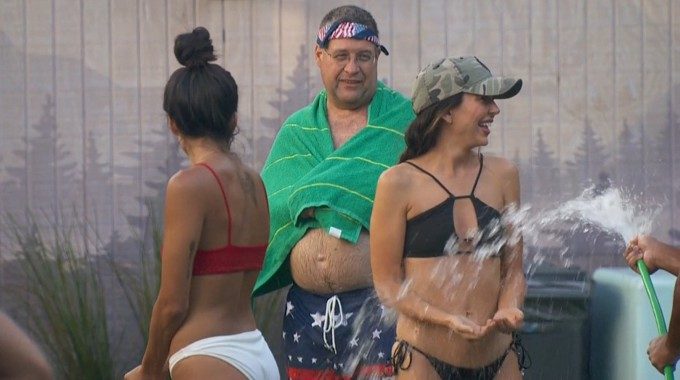 Thursday delivered a quiet day on the Big Brother 21 Feeds while HGs, production, and fans mostly rested for the holiday but that quiet time won't last for long. The day featured some light game talk, slip and slide, pizza party, and a Gr8tful alliance meeting to confirm the targets for Friday's nominations and even the renom plans. Read on to catch up.
If you've got the Live Feeds (Free Trial) then you can watch all of these moments with the Flashback feature to go back and watch those important conversations or funny scenes you may have missed.
Big Brother 21 Live Feed Highlights – Thursday, July 4, 2019:
6:30 AM BBT – Cliff is up and chatting with camtalk.

9:30 AM BBT – HGs got their wakeup call.

10:35 AM BBT – HGs experienced an earthquake. Everyone was okay.

12:05 PM BBT – Holly is ready for Kat to leave the house. She's glad they didn't vote her out just to have her stay.

12:25 PM BBT – Jackson letting Kat go and telling her they need to spend some time apart. She's confused and disappointed. Jackson says it's because they started too strong at the start and now HGs may see them as a couple.

2:20 PM BBT – Jackson came back from the DR and is upset. He was talked to about his behavior towards David. Jackson won't detail to HGs what he did. (Jackson said he'd like to mule kick David in the teeth.)

2:35 PM BBT – Christie suspects David was suggesting another corn hole tournament so he could see who was paired up to suggest alliances.

4:00 PM BBT – HGs continue to lounge and chat today.

4:45 PM BBT – HGs had to go inside for lockdown due to an unrelated sky banner.

4:55 PM BBT – Sam and Nick hope Kemi wins the Veto. Nick worried Jack might try to BD him. (Jack did float the idea.)

5:30 PM BBT – Ovi wants to make a slip and slide. HGs are working on it.

6:10 PM BBT – Jessica and Nicole discuss Kat's poor gameplay and her paranoia. Jessica expects Kemi will be the target this week.

6:20 PM BBT – Slip & slide time.

7:00 PM BBT – Loops have arrived. HGs getting a Fourth of July party.

8:30 PM BBT – Feeds return. HGs cleaning up.

8:45 PM BBT – Jack lets Ovi know he expects him to be back in the game but can't discuss it more because of the no-game-talk agreement he made up.

8:55 PM BBT – David warns Kat the lower tiered HGs need to align or they'll be taken out. Kat thinks David was able to watch Feeds during banishment.

9:20 PM BBT – PopTV sent HGs pies for the Fourth.

11:35 PM BBT – Jessica thinks Kat will be the pawn against Kemi. (It'll be Jessica.)

12:00 AM BBT – Gr8tful alliance meets in the HOH room. Jack confirms Kemi and Jessica will be the nominees. Kat is the renom. Group meeting breaks up. Nick and Bella leave. The subset alliance of six does their own celebration.

12:30 AM BBT – Jackson and Holly are chatting in the bathroom. Gametalk (Kat) and general chatter.

1:00 AM BBT – David chatting with Nicole and Kat. They talk about shows they'd watch. David watched Breaking Bad during banishment. He wishes he could be watching Stranger Things 3 now.

1:30 AM BBT – HGs are off to bed.

2:00 AM BBT – Jackson is back up and eating from the pantry.
No surprises here with that alliance meeting. Jessica and Kemi will be the noms. Kemi is the target. Kat is the backup nom. Nick and Bella don't realize they're going to get picked off the first chance Gr8tful gets but maybe they'll see that sooner than later. In the meantime, Kemi better start preparing for that Veto comp!
You can watch all of these Big Brother events using the archives Flashback, the DVR-like feature of this year's Live Feeds which means it's always live, even when you missed it! Sign-up now to get the free trial to watch it all live & uncensored.


Gallery: Live Feeds Highlights
Download our Big Brother App, join us on Facebook & Twitter, and get our Email Updates for more!