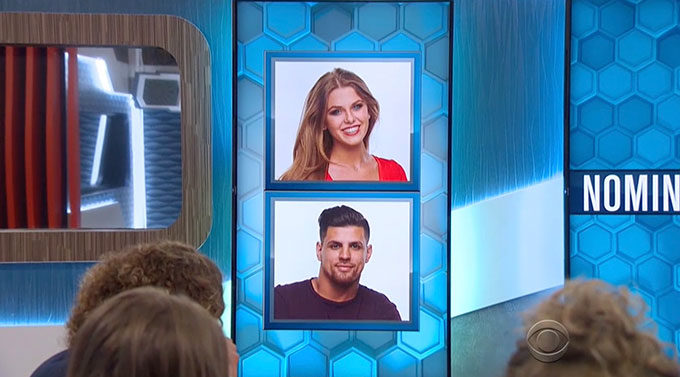 Even thought his week will end with someone re-entering the Big Brother 20 house in a Battle Back, someone will still be evicted. And after today's veto meeting, we'll have a pretty good idea who that will be.
As we saw on Sunday night's episode, Angela won Head of Household and surprised Haleigh and Faysal by nominating them for eviction. Angela was never going to honor what Haleigh and Faysal thought was a final four deal with Tyler. Angela also didn't expect to immediately be HOH after that "deal," but a crapshoot competition kind of forced her hand.
On Saturday, we learned on the Live Feeds that Level 6 held onto all the power this week when Kaycee won her first Power of Veto Competition. So that means Haleigh and Faysal would have better luck pitching to a brick wall to use the veto.
Needless to say, at todays veto meeting, Kaycee will not be using the Power of Veto. There's absolutely no reason why she would. Even if some crazy thing happened with Sam and everyone decided to vote her out, Angela would have two people left in the game coming for her. And no one in Level 6 would let that happen. So expect nominations to stay exactly as they are.
But who will face Bayleigh, Rockstar and Scottie in the Jury Battle Back Thursday night? As of now, Faysal is the true target. Haleigh even knows from Angela, that it's Faysal who is likely to be evicted. Of course things often change in the game of Big Brother, but right now everyone in Level 6 seems pretty set on Haleigh staying, and they control the votes. Sam and JC could try to work Haleigh going, though, as Faysal staying would be beneficial to JC, and Sam has hated Haleigh all season.
What do you think should happen at the veto meeting? Should Kaycee use the veto on either of the nominees?