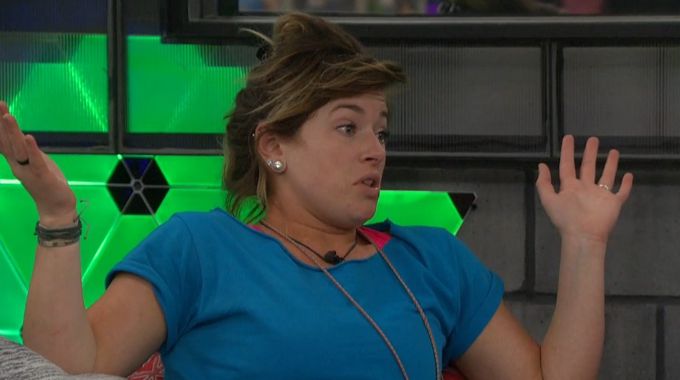 It's Veto Day in the Big Brother 20 house and we've been listening in as the nominees and Houseguests around them plan for the Power of Veto competition that could change our noms and possibly our course for this Thursday's eviction.
Sam revealed her Noms to be Kaitlyn and Haleigh, later explaining to Tyler that she felt they were the weakest women competitors thereby reducing the chances of them completing any returning challenge with her squandered Bonus Life twist.
There's less of a discussion here on who Sam wants to go, given the twist's boomerang effect, but obviously it looks like the house is leaning toward voting out Kaitlyn over Haleigh. No surprise considering Kaitlyn has betrayed her core alliance and driven the rest of them nuts. Kaitlyn is working harder though for support in the house and that could affect how this comp goes.
Kaitlyn has talked between Tyler and Faysal to play as her champion should she get a HG Choice chip. Tyler doesn't want to save her, but he knows he probably would have to. That tells me unless he's forced to win then he'll probably try to avoid it.
Meanwhile Faysal is torn between supporting the girl he likes, Haleigh, and the girl who can't keep herself off him, Kaitlyn. After much debate Faysal went to Kaitlyn and agreed to help her, saying he'd use the Veto on her if he won. But will he really try to win it?
As for the other HGs, most of them want to see the noms stay the same and that'd be good news for Angie. She's the top pick for a renom situation. Brett wants Angie up so if he plays and wins then I'd expect him to use it. He even went as far as to tell Kaitlyn she should pick him and he'd save her. Anything for a chance to target Angie, I suppose.
While Tyler doesn't really want to get picked JC sure does. He told Sam he'd gladly play for her if she pulled the Choice chip. Watch for him to leave noms just as they are if JC plays and wins the Veto.
If Kaitlyn wants to escape the Block she'll need to win the Veto or rely on Tyler, Faysal, or Brett. Haleigh better win it herself if she wants down, but she's not in danger of being voted out either way so no one seems too concerned with her in this situation.
Veto players will be picked later this morning and then we should get results sometime on Saturday depending on whether or not the comp is a short daytime or longer evening challenge. Let's all follow Kaitlyn's lead and meditate on Grandpa Lou delivering us on the wings of a pigeon a nice short comp with lots of drama to follow the spoilers!