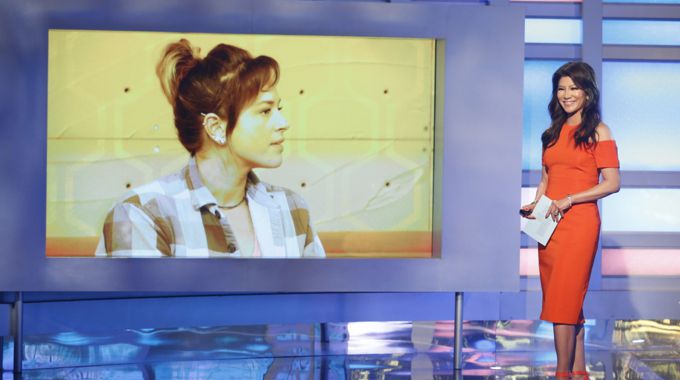 Thursday night's eviction episode on Big Brother brought to a close the opportunity for Sam Bledsoe to put into action her "Bonus Life" Big Brother App. Her chance to use the boomerang effect may have ended, but the BB20 app's twist hasn't gone away just yet. Here's what's going to happen with Sam's power and as a refresher, let's start with the twist details itself.
Bonus Life: This power gives you or the houseguest of your choosing the CHANCE to return to the game if evicted. This power is good through the first four evictions. But here's the catch, if the Bonus Life is not used at one of the first three evictions, the 4th person evicted automatically gets a chance to return to the game.
Sam picked up this power in the first week of Big Brother 20 after viewers voted RoboSam into a spot of safety after her misfortune landed her in a dangerous position of being going most the week. She was eventually sent to the Block but thanks to Level Six she was able to keep that power in her pocket for later use. It had a three-week lifespan on it, so no rush, right?
The next two weeks Sam was also safe, so again no need to use up her power. Of course, the risk in not using the power herself, on anyone she chose mind you, would mean the power would be automatically activated in the fourth week of the game. Sam decided against saving one of the Bros on Thursday knowing very well that this power would become a loose cannon and could send anyone, even one of her own targets, back into the game next week. And here we are.
Come Thursday night with the fourth eviction, whoever gets voted out will face a challenge of some sort, word has it this will be a puzzle, that will have to be completed successfully for a return trip to the house. My guess is the challenge will be just easy enough for a high chance of success, but no guarantee.
The real question now is who will get that chance and will Sam tell anyone in advance or will she just play dumb and act surprised on Thursday night. Remember that she told HGs this was her last week to use the power and she was right. Maybe Sam's plan is to pretend this is something completely different, but we'll have to see if Big Brother outs her role in its use.
What do you think of Sam's decision not to save one of the Bros and roll the dice on her Bonus Life? Good move or bad choice? Share your thoughts!