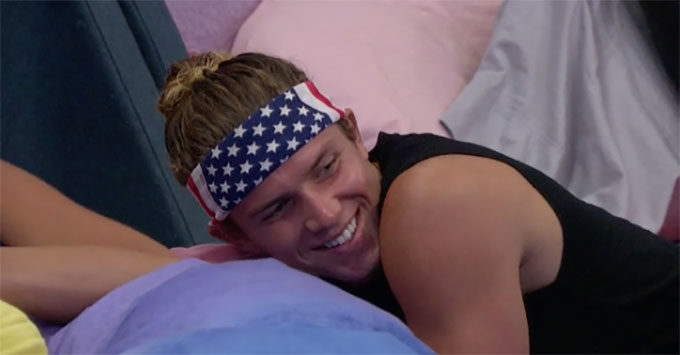 A new Big Brother 20 winner will be crowned in just 22 days. With the end in sight, we thought it was time to take a look at the state of the game. Is it still as good as we previously thought? Who could actually win? Who SHOULD win?
It's Week 10 in the Big Brother house and Tyler is in the middle of his second HOH reign. Scottie is poised for his second eviction of the season and Haleigh is still playing in true FOUTTE fashion (she is so paranoid she's THISCLOSE to getting herself excited over Scottie this week).
Right now we're at a bit of a lull in the game. But that happens every season, even the good ones. We are at that point in the game where Level 6, the dominant alliance, is finishing off the rest of the house, so it's a bit boring and predictable. But with JC pushing for Angela and Kaycee to be split up soon and Brett seemingly agreeing, the end-game drama is getting closer and closer.
So this week Scottie will be heading back to the jury house. That is unless Haleigh keeps drilling Tyler on whether or not she's safe this week. Tyler and Angela are both getting annoyed with Haleigh so if she doesn't watch out, she could be in trouble. Scottie staying over Haleigh isn't even a bad thing for Tyler, so he would be OK with any outcome this week. After Scottie goes, Haleigh is the next target. If Haleigh does manage a second  HOH win, she has said her target is Sam. And JC, Tyler and Angela have done a good job of further pitting Haleigh and Sam against each other. Of course it helps that Sam truly does't like Haleigh and still makes jabs at her and roots against her during competitions.
But will Haleigh really target Sam? Well, based on her and her alliance's track record, she probably would. I'd like to think the same Haleigh who nominated Tyler as the Hacker would have another bold game move in there somewhere, but my hopes are low there. So basically I'd say the next week will see either Haleigh or Sam go out the door. And then the next to follow.
Beyond the inevitable Haleigh and Sam evictions, we're looking at JC's demise. JC has played a nice sneaky game, but his downfall will be his obsession with Tyler and Angela. He keeps pushing Tyler to stay away from Angela and says it will be bad for them if he gets in a showmance with her. Angela is ready to take a shot at JC, but Tyler is trying to sway her away from that. But he's wearing thin on JC and even told us during Sunday's episode he might have to deal with JC sooner rather than later.
But if JC or Brett win HOH soon, we could see a fracture in Level 6. Of course JC targeting Angela or Kaycee wouldn't count as an actual fracture since he's not a part of L6. But if Brett goes along with what JC has been pushing, then we've got the start of that alliance's demise.
I think Brett is just playing along with JC, which helps Brett's position in the house. Before JC started to get pushy and sloppy, he was ahead of Brett on Tyler's end-game list. I'm wondering if that has changed.
A lot can still happen, and it's hard to say which of the remaining HGs will be left at the end, but I think it's a pretty safe bet to assume it'll be Level 6 all the way to the end. If I were one to make predictions (and I am so I will), I'd say the remaining eviction order goes like this: Scottie, Haleigh, JC, Sam and Brett … that would leave Tyler, Kaycee and Angela at the end. And I have no idea how that would play out. That would sure be interesting to see who wins and who cuts whom.
There should be a lot of drama still ahead, so don't panic if you're a little bored this week or next. It's probably just the calm before the storm.