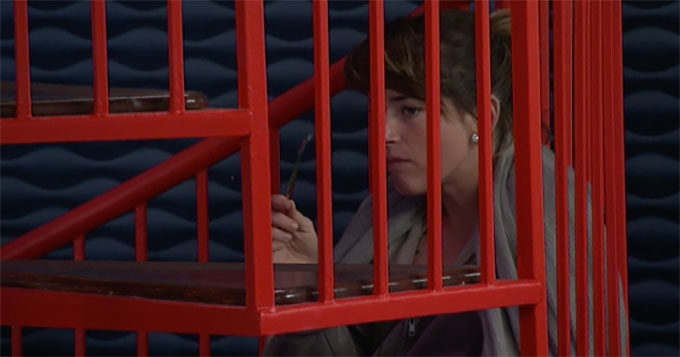 We just saw a whole week of Big Brother play out in one night last Thursday, but we're already well into the next week as the new HOH has been crowned, nominations made and a veto winner emerged today. So it's time to take a look at all the spoilers that have gone down since Thursday's episode.
Head of Household:
Tyler, Kaycee and Angela are currently taking turns being the Big Brother 20 HOH and this week the key is back in Angela's hand. So there won't be any major surprises this week as the remaining three members of Level 6 are quite solid with each other.
Nominations:
As I just mentioned, the remaining Level 6 members aren't going to turn on each other so it should come as no shock that Angela nominated Sam and JC for eviction, with Sam as the target this time around.
Veto Competition: 
Once again, Kaycee has won the Power of Veto. That's four times in a row minus the double eviction veto Angela won, which would be a huge mistake almost any other season, but Angela and Tyler seem to not be thinking about how they can actually win this game if they're with Kaycee at the end.
Veto Meeting:
The Veto Meeting won't come until Monday afternoon, but once again Kaycee won't be using the Power of Veto, sealing Sam's fate. Sam isn't quite aware that her fate will be sealed though, as she's still counting on Tyler to save her and take her to the end with him.
What do you think of all the Big Brother 20 results from over the weekend? It's shaping up to be a Kaycee, Tyler, Angela final 3. Are you OK with that? Let us know what you think in our comments section below.
Click image to view larger