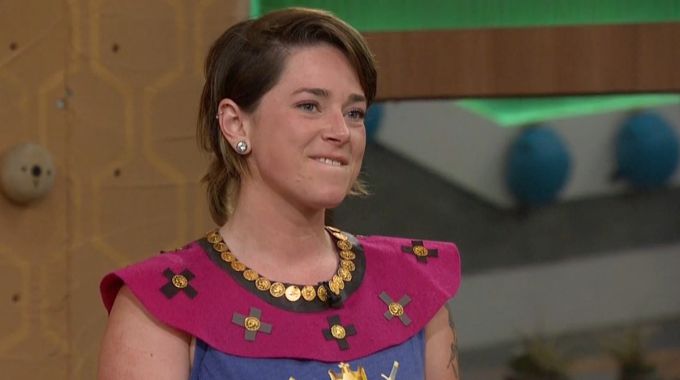 Veto Day on Saturday brought interesting updates for Big Brother 20's Houseguests on opportunities and missed ones at that as this week's Veto holder looks to be set on sticking to the plan. Read on to see what's going on in the house and what they're planning to do in this shortened week of gameplay.
If you've got the Live Feeds (Free Trial) then you can watch all of these moments with the Flashback feature to go back and watch those important conversations or funny scenes you may have missed.
Big Brother 20 Live Feed Highlights – Saturday, September 15, 2018:
10:00 AM BBT – HGs are getting up.

11:40 AM BBT – JC tells Tyler if they get Kaycee up on the Block (in his place) then they can vote her out together. He says that will expose to Angela that they're working together. Tyler points out Angela can't play for HOH next round. Tyler reaffirms his F2 with JC.

11:41 AM BBT – JC says he and Tyler can go do Amazing Race after this if they pull off their F2.

11:45 AM BBT – JC is upset at Tyler for having nom'd him during the DE. Tyler apologizes.

11:46 AM BBT – JC reminds Tyler this isn't a good plan to get Sam out now and go to F4 with Angela and Kaycee. He says they need to get Kaycee out.

11:50 AM BBT – Tyler tells JC he (T) was just being jealous of Brett and JC together. JC says he knew it.

12:50 PM BBT – Tyler updates Kaycee that he walked with JC and he (JC) thinks Tyler will take him to the end. They talk about how Angela expects the same but both say they're planning to go with each other to the end. Tyler expects JC to be bitter to him.

12:53 PM BBT – Kaycee suggests Angela will take Tyler instead of him to the F2. Tyler disagrees. Kaycee reminds him of the Hilton Head connection and is sure she'd take him over her.

1:25 PM BBT – Tyler and Angela have been chatting about living back in Hilton Head and wondering if they were ever in the same place at the same time in the past.

1:45 PM BBT – Angela talks with Tyler about whether or not he promised JC he'd save him with the Veto if he won it. Tyler says he didn't tell JC that.

2:40 PM BBT – Veto comp is underway.

6:40 PM BBT – Feeds are back. Kaycee is wearing the medallion. Again. HGs wearing medieval costumes.

6:46 PM BBT – Kaycee points out to Tyler and Angela that the three of them have 10 consecutive comp wins and are only 2 more away from the end.

6:50 PM BBT – Tyler comments he was less than a minute behind Kaycee's time.

6:57 PM BBT – Kaycee explains to Tyler that she wasn't trying to win anything in the beginning.

7:40 PM BBT – JC congratulates Kaycee and discusses what they'll tell Sam.

8:15 PM BBT – Tyler talks with JC who is very certain he's getting fourth place in the game now. Tyler tries to discourage that thought but JC thinks it's true.

9:10 PM BBT – Kaycee explains how she used to watch Big Brother with her dad and it's always been her dream to be on the show.

10:30 PM BBT – Sam sits alone on the stairs, eating her food, and talking about being angry.

11:00 PM BBT – Angela tells Tyler about how strange Sam has been acting. She thinks Sam has been watching them together. Angela decides it doesn't really matter because Sam is going.

11:01 PM BBT – Lights go out around the house as HGs are already all in bed.

11:05 PM BBT – Angela and Tyler discuss how they liked each other right from the start but hid it.

11:40 PM BBT – Tyler worries to Angela that JC is mad enough at him to nom or target him. Angela disagrees. Tyler asks that she not leave him alone with JC. She jokes about the strange dynamic of their seeming love triangle and how peculiar it feels to be competing with JC for Tyler.
Kaycee could flip this whole game upside and conquer it right now with a move to save either Sam or JC, forcing the only other option, Tyler, to the Block. She could band together with the saved HG to evict Tyler and head to the F2. She won't. Kaycee, Angela, and Tyler are currently still with the plan to leave noms alone and target Sam for eviction. Ah well.
You can watch all of these Big Brother events using the archives Flashback, the DVR-like feature of this year's Live Feeds which means it's always live, even when you missed it! Sign-up now to get the free trial to watch it all live & uncensored.