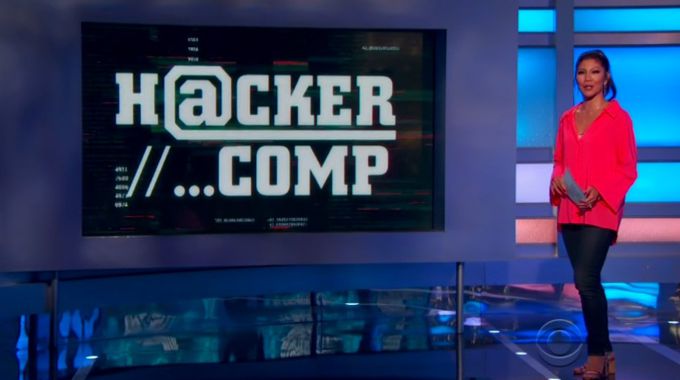 The final week of this just-started twist is upon us for Big Brother 20 as the Hacker Comp is ready again this week to potentially change up the noms, Veto players, and even who gets to vote for the eviction for the next few weeks. So far today the HGs have fretted over what this could mean for the week and now we know. Read on for the results.
Feeds were down for over two hours before coming back to the nominees Angela and Kaycee curled up in the HN room while the Hive ladies were back in the Pink room. It took awhile before Tyler entered the HN room and discovered the good news for L6's chances.
Big Brother 20 Week 7 Hacker:
Kaycee won the Hacker Comp
Kaycee told Angela she would need to win the Veto next as they counted votes to see if they could still control the eviction vote. It's possible if they can if they get things switched around here and keep one of the Hive on the Block even after the Veto comp, but Sam and Scottie's votes might not reliable this time. It'd be crazy to see another FOUTTE/Hive go up under their own HOH week!
Big Brother 20 Week 7 Hacker Nominations:
Kaycee was saved (by herself)
Rockstar was renom'd
No surprises here. Kaycee wants to have the easiest chance for Angela or her champion (whoever she picks, probably Tyler) to win the Veto comp. RS was the easy choice and while her allies are promising her safety already it might not be so safe for her there.
Imagine L6 wins Veto and doesn't change them, leaving RS & Angela up. Kaycee can cancel one vote, so it'll be one of the Hive votes and probably Faysal's. So even if Sam and Scottie flip over to voting per Haleigh's wishes then Tyler, Kaycee, JC, and Brett would vote against Hive and RS would leave 4-2. Ouch. Haleigh could lose one of her close allies during her own HOH week.
Next up we've got Saturday's Power of Veto comp and a player will be picked by the Hacker to play in the battle for PoV. Stay tuned for more spoilers!
Download our Big Brother App, join us on Facebook & Twitter, and get our Email Updates for more!
Grab your Live Feeds Free Trial to watch the next week for free then keep it for $5.99/month. That's only 20 cents a day for 24/7 access to Feeds content and we're down to the last month.