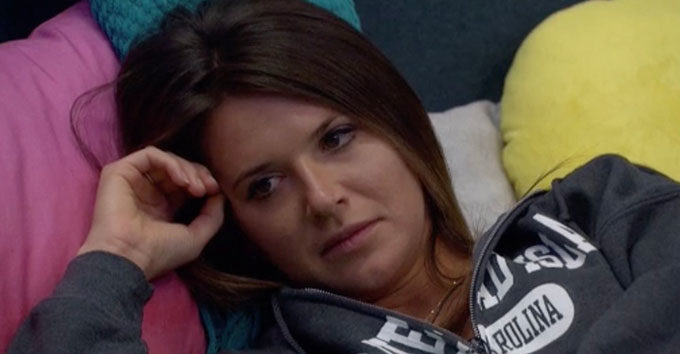 It was Hacker Comp day in the Big Brother 20 house and a lot of planning went down on both sides of the house on what they'd do if they won. And just as we were about to share the daily Live Feeds reports with you, the Feeds returned and we know who won the competition. Read on to find out which side won and what their plans are.
If you've got the Live Feeds (Free Trial) then you can watch all of these moments with the Flashback feature to go back and watch those important conversations or funny scenes you may have missed.
Big Brother 20 Live Feed Highlights – Friday, August 10, 2018:
8:15 AM BBT – HGs got their early wake up call for a busy day.

8:30 AM BBT – Haleigh and RS discussing who would use the Veto this week. Talk turns to the Hacker comp then Haleigh's nomination plans for Angela and Kaycee. Haleigh thinks Tyler isn't expecting her to try and BD him.

8:40 AM BBT – Haleigh asks RS to confirm whether or not she's really working with Brett. RS denies it again. RS says she likes Brett now, but wouldn't work with him.

8:55 AM BBT – Haleigh wonders if she should warn Kaycee that she's going up as a pawn. RS doesn't think she should do that. Haleigh has no plans to put Scottie up since he's on the Block.

9:35 AM BBT – RS suggests Haleigh could consider using JC as a pawn but to tell him he's not her target. Haleigh wants to stick with Angela and Kaycee as her noms.

9:55 AM BBT – Haleigh asks Scottie to tell her if he wins the Hacker Comp. She tells him how she talked with Tyler last night and doesn't like how Tyler was telling Scottie that Haleigh was playing him.

10:00 AM BBT – Scottie tells Haleigh to keep an eye on Sam for being suspicious, but doesn't think she should make her a nom right now. Haleigh says she's considering nominating Sam, but Scottie says if Sam is trying to make amends then don't nom her right now. He promises Haleigh that if Sam claims to not be making deals then she's lying.

10:10 AM BBT – Tyler tries to smooth things over with Sam and says he's been trying to talk to her for days.

10:15 AM BBT – Scottie warns Faysal that JC has been talking about Faysal around the house and had actually always planned to vote out Bayleigh all week.

11:15 AM BBT – Feeds are back from Nominations. Angela and Kaycee are on the Block.

11:16 AM BBT – Tyler tells Angela and Kaycee that he's getting backdoor. Angela tells him to remain calm.

11:19 AM BBT – Angela and Kaycee make fun of the noms by saying "big move." Angela says they're pawns because Haleigh probably wants to backdoor someone.

11:20 AM BBT – Faysal and Scottie are in the HOH room trying to figure out who is trying to pit them against each other and why. Haleigh comes in annoyed that they're meeting in her HOH room.

11:30 AM BBT – Scottie and Faysal are comparing notes on things JC said and they're not adding up. Haleigh asks if it ever occurred to Faysal that JC is making up things and that he's telling the other side the same things he tells them. Faysal starts realizing JC might not be as trustworthy as he thinks.

11:35 AM BBT – Rockstar has joined the HOH crew. Haleigh asks her, Faysal and Scottie if they can all get on the same page, stay there and trust each other. They all agree to do that.

11:36 AM BBT – JC interrupts the discussion about himself. He tells Haleigh that her nominating Angela and Kaycee just got more blood on her hands than she would have if she had nominated Sam because the doesn't think Angela or Kaycee will go home this week. They all, in front of JC, agree that if they win the Hacker comp they all keep nominations the same. JC said he thought the Hacker had to replace a nominee. They're unclear on that.

11:41 AM BBT – Haleigh also asks Brett to keep noms the same if he wins. He "agrees."

11:45 AM BBT – JC tells Tyler and Angela that Haleigh is doing whatever Scottie tells her to do.

12:27 PM BBT – Angela wonders if Brett knew what was going on with noms today. Tyler says he doesn't think so but Brett says they have definitely lost Sam from their side.

12:30 PM BBT – Tyler says if they don't win the Hacker comp one of them is done this week because they will need that vote cancel too to make sure Rockstar goes home if the Hacker puts her up.

12:40 PM BBT – Now Angela thinks they should put Sam up if they win the Hacker comp so that they won't have to worry about the numbers if Rockstar is up. Angela says Sam will ask to be sent to jury if she up next to them.

12:52 PM BBT – Kaycee says she thinks Sam would vote out Rockstar over her, but maybe not over Angela. Tyler tells them the same thing.

1:20 PM BBT – Feeds cut for the Hacker competition.

3:46 PM BBT – Feeds return.

3:48 PM BBT – Kaycee tells Tyler the she won the Hacker comp. She says not to tell JC or Sam that she won. They're very happy.

3:54 PM BBT – Haleigh is cursing to herself in the HOH room over not winning the Hacker comp again.

3:57 PM BBT – Fasyal asks Haleigh if she won and she says no. She says she is certain Kaycee won it. But then she says maybe Scottie won.

4:01 PM BBT – Haleigh is freaking out because Rockstar is acting way too calm. They wonder if she won and just isn't telling them.
So The Level 6 side of the house has won the Hacker Comp. Kaycee will likely take herself down, but will she be putting up Rockstar or Sam in her place? We'll find out soon. Get the Live Feeds to find out live!
You can watch all of these Big Brother events using the archives Flashback, the DVR-like feature of this year's Live Feeds which means it's always live, even when you missed it! Sign-up now to get the free trial to watch it all live & uncensored.


Gallery: Live Feeds Highlights
click images to see full-size