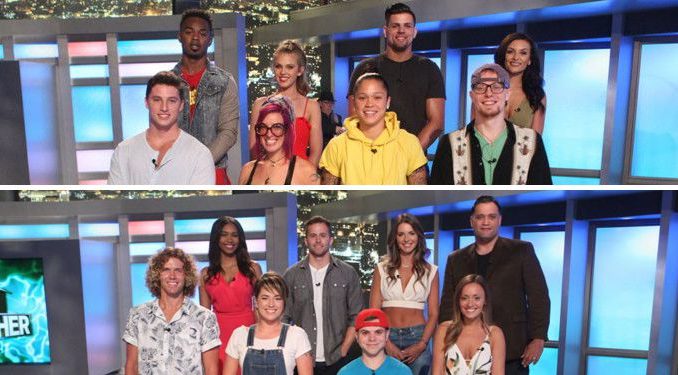 CBS launches Big Brother 20 tonight with its two-hour move-in event with 16 all-new Houseguests gathering on stage before rushing in to find a bed, make an alliance, and battle it out for the $500K prize! It all starts now!
Don't miss tonight's premiere! Stream Big Brother live online with All Access. Get the Free Trial now!

Try Live Feeds 1 Week Free! Only $5.99 per month thereafter. Sign-up now.
Julie Chen will be our guide again this summer and the party gets started with a tour of the house before it's time to meet the fresh new faces. We should also start to hear more about this season's twist, an online-fueled trending challenge that can earn HGs either powerful apps or some real stinkers along the way.
Stick around here for our live coverage throughout the episode starting at 8PM ET and chat with other fans below in the comments section. The season is back and so is our non-stop coverage of Big Brother 20 all summer!
Gallery: Premiere Night for BB20
First group of HGs to enter will be Sam, Bayleigh, Tyler, Steve, Kaitlyn, Winston, Angela and JC. We've met them in their intro videos and now it's time to head inside! Bayleigh is the first one in the door so yeah, she's cursed, right?
Second group of Houseguests includes Scottie, Faysal, Rachel, Kaycee, Haleigh, Chris, Brett, and Angie. They're gathered on stage and soon rush in to meet the other eight people.
It's time for champagne and a round of introductions. Lots of smiles and cheers as everyone goes around the room. Soon the flutes are lifted and the game is on. Speaking of, Julie Chen calls everyone back to the living room to tease them about the twist. It's all about tech this season and that's got the HGs stressing.
Everyone heads to the backyard for the first competition and things get weird. After splitting the HGs into two groups of equal parts guys and girls the "Big Brother super computer crashes" and HGs are dropped into two different competitions. This is different!
The first group is trapped in the dark and has to find one of seven folders in the blacked out room. Six folders let the HGs escape to the house, one sends the HG back to play in another game, and the one HG who didn't find a folder at all gets a big punishment. Angela was the one to find the "escape & play" while Kaycee ended up being the last HG left and will be punished.
Gallery: Premiere Comp 1
Second comp is up and it's a spelling comp, of course with a twist. HGs are on a harness while having to grab letters and stack out "Houseguest" without toppling the letter blocks. Chris finishes first and will move on to face Angela. The rest have to compete so they can find the punishment loser which turns out to be Sam.
Gallery: Premiere Comp 2
Now we've got Chris and Angela facing off for power to keep eight other players safe. They're up on surfboards that rock and roll while Big Brother will start zooming things at them to throw them off. Okay, these comps are pretty funny!
Things are flying through the air and finally, Angela drops. Chris wins the comp! He promises Angela she'll be safe.
Gallery: Premiere Comp 3
Now Julie explains more of the twist. Chris can't just pick who is safe, but has to pick them by groups of who moved in together, those bundles of four a time. Chris has to pick two groups for safety. He says he'll obviously save his own group to get his safety, so that's Brett, Rachel, and Angie. Who will be the other four though?
Before we get to that decision Kaycee is finally back from her long absence. She's wearing a rainbow unitard which makes Angie very jealous but Kaycee is bummed. It's pretty elaborate. Julie explains it's a "Pinwheel of Doom" and means Kaycee has to stop and stay in a room until her pinwheel stops spinning.
Meanwhile, Sam's punishment is way, way worse. She's trapped as a robot. Yes, Sam has to go in the DR and operate a robot to move around the house as her punishment. She can come back to the game every once in awhile but then has to return to the DR when they call her. Yikes.
Gallery: Punishments Revealed
Time for Chris's decision. He has to pick 2 move-in groups for safety. Obviously he picks his own! Then the other is also part of his eight who moved in. Easy choice.
Safe this week: Chris, Brett, Rachel, & Angie. Scottie, Kaycee, Haleigh, & Faysal.
The other 8 HGs will have to face off in the first HOH competition of the season and we'll see that in Thursday night's episode of Big Brother 20! Can't wait that long? Check out the leaked HOH spoilers!
Julie also reveals the new BB App Store twist is live! You can play now with the CBS Bot just by answering questions. Results will be revealed on Sunday.
Thursday night we've got the second episode of the season starting at 9/8c and then soon after that the Big Brother Feeds launch around 10PM PT. Grab your Free Trial now and be ready to watch!


Want even more Big Brother 20 spoilers, updates, and news? Download our Big Brother App, join us on Facebook & Twitter, and get our Email Updates for constant coverage all summer.