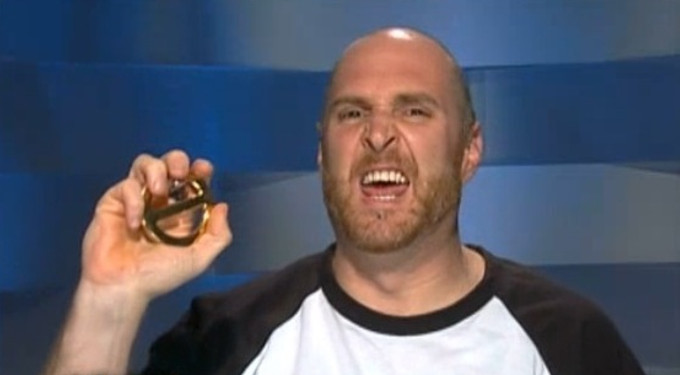 I say it every week – and I will say it again – Big Brother 20 has been AMAZING!! We have seen so much drama the first 57 days – and yet, this crew still does not seem to take the foot off the pedal. We are (seemingly) in store for another complete blindside during tonight's live show. Jaws will be on the floor once again when Julie reads the vote. On the outside – we all know that Rockstar is going home, but inside the house, there are still a few people who have no idea what is going on. And that is just one of the many reasons why this season so good!
Last week I started with my Big Brother Tofurkey of the week – and actually gave it to 2 people… this week, I will once again hand out 2 Tofurkeys, but first, let's start with the players that earned some delicious BACON!
Brett Robinson – 5 strips of Bacon – OK, perhaps I am just wanting to give someone other than Tyler 5 strips of bacon, but Brett has played a great game this week. His double agent skills were put to task, as he infiltrated The Hive – and he got them fooled hook, line, & sinker. He has been the source of some great entertainment this year – as the funny one in the Level 6/5/4 alliance – but this week he has taken it to the next level.
Brett went along with Rockstar's pitch to have a secret alliance – even went so far as helping her with her speech tonight. He has Scottie telling him everything that his side sees & wants to do. He has also gotten Haleigh to trust him 100%. All the while reporting back to his crew undetected. The best part of all of this – is after the votes are read – he will be able to deflect his vote & keep the bonds with Haleigh & Scottie strong.
Tyler Crispen – 4 strips of Bacon – man, this kid is good. He has so many deals and undying loyalty from 5 other people. He won the Veto (with a little help – more on that later), so he was able to put the Cloud Power App back in his pocket and save it for another day. But the way this season is going, he may not ever need to use it. One of his followers, Sam, was starting to feel uneasy about Tyler – but yet, he was able to win her back over and regain the trust he almost lost. 1 HoH & 3 VETO wins is already an impressive resume, but add to that he has never been on the wrong side of the vote – that is what winners are made of. It has not been easy – but Tyler is making it look that way.
Kaycee Clark – 3 strips of Bacon – Kaycee has finally had a taste of the block, and finally won a competition – and yet still finds herself on the block come Thursday night. If there was ever a week to be on the block this is it. She can eliminate 1 vote (which of course she will negate Fessie), she is on the block vs an adversary, and the rest of her alliance + their pets are the majority of voters. We also finally saw some pep in her game as she squared off vs. Rockstar and handled herself very well, not losing her composure, but also did not get walked over. She needs to keep this positive trajectory in her gameplay and win a few more comps to be considered a serious contender for the $500K
JC Monduix – 2 strips of Bacon – while Brett took over some of the double agent duties this week, JC has been doing that all summer long – and remains squarely in the middle. Well, the perception is he is riding the middle – and in Big Brother perception is sometimes better than reality. Staying non-committal for the fear that his vote could get canceled is just one of the great things he is doing to keep the target off of him.
At some point, JC is going to need to go against L6/5/4 if he is going to set himself up for the win, and he will need the Hive members to help him do this. But if he keeps getting rid of them, he will have no one left to help him pull that off. Although he does have Fessie completely fooled and could possibly use him to pull off the move, I bet he will go with the flow and kick himself if he ends up in the jury house.
Angela Rummans – 0 strips of Bacon / 0 strips of Tofu – after her big HoH last week, Angela has pretty much gone back to being furniture. She is still on the power side of the house and has been canoodling a little more with Tyler, and she has been the victim of Rockstar's hate all week. But she has not let on that she knows about it. Angela is not really doing anything else to further her own game.
Sam Bledsoe – 1 strip of Tofu – the pressure of the game is definitely getting to her & the reports of her wanting to self-evict are probably true. But she still manages to keep it together enough to chug along another week. We finally saw her catching on that Tyler & Angela were playing her – but all it took was a little "mist" from Tyler and now she seems back on his side. Sadly Sam will probably end up asking to be voted out soon so she does not have to deal with the stress that house puts on people. Before the season she pointed out her tattoo that says "Ruthless" but she is anything but. HOWEVER – if, if she turns this around – she will be someone that can easily get the votes needed on finale night depending on who she is sitting next to – as no one in the house hates her and an easy vote for a bitter jury.
Scottie Salton – 2 strips of Tofu – the word "Floater" gets thrown around in the BB community every year – and it means different things to different people – but the true floater is someone who floats to whoever is in power week to week. Scottie is exactly that. Last week we saw him being all chummy with L6/5/4 when they were in power – and this week he is all chummy with Haleigh and is in denial that she may be in a Showmance with Fessie. Scottie thinks he has a new BFF in Brett – and he will feel really stupid when Brett blames his own flipped vote on Scottie. That flipped vote for Swaggy weeks ago still looms over his head and no one really trusts him – but that's because he does not show 100% loyalty no matter what he says. It's a shame because he is the last of my preseason favs to be in the game. I am still rooting for him, but he has a lot of work to do to dig his way out of the hole he has put himself in.
Haleigh Broucher – 3 strips of Tofu – it's not completely her fault that her HoH will end up with her best friend being evicted. Sure – we see this all the time on BB – but it' usually when there are less than 6 people left in the house and the pool of nominees for the HoH are small. She messed up the Hacker power last week, and her HoH is going to be a failure as well. She is still fighting with Fessie when they are not cuddling, and she is going into next week very vulnerable. She does have the attention of Brett & Scottie along with the love of Fessie – but will that be enough to protect her long term?
Faysal Shafaat – 4 strips of Tofu – his breaking of the HoH sink this week was a perfect metaphor for his game – whenever he thinks he is comfortable in the house – it all falls apart under him. Week in and week out – he is the one that says he has no clue what is going on – and yet he has not learned from his mistakes. Sure – you can use the dumb jock analogy, it's clear he does not know how math works. If he just sat there and counted the votes each week – he would be able to figure out who really has his back and who doesn't.
They say love is blind – but in this case – love is making Faysal blind. He did have the chance to win a VETO this week and help Haleigh out – and if so – he would have been her hero. Because ya know – him saving Haleigh with the Veto a few weeks ago was not enough for her. He still has the ability right the ship and step up his game – but we know JC will pull the strings if he wins an HoH.
That brings us to the Tofurkey of the Week – and as I mentioned in the opening, there will be 2 Tofurkeys handed out this week. Both of them are handed to Rockstar. On the Mt Rushmore of bad moves in Big Brother history – Rockstar has solidified her spot there for a looooong time. Lawon wanted a superpower, Marcellas did not take safety, Dustin wanted to go on the block vs Dick, these 3 moves in my opinion are still the worst – but… Rockstar is now up there with them. As we saw during the OTEV comp – not only did she give Tyler the answer to one of the clues – but then in the final round brought back the wrong answer.
Ok, lets go over that again – Rockstar was on the block, her BFF wanted to backdoor Tyler, and she gave him the correct answer when he could have been eliminated for being wrong. She helped her #1 enemy get to the last round. THEN… then she forgot how many votes Bayleigh went out with. I could possibly give her a break if it was a few weeks ago – but it was 2 days before the Veto was played – and she was on the block next to her. Only 7 votes were cast.
That is enough for her to get 1 Tofurkey of the Week – but then she took it next level and a) tried to get Tyler to use the veto on her (that was NEVER going to happen) b) tells Kaycee – "sorry you are leaving this week" minutes after the Veto ceremony c) spent the week BASHING Angela – making her look like a petty petty woman d) actually thinks she has an alliance with Brett – even coming up with not just 1 alliance name but 2. Mr. & Mrs. Smith alliance has already been used (BB7) and Survivors. It was great when she told Brett the 2nd one and he said – aren't we already Mr. & Mrs. Smith? Rock – you have played a horrible game but your legacy will live in the hearts & minds of Big Brother fans forever!!!
Phew – that was some week huh? I am so looking forward to hearing the final version of Rockstar's "scorcher" of a speech tonight. She is going to look so bad and we may see a similar exit we saw from Rachel 2 weeks ago. I still have no idea why she would be so confident as nothing has gone right for her all season.
My question of the week is – what do you consider the worst moves in Big Brother history? I am sure you will all agree with the ones I pointed out – so I would like to hear some other ones.
Please let me know what you think of my rankings and answer my question of the week in the comments section below.
See you all next week – from outside the Big Brother House, I'm Adam Poch. Have a great day!
Follow Adam Poch on Twitter: twitter.com/heavymetalteddy & you can listen to him weekly on the Big Brothers Podcast – follow them at @BigBrothersPod