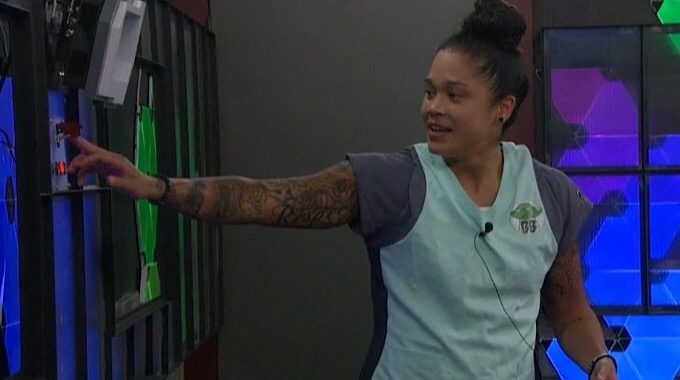 Things got interesting in the Big Brother 20 house when a technical glitch caused Brett to freak out a bit. This isn't the first time production accidentally blew up someone's game either. Remember Tyler's Cloud App gaffe? Luckily that didn't cause the HGs to obsess about it too much and Tyler was never connected to it. Well now the speaker in the HOH intercom was on and broadcasting a conversation Brett was having with Tyler, JC and Angela.
On the feeds at 12:40 am BBT (Cams 1 and 2), Brett was telling Tyler, Angela and JC about how Sam snapped at him about laundry earlier in the day. Apparently, Sam asked him to throw her laundry in with his because they both had a little to do and they were trying to beat the yard lockout. He told her he would but then noticed that the laundry line was getting longer and just put his dirty clothes back inside to make sure they didn't get locked outside.
Brett then went to go lay down and she came into the room and asked him if he was too good to do laundry with her and he told her he just put his stuff inside. She told him she has seen it inside so she went ahead and did hers without him and made a comment about her not throwing his stuff in with hers.
Seconds after ending this sentence, Kaycee runs in and tells everyone that the intercom was on and she could hear everything Brett was saying in the living room. He mentions how now Sam hates him for sure, but Kaycee tells him that she isn't sure that Sam heard anything. She tells him that she could also see inside the HOH room from the screen. She tried to say something through it to them, but they didn't seem to hear her.
She came upstairs to tell them and Angela says that she saw Sam and she looked upset. They can see Sam looking at the screen on the cameras. Brett sat there talking about wondering if it was another twist or something. Kaycee tried to turn it off, but Kaycee went down to see if she could still hear them and she could. We found out thanks to our friendly neighborhood leaker, Vegas, that Sam did, in fact, hear the conversation they were having.
twitter-tweet">

Sam heard their conversation. Audio link glitch. MAJOR technical error. #BB20

— REALvegas4sure #bb20 #bbvegas (@realvegas4sure) August 28, 2018
Sam was visibly upset. What do you think of this latest "technical" slip up? Do you think that this is going to affect Brett's game? How long could this have been going on for?
Update: Sam and Brett just talked. Flashback to 12:19 PM BBT 8/28. Sounds like Sam did hear Brett and what he said about the laundry. He said he was being cranky. They hugged and made up. But it's possible Sam heard a lot more of a longer conversation up there. We may never fully know.
Update 2: Watch as the "on" buttons mysteriously change and start to broadcast the HOH room's discussion. Very strange.
twitter-tweet" data-lang="en">

The intercom turning on when Brett was complaining to Tyler & Angela about Sam last night #BB20 pic.twitter.com/UJpJT76KbN

— Tooms📣 (@Tooms_BB) August 28, 2018