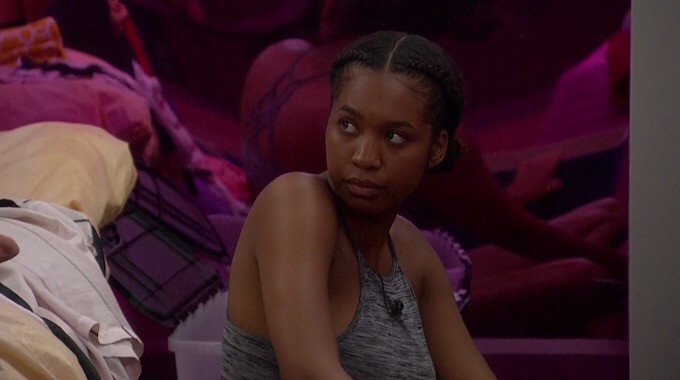 We didn't get the immediate explosion in the house, but Bayleigh was definitely feeling extremely betrayed by her fellow Big Brother 20 HGs when the feeds came back up. After the POV Ceremony, Bayleigh went up to the HOH looking to talk to Angela, but Angela yelled through the door that she didn't want to talk right now.
Bayleigh then heads downstairs to the pink room and starts packing her things. While packing her things, Bayleigh has a conversation with Haleigh and she is telling her that Angela thinking she was the Hacker this week was ridiculous. She adds that she didn't even get a single question in that comp correct. She tells Haleigh that she wishes that she used her power this week, but she fails to remember that it wouldn't have mattered because Angela would have still been able to renom her.
After this conversation, Scottie walks into the room and Bayleigh starts grilling him on the conversations he had with Tyler. She tells him that she noticed him having conversations with him all week and that he must have said something to him. Rockstar comes in and Bayleigh then blames her for Bayleigh being BD'd. She tells Rockstar that it was because she stuck her neck out for her.
Is she failing to remember that everyone knows she has a Power App? Could that possibly be the reason for her being the renom?
Angela and Tyler are talking in the HOH and Tyler tells her that even if Bayleigh wasn't the Hacker…Angela adds that her plan was always to BD Bayleigh. While this conversation is going on, Kaycee walks into the lounge with a plate of food and she is crying. Bayleigh walks in and asks her what she did to offend her. Kaycee tells her she isn't offended, she was hurt and tells her she does care about her and she hates seeing her like that.
Bayleigh goes back and forth with Kaycee about how she has done nothing wrong, she hasn't lied to anyone and she hasn't tried to manipulate anyone. She also tells Kaycee how it makes more sense for Scottie to be the Hacker because he was the only one who admitted to getting three right. She ends this conversation telling Kaycee that she gives up trying to convince anyone of anything and walking out.
She heads into the kitchen and tells Tyler to look at her in her eye. She says, "I swear I'm not that Hacker and it was ever my plan to backdoor you." He says, "okay" and she walks away. Bayleigh lays in bed for a bit and then makes her rounds to the other HGs to try and convince them that she isn't the Hacker.
I think the only thing that would have made this better is if Haleigh admitted that she was the Hacker. As JC said, "this is going to get intense!"
What was your reaction to the Veto fallout? Did you expect more? Can Bayleigh dig herself out of this hole ahead of Thursday's eviction?