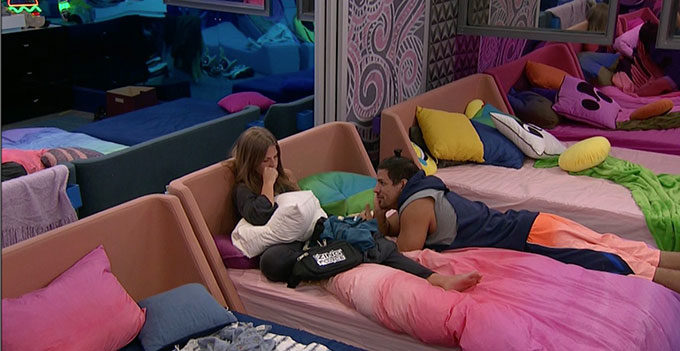 The Big Brother 20 houseguests have a feeling something is going down tonight, but they're aren't sure what. Well, they're kind of sure, but they're wrong. Most think there will be a double eviction instead of a Battle Back. So needless to say, they're going to be surprised.
If you've got the Live Feeds (Free Trial) then you can watch all of these moments with the Flashback feature to go back and watch those important conversations or funny scenes you may have missed.
Big Brother 20 Live Feed Highlights – Wednesday, August 29, 2018:
5:15 PM BBT – HGs discussing how terrible BB19 was and the poor gameplay by HGs. They go over Christmas winning a running race with a broken leg and how the group was a bunch of followers.

5:20 PM BBT – JC wonders who has the second app. Kaycee suggests maybe it's him, but he says she'll see on the shows that it's not.

5:40 PM BBT – JC encourages Brett to have more cookies. Angela asks why he's always trying to get them to eat.

6:00 PM BBT – Faysal is sad that it's his last day with Haleigh. He's moping. She encourages him to play strong if he gets to stay.

6:10 PM BBT – Haleigh reminds Faysal they still don't know what's going to happen for sure, but he's confident he's leaving.

6:15 PM BBT – Faysal questions Haleigh on why she'd be hanging out with the HOH who put them up. Haleigh gets annoyed and says she'll play her game her way and he can do his game his way.

6:20 PM BBT – Faysal says the HGs would be stupid not to vote him out over Haleigh.

6:30 PM BBT – Angela and Tyler discuss how JC seems to like Tyler so then he's made at Angela over that. She knows that Brett is faking interest in her to try and keep her from liking Tyler.

6:35 PM BBT – Tyler and Angela say they don't care if they are discovered. Angela says she only cares about Kaycee and Brett if they reacted negatively.

6:37 PM BBT – Angela and Tyler discuss plans for a double eviction. They'd go for Haleigh and Sam, maybe. Angela wonders if they should get rid of JC. She suggests JC, Haleigh, and Sam. Tyler doesn't seem to endorse going after any of them.

6:42 PM BBT – Tyler points out that Haleigh has done wrong by them, but Sam hasn't. Angela agrees.

6:52 PM BBT – JC tells Haleigh he still thinks she's staying.

7:30 PM BBT – Brett and Angela confirm their DE plans to nom Sam and Haleigh. Brett says Haleigh is the better competitor so she should go first. He says he does not believe Haleigh would actually go after Sam instead of the people who have been targeting her.

7:35 PM BBT – Tyler and Brett agree that JC isn't a threat to them and he's been busily helping them.

7:38 PM BBT – Angela suspects Sam will throw a hinky vote to try and get Faysal's Jury vote in the end. The group doesn't see Sam lasting that long though.

7:40 PM BBT – Brett questions why JC keeps trying to feed him so much food. Angela agrees it's weird. Tyler wonders if he's doing a Team America stunt.

7:00 PM BBT – Brett is massaging Angela and JC walks in and freaks out. He goes downstairs and says "that's good TV right there." He won't tell anyone what he saw.

8:02 PM BBT – Brett asks Angela what if there's a Battle Back. She says that would suck. He agrees and says not one of those people coming back would be good for his game. She says the same for her considering she sent two of the four out as HOH.

8:08 PM BBT – Angela and Brett can't believe Faysal hasn't asked anyone about their votes.

8:45 PM BBT – Faysal tells Haleigh that is convinced he's going home because he's the bigger threat. Haleigh says she's not going to last in the house without him. He tells her she will do just fine.

9:01 PM BBT – Angela is crying. She tells Kaycee she's annoyed with JC making a big deal out of Brett massaging her and saying that was going to make great TV.

9:15 PM BBT – Kaycee tells Angela that JC was jealous that Brett was giving Angela a massage.

10:21 PM BBT – Haleigh is talking to Tyler about Thursday being a double eviction. She is saying it'll be two hours (wrong). Then she says she's afraid that Sam will win HOH and she'll nominate her and JC. Tyler says Sam has been acting weird so she could put up him and Brett. Haleigh said Sam just needs to go. Tyler is pushing the idea of Haleigh to target Sam if she wins HOH.

10:55 PM BBT – Angela worries to Kaycee that Haleigh will be coming for the three of them. Kaycee disagrees, but Angela says Brett was sure of it.

11:00 PM BBT – Angela fears a Battle Back and how it'd hurt her and Brett the worst. Kaycee doesn't think there'd be a Battle Back.

11:10 PM BBT – Houseguests are questioning JC after he opened the toilet stall door on Haleigh and she had to yell for production. JC is defensive to Sam and Tyler asks if he apologized but JC doesn't think he needs to do that.

11:15 PM BBT – Tyler and JC agree not to tell Sam how to vote. They think she might vote against Haleigh. JC isn't worried if Sam gets HOH because he'd go up against Haleigh and Haleigh doesn't have the votes.

11:17 PM BBT – JC says his plan is to nominate Haleigh and Sam if he gets HOH but tells Tyler it's not who he really wants to go after. JC tells Tyler they have to split up Angela and Kaycee before they target Brett.

11:22 PM BBT – JC tells Tyler that Brett was on Angela giving her a massage while her top was off. Tyler tells him to change the topic.

11:30 PM BBT – JC explains his "prank" earlier. He opened the stall door on Haleigh, left it open, and walked away. JC was annoyed that Sam came in and told him that wasn't nice to do.

11:50 PM BBT – Haleigh worries to Faysal that she'll have to be evicted wearing athletic gear. She plans to apologize to Julie Chen and promise she has better fashion than what she's wearing at the time.

12:10 AM BBT – L6 is amazed that Faysal hasn't even bothered to try and campaign. They think he's relying on a Battle Back. They expect Sam will vote to evict Haleigh.

12:40 AM BBT – Tyler warns Kaycee that JC keeps insisting Kaycee and Angela have a F2. Tyler says he tries to make JC know that she isn't coming for him.

12:43 AM BBT – Tyler and Kaycee promise they are each other's #1.

12:50 AM BBT – Kaycee teases Tyler and asks if he and Angela are official now. He admits they've been cuddling, but promises it's not more than that. She says she won't tell.

1:00 AM BBT – JC asks Brett more about the massage with Angela and if it got intimate.

1:15 AM BBT – Sam is moping around. She says she's sad about JC's "prank" earlier.

1:35 AM BBT – JC tells Brett to stick to the plan this week if he gets HOH. Nominate Sam and Haleigh this time, but the next week try and go against Kaycee and Angela with the help of Tyler.

1:40 AM BBT – Haleigh tells Faysal she loves Big Brother but wouldn't do this again without more money involved.

1:45 AM BBT – Faysal and Haleigh exchange "I like you more" whispers, kiss, and then go to get ready for bed.

2:00 AM BBT – HGs are off to bed.
JC is working away on his next moves but his influence and control isn't nearly what he seems to think it is anymore. Let's not ruin the surprise for him just yet though.
You can watch all of these Big Brother events using the archives Flashback, the DVR-like feature of this year's Live Feeds which means it's always live, even when you missed it! Sign-up now to get the free trial to watch it all live & uncensored.

Gallery: Live Feeds Highlights
click images to see full-size