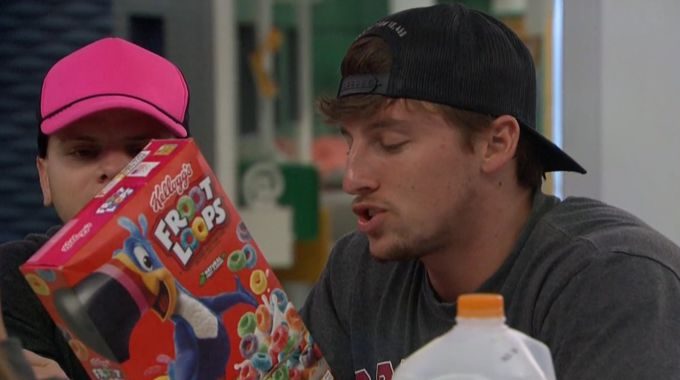 Nomination night was an exciting one for drama on the Feeds as Faysal went through with a new strategy to continue the destruction of his alliance. It's not over yet though as HGs prepared for the upcoming Veto.
If you've got the Live Feeds (Free Trial) then you can watch all of these moments with the Flashback feature to go back and watch those important conversations or funny scenes you may have missed.
Big Brother 20 Live Feed Highlights – Friday, August 17, 2018:
4:30 PM BBT – Sam observes how Haleigh is wearing a Swaggy C shirt all these weeks later. Sam says she wishes Swaggy had been Chris, himself, instead of the character he played.

4:30 PM BBT – Scottie asks Haleigh if Faysal would be putting him up. She tells him she doesn't think so.

4:40 PM BBT – Scottie goes to talk with Faysal. He says it was a set up by Brett and Kaycee when they went at it last night.

4:45 PM BBT – Scottie continues to make his pitch that Brett is setting up him and isn't really the lone wolf he claims to be. Scottie explains how Dan and Memphis played these same games in BB10.

5:10 PM BBT – Scottie admits to Faysal that he has a crush on Haleigh.

5:15 PM BBT – Feeds cut.

6:20 PM BBT – Feeds return from the Nominations Ceremony. Brett & Scottie are on the Block.

6:25 PM BBT – Scottie and Faysal debate what just happened. They're talking in the kitchen over what Faysal thinks happened. Angela and Brett are back in the bathroom laughing about the situation.

6:30 PM BBT – Faysal tells Scottie to win the Veto and this is his chance because he wasn't going to BD anyone.

7:05 PM BBT – Sam talks to Brett to ask if he knew he was going up. He says he thought he might. Same tells him that Faysal and Scottie had a fake fight.

7:15 PM BBT – Sam asks Scottie if he is part of a BD plan and this move was a cover. He says that's not going on. Sam apologizes.

7:42 PM BBT – Sam starts yelling that her lips are swelling. Tyler calls for DR to unlock and help her. Feeds cut.

8:25 PM BBT – Feeds are back. Sam reacted to hemp seeds in food leftover from Kaitlyn's HOH basket. They've been confiscated.

8:40 PM BBT – Faysal is hiding away in the HOH room. Scottie is playing chess by himself (playing both sides). Rest of the house is gathered in the kitchen hanging out.

9:10 PM BBT – JC tells Tyler they need to get Brett to pick Tyler to play for Veto.

9:30 PM BBT – Faysal tells Haleigh all about his talk earlier with Scottie. He didn't believe was Scottie was selling him. (That Kaycee and Brett are working together.) Haleigh asks if Faysal would renom Tyler. Faysal wants to pitch a deal with Tyler and Angela. He doesn't really want to work with them, but trusts them enough to talk. Meanwhile, he says Scottie and Brett just feed him BS.

9:45 PM BBT – Brett and Tyler discuss how well this is working out. Tyler thinks Scottie might pick him for Veto. Brett says he might do something crazy like asking Sam.

9:55 PM BBT – Brett warns Tyler that he still thinks Faysal is trying to BD Tyler. Tyler agrees.

10:15 PM BBT – JC tells Brett and Tyler that Sam called him (JC) into the HN room and asked if he wanted to do a 3-person alliance with her and Brett.

10:45 PM BBT – Angela talks with Faysal and says she's impressed with what he did today. Faysal is glad to finally not be in the dark for a change.

11:00 PM BBT – HGs are already heading to bed.

11:10 PM BBT – Scottie explains to Haleigh how Faysal planned that house meeting with him to get Scottie to raise his hand about voting to keep RS but then used the meeting against him to put him on the Block. Haleigh doesn't think Faysal expected anyone else to raise their hand.

11:15 PM BBT – Scottie warns Haleigh that if he doesn't win that Veto and stays on the Block then he's going home. Haleigh wonders if Tyler would save him. He doesn't think so because if Tyler is with a team on the other side he won't risk them.

11:25 PM BBT – Scottie remains sure he's going home if he stays on the Block. Haleigh points out he only needs 3 votes to tie. Scottie doesn't think he can get more than 1 vote.

11:30 PM BBT – Scottie notes that Faysal mentioned how he (S) and Haleigh were close and said it in a way that showed Faysal didn't like it.

12:15 AM BBT – Scottie invites Haleigh to come sleep by him. She says if she doesn't have a place to sleep she'll do that.

12:25 AM BBT – Haleigh goes to talk with Faysal and tells him she thinks he made the wrong move and Scottie really is with them. Faysal says Scottie is making things up. Haleigh counters that maybe it's JC who is making things up.

12:35 AM BBT – Scottie is the last of the HGs out of bed as he gets ready for sleep.

12:55 AM BBT – Faysal starts to question if Haleigh has a deal with Brett and Scottie. Haleigh gets annoyed.

1:05 AM BBT – Haleigh and Faysal go from game talking to kissing.

2:00 AM BBT – Haleigh heads back downstairs to her bed in the pink room.
Scottie knows he's in trouble and the upcoming Saturday Veto is likely his last chance. At this point even if Faysal wanted to save him the votes wouldn't be there to help as L6 is near ready to control things again. But Veto can change all of that if it works out in Scottie's favor.
You can watch all of these Big Brother events using the archives Flashback, the DVR-like feature of this year's Live Feeds which means it's always live, even when you missed it! Sign-up now to get the free trial to watch it all live & uncensored.

Gallery: Live Feeds Highlights
click images to see full-size