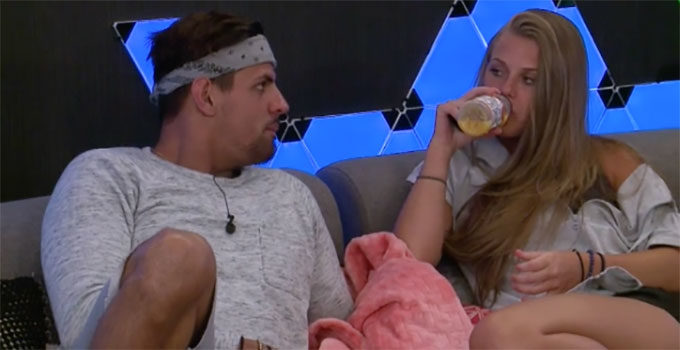 Most of Tuesday evening in the Big Brother 20 house revolved around the no-mance that is Faysal and Haleigh. But Rachel's chances at staying this week continued to grow thinner and thinner also. Read on for all the latest drama in the house.
If you've got the Live Feeds (Free Trial) then you can watch all of these moments with the Flashback feature to go back and watch those important conversations or funny scenes you may have missed.
Big Brother 20 Live Feed Highlights – Tuesday, July 31, 2018:
4:50 PM BBT – Faysal defends himself to Rockstar and says he does not have a crush on Haleigh but rather sees her as his little sister.

5:10 PM BBT – Faysal talked to Tyler about the 3 guys sticking together (Tyler, Scottie, & Faysal) while getting rid of anyone coasting.

5:15 PM BBT – JC arrives and asks if the vote will be unanimous. Faysal thinks it will be once the few stragglers see how the vote is going so they'll come over and make it unanimous. Faysal doesn't think there will be a flipped vote this week because otherwise, people will talk.

5:20 PM BBT – Bayleigh tells Brett part of his problem is that she knows nothing about him. She says no one tried to show any interest in her or get to know her besides Swaggy. She reminds Brett he is an athletic threat and it's worse because he's not even on her side of the house.

5:30 PM BBT – Brett asks Bayleigh to consider who could handle the pressure of the game better. Bayleigh says she'll consider the situation but threatens to kill him if she does and it bites her in the rear.

5:40 PM BBT – Bayleigh again says she'll think it over and will talk with some other HGs about the situation. She tells Brett he needs to be doing some work too.

6:30 PM BBT – HGs hanging out in the backyard chatting and exercising. Brett and Bayleigh are still talking in the pool.

7:45 PM BBT – Angela points out to Faysal that Rachel is running around throwing out everyone's names.

7:50 PM BBT – Bayleigh asks Scottie how the house is voting. She notes that originally she just wanted Rachel to be the pawn, but maybe she needs to consider long-term plans too. Scottie says Rachel will be a panicky problem, but that could make her a target and that's good too. Bayleigh notes that if Brett says he's not coming after her and he's obviously not coming after his side, then who is he coming after? She likes her chances with Rachel better.

7:55 PM BBT – Scottie says they could use Brett for the next few weeks, but after that, he becomes a liability.

8:15 PM BBT – Scottie tells Bayleigh their final 5 is them, Haleigh, Faysal, and Tyler. He says that if they end up thinking Tyler is too risky they can cut him before Rockstar.

8:45 PM BBT – Bayleigh and Scottie think JC will target Rockstar if he wins HOH.

8:55 PM BBT – Scottie tells Bayleigh that he's smitten with Haleigh, but he's here to play Big Brother and he'd nominate her if he had to.

9:20 PM BBT – Haleigh and Faysal begin a very long discussion about Faysal being mean to her and ignoring her yesterday and it turns to his jealousy and it goes on forever.

10:28 PM BBT – Brett asks Angela what Rachel thinks is happening. She says Rachel thinks she's safe this week because of the women's alliance.

10:30 PM BBT – Angela tells Brett before eviction to tell everyone Rachel told him about Bayleigh's power app and there's no reason anyone should even try to be HOH. He said he thinks he'll do that.

10:35 PM BBT – Angela says then if one of them win HOH they can ask Bayleigh what she wants to do and say it's her HOH again and she can get more blood on her hands instead of them.

10:37 PM BBT – Brett asks Angela if he should also out the women's alliance. Angela says yes say that Rachel told him about it. Angela says Rachel will crack.

10:41 PM BBT – Brett wonders if they really need to get Bayleigh on their side since they're losing another number. Angela says she thinks she's playing them.

11:00 PM BBT – FOUTTE holding a study session for the days and events.

11:15 PM BBT – Angela mistakenly thinks Bayleigh's power expires next week. Brett believes that's reasonable and thinks the powers could all be ending before Jury.

11:20 PM BBT – Rachel laments to Kaycee the disappointment of losing another L6 member with Brett. Brett mentions JC seems to have a plan as he asks Brett to have a private talk with RS but while visible to others. Brett doesn't know his plan but figures JC is up to something.

11:30 PM BBT – Angela laughs to Brett about the name of her F2 with Rachel, Vixens. She starts to critique Rachel's personal life choices. Angela thinks Rachel acts too young for her age. Brett mentions he turned down a showmance request from Rachel.

12:20 AM BBT – Bayleigh talks with Rachel about Brett going this week. Bayleigh is happy she got to talk with Brett before he goes on Thursday and looks forward to meeting him outside the house. They also discuss the possibility of a Battle Back since Kaitlyn failed her challenge and threw off the headcount.

12:45 AM BBT – Faysal asks Brett about his campaigning methods. Brett says he's just doing a little each day.

12:55 AM BBT – Tyler is trying to plant the seeds with Scottie that Rachel was the flip vote last week.

1:00 AM BBT – JC and Tyler discuss Bayleigh's power and how they can use that to justify flipping the vote against Rachel.

1:25 AM BBT – Faysal asked Tyler if he has a power but he denies it. Tyler suggests the powers probably expire next week.

1:30 AM BBT – Rachel tells Bayleigh she'd probably go after Scottie next week if she won HOH. Rachel worries that the vote could easily flip, but Bayleigh said it's solid against Brett. Bayleigh says she only trusts Rachel and Faysal.

1:40 AM BBT – Bayleigh thanks Rachel for not repeating details of her power app. Rachel says she wouldn't do that while in danger and on the Block.

2:00 AM BBT – Brett tells Tyler he plans to expose the girls-alliance and Bayleigh's power during his eviction speech.

3:00 AM BBT – HGs are all off to bed.
Rachel has no idea she's about to get the boot and it continues to look like she will. Meanwhile, FOUTTE is set to yet again be blindsided with the vote. It's amazing to have week after week in as a shock result, but I guess you stick with what you're good at doing and for them, it's losing the votes each round.
You can watch all of these Big Brother events using the archives Flashback, the DVR-like feature of this year's Live Feeds which means it's always live, even when you missed it! Sign-up now to get the free trial to watch it all live & uncensored.


Gallery: Live Feeds Highlights
click images to see full-size