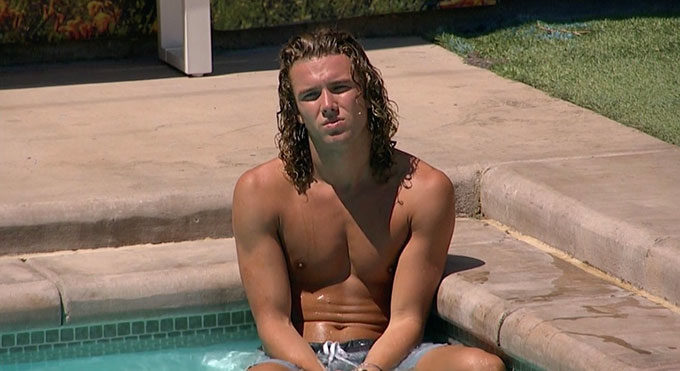 It was a quiet day in the Big Brother 20 house as the Level 6 side of the house plans to blindside Rachel this week and keep Brett. That means little game talk and a lot of lies are being told. Read on for the eviction details and some signs of the "Hive" side of the house noticing some new fractures.
If you've got the Live Feeds (Free Trial) then you can watch all of these moments with the Flashback feature to go back and watch those important conversations or funny scenes you may have missed.
Big Brother 20 Live Feed Highlights – Tuesday, July 31, 2018:
9:00 AM BBT – HGs got an early wake up call today.

10:30 AM BBT – Brett vents to Kaycee that Rachel made this bad situation for L6. He says he's mad at her for causing this problem. Brett mentions Haleigh encouraged him to try talking with Bayleigh. Kaycee says that's a good idea especially since he's staying.

11:00 AM BBT – Tyler advises Angela and Kaycee to keep close to Rachel and watch for the other side trying to keep her with them since she knows details of Bayleigh's power.

12:25 PM BBT – Kaycee correctly informs Angela that Bayleigh has to use her power at the initial nominations so they can still do a renom BD plan. Angela doesn't want to let Bayleigh know that they know about her power.

12:40 PM BBT – Tyler tells Kaycee that Bayleigh seems to be baiting him by talking poorly about Faysal. He suspects she's trying to get him to say something so she can report that back to Faysal. Kaycee says she's working on getting Bayleigh to trust Brett more.

12:43 PM BBT – Tyler asks Sam if she's good keeping Brett. She tells him yes, it's whatever he tells her to do.

1:13 PM BBT – JC asks Tyler who he wants him to go after if he wins HOH. He tells Tyler he won't take out Faysal.

1:15 PM BBT – Tyler tells JC that Faysal has noticed Brett and Scottie hanging out, so pinning the vote on Scottie this week will work. JC asks what Faysal does if he wins HOH and Tyler says "I'm going on the block." JC says Tyler isn't going on the block. Tyler says he's getting backdoored then.

2:28 PM BBT – JC tells Faysal and Bayleigh that he doesn't trust Rockstar and that he saw her talking to Brett two times yesterday.

2:29 PM BBT – Bayleigh says she's not worried about Rockstar doing anything because she knows if she makes them mad she has no one.

2:46 PM BBT – Bayleigh tells Faysal she wants him and Haleigh to stop fighting. Bayleigh is afraid that he's going to drive Haleigh away because he's been mean to her. Faysal says that would be so stupid if Haleigh flipped on them over him not being nice to her. Faysal says Haleigh's not going to flip on them. Bayleigh says he has to stop ignoring her though when he's mad. She says she can't defend him if he's acting like an ass all the time. She said it looks crazy on her part if she has to defend him all the time.

2:49 PM BBT – Faysal says he's already confessed how he feels about Haleigh and he used the veto on her so she should know he won't ever flip on him. He then starts talking about Haleigh being in the hammock with Brett letting him pet her leg. Bayleigh said well he should stop treating her like trash.

2:50 PM BBT – Bayleigh says if he doesn't want Brett petting Haleigh's leg then he should be petting Haleigh's leg.

3:08 PM BBT – Sam asks Bayleigh what is going to happen this week. Bay tells her that everyone is voting out Rachel but then says it's going to be close like last week. Sam asks how that is possible. She says because there are two people who haven't confirmed with her yet on how they're voting.

3:19 PM BBT – Big Brother tells the HGs to enjoy today because these are the good ole days. Bayleigh says that's terrifying and starts speculating if it means something. Brett says maybe there's going to be a battle back. Angela says Swaggy would win and Bayleigh implies she hopes not because he wasn't good for her game. She said hopefully "Chris would come back" instead of Swaggy.
It sounds like the vote this week will be 5-4, in favor of keeping Brett, so once again the Foutte/Hive side of the house will be surprised by the vote. Also, there's trouble brewing among Haleigh and Faysal, and if Level 6 pins JC's vote on Scottie, there could be a lot of drama ahead.
You can watch all of these Big Brother events using the archives Flashback, the DVR-like feature of this year's Live Feeds which means it's always live, even when you missed it! Sign-up now to get the free trial to watch it all live & uncensored.


Gallery: Live Feeds Highlights
click images to see full-size