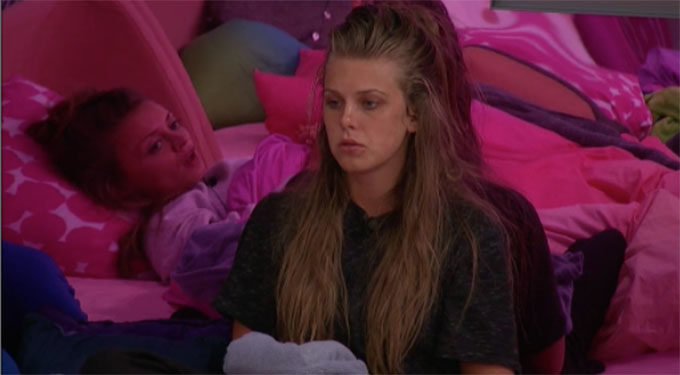 The Big Brother 20 house continued to flip flop on the vote about every 20 minutes today. It went from Rockstar to Kaitlyn and back to Rockstar and back to Kaitlyn. And it might continue to do that up until the actual live vote. Read on for all the conversations and all the scenarios the HGs spent the day running through.
If you've got the Live Feeds (Free Trial) then you can watch all of these moments with the Flashback feature to go back and watch those important conversations or funny scenes you may have missed.
Big Brother 20 Live Feed Highlights – Wednesday, July 25, 2018:
4:30 PM BBT – HGs wondering if there could be a Battle Back with this twist on Thursday.

4:30 PM BBT – Kaycee tells Sam this vote could end up being unanimous. Sam thinks she can influence Faysal more than RS could do if they keep her.

4:35 PM BBT – Bayleigh tells RS to avoid making any big scenes and to just play it cool this close to the vote.

4:45 PM BBT – Sam speculates a part of coming back in this twist could be more time as a robot for whoever it is.

5:00 PM BBT – RS tells Scottie she feels good with her efforts for campaigning.

5:20 PM BBT – Sam talks to Kaycee about being frustrated with Rachel. She heard Rachel told others that she (Sam) had a F2 with Tyler but doesn't know why she's saying that.

6:00 PM BBT – Tyler tells Brett and Angela that he doesn't care anymore and is fine with Kaitlyn going. Brett is open to either direction, but Angela wants to vote out Kaitlyn.

6:30 PM BBT – RS goes to Brett and makes a pitch that she can't promise much but swears she won't do pots and pans again if he'll vote to keep her.

7:00 PM BBT – Kaitlyn promises JC that if she gets voted out then comes back she's going after everyone who voted her out.

7:30 PM BBT – JC talks with Tyler and promises him he wants to go to the end with him. JC hopes they can get weak players to go with them so they can pick them off later. He mentions Bayleigh and Haleigh as options.

9:13 PM BBT – Tyler trying to get Brett and Kaycee to go back to evicting Rockstar. Brett starts to agree and says that keeping Kaitlyn could be good for them, but also Rockstar can be a pawn for them. Kaycee says if they flip back they're going to upset Sam because they'll be keeping someone targeting her.

9:30 PM BBT – Brett, Tyler, and Kaycee still talking about the vote. Brett is starting to lean back to keeping Kaitlyn. He says Rachel had a good point today when she said keeping Kaitlyn could be a shield for them.

9:33 PM BBT – Brett and Tyler are now back to 100 percent keeping Kaitlyn. Kaycee says they just need to make sure they get Bayleigh so it's not a tie.

9:38 PM BBT – Kaycee says that JC and Sam will be upset with them if they do this. Rachel comes in and they tell her they flipped back and Rachel is annoyed because she finally got on board with evicting Kaitlyn and now they've changed their minds. She said she'll do what they tell her to do but she'd done talking about it.

9:45 PM BBT – Rachel tells Rockstar that her mind isn't made up. She said she's weighing the pros and cons. Rockstar thanks for telling her.

9:46 PM BBT – Rockstar tells Rachel and Bayleigh that she hopes the vote isn't decided by a random draw like Sam said it would be if the vote is tied. Rachel says it won't be that way.

10:05 PM BBT – Tyler left the room and now Brett and Kaycee are back to exciting Kaitlyn. They agree that if they keep Kaitlyn the risk losing Bayleigh, JC and Sam and they need those numbers for a while longer.

10:09 PM BBT – Kaitlyn says all but two people have told her they're voting to keep her. Haleigh tells Kaitlyn that people are telling Rockstar the same thing. Kaitlyn is shocked by that. Angela tries to redirect what Haleigh shouldn't have said.

10:12 PM BBT – Kaycee and Rachel confirm with Bayleigh they are voting to keep Rockstar. They think that Tyler is going to tell Kaitlyn about the vote.

10:35 PM BBT – Brett and Rachel discuss the plan to evict Kaitlyn. They wonder how it will work with the returning player and if all of the first four will have a chance.

10:45 PM BBT – Kaitlyn complains to Tyler that she believes he hasn't told anyone he's keeping her. She wants to know who is the holdout on the vote to keep her. He won't tell her anything. She insists on knowing more but he refuses to give her details.

10:50 PM BBT – Kaitlyn promises Tyler if he tells her something and she tells anyone else then he can vote her out. Tyler tells her that Faysal and Haleigh are voting her out. Kaitlyn disagrees and says that Faysal is comforting her so that can't be true. Tyler says he has enough votes without those two though if everyone sticks to the plan.

10:55 PM BBT – Kaycee, Rachel, and JC go over the vote and believe it will be unanimous to evict Kaitlyn. JC believes even Faysal and Haleigh will be voting her out.

11:35 PM BBT – Haleigh warns RS it could be a tie vote.

12:25 AM BBT – Rachel tells Haleigh the vote could be unanimous with Kaitlyn going out the door. Haleigh says she's good with the plan and promises Rachel that RS wouldn't come after her since she's all about the girl power.

12:35 AM BBT – Faysal talks with Haleigh and agrees they need to get Kaitlyn out because of how much she's messing up their game. He says Kaitlyn doesn't know what's going on and makes it worse for the two of them.

12:40 AM BBT – Kaitlyn keeps referencing Tyler's dead father and says she sees him and tells Tyler his dead dad's spirit wants her to stay in the game tomorrow.

12:50 AM BBT – Faysal tells Haleigh about Kaitlyn coming to him and saying he was her soulmate and encouraged him to not be afraid of breaking up her five-year relationship.

1:00 AM BBT – Rachel offers Faysal that she'll be the tipping vote to evict Kaitlyn.

1:30 AM BBT – Sam is upstairs alone building various things from scraps. Downstairs Haleigh, Rachel, and Faysal are talking about the votes and whispering despite being the only other ones awake. They're going over the plan to evict Kaitlyn.

2:00 AM BBT – Rachel heads to bed with a hug for Faysal and says she's on board especially after hearing what he had to say.

2:45 AM BBT – HGs are finally off to sleep.
This vote can't sit still but the wave seems to be pushing on eviction Kaitlyn while Tyler struggles back to keep her. Watch for even more of this back and forth on Thursday ahead of the vote and we could have yet another exciting eviction vote reveal at the live show.
You can watch all of these Big Brother events using the archives Flashback, the DVR-like feature of this year's Live Feeds which means it's always live, even when you missed it! Sign-up now to get the free trial to watch it all live & uncensored.

Gallery: Live Feeds Highlights
click images to see full-size