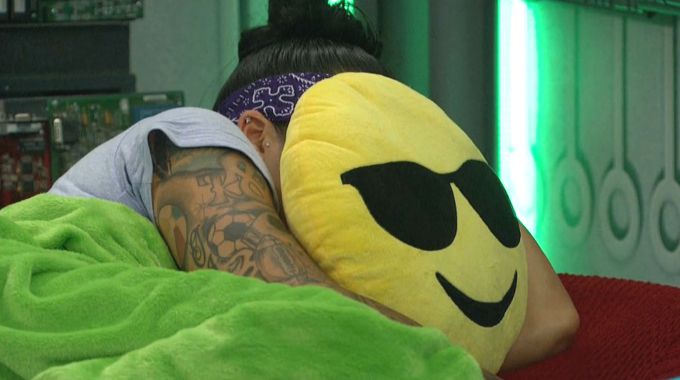 It looks like we might be in for another split vote and possibly a blindside this week in the Big Brother 20 house as everyone has begun figuring who they want to stay and who they want to go. Few people are seeming to be really too worried about the power in play this week, though, mostly because they don't understand what it does.
If you've got the Live Feeds (Free Trial) then you can watch all of these moments with the Flashback feature to go back and watch those important conversations or funny scenes you may have missed.
Big Brother 20 Live Feed Highlights – Monday, July 23, 2018:
3:15 PM BBT – Kaitlyn tells Angela she knew this was about to happen (Faysal saving Haleigh instead of her) because she saw some numbers on a shampoo bottle.

3:35 PM BBT – Kaitlyn claims again that she threw the Veto comp to Faysal but then he betrayed her. She tells JC that she knows he will have a hard choice between RS and her but suggests they are more aligned than he might have been thinking. She asks for JC's vote but he says he'll have to think about it.

4:00 PM BBT – Brett asks Tyler if Sam actually was thinking of putting up JC. Tyler says he thinks so and that's what happens when Sam doesn't talk through her plans. They discuss their chances at keeping Kaitlyn this week over RS. Tyler points out they need JC's buy-in on this or Sam will have to break the tie.

4:10 PM BBT – Faysal promises RS his vote and says she also has the votes from Haleigh, Bayleigh, and Scottie.

4:25 PM BBT – Kaycee tells Bayleigh that most HGs are planning to VTE RS.

4:40 PM BBT – Rachel talks with Kaycee and encourages her to keep Kaitlyn this week because RS is coming after them. Kaycee is confused and says Brett wanted to get out RS. Rachel pushes again for Kaitlyn to stay and says she (K) would be going after the other side first. Kaycee says she wants to keep Kaitlyn as long as she will be on their side.

4:50 PM BBT – Brett points out that Kaitlyn could win the chance to come back comp, but RS probably wouldn't. So they should try and make the move to pull Kaitlyn over to their side if she's going to be here anyway. Kaycee thinks they can get Bayleigh's vote.

5:10 PM BBT – Bayleigh agreed to vote with them to keep Kaitlyn, but says it'll probably come back to be a problem for them later. She tells Kaycee and Rachel to let her know and suggests they could probably get Haleigh and Faysal to vote with them to keep Kaitlyn.

5:15 PM BBT – Bayleigh tells Rachel & Kaycee she wants to make sure Kaitlyn goes before Jury.

6:00 PM BBT – Rachel and Angela quickly meet in the Lounge. They consider staging a fight between them over Brett far down the road. Angela thinks maybe they don't have to stay away from each other as they've been doing now that it seems to have worked on breaking up the perception of them as a duo.

6:05 PM BBT – Rachel and Angela agree that they need to keep Kaitlyn. They want to spin it as keeping Kaitlyn will help make a target for others.

6:50 PM BBT – JC fears the evicted players are waiting for a Battle Back. He doesn't like the idea of sending RS out to face Swaggy. Brett points out that Winston would be battling Swaggy, but even if Swaggy comes back then he'd be going after Kaitlyn, not them.

6:55 PM BBT – JC asks them how they're voting. Brett and Angela say they're voting out RS. JC says he's voting out Kaitlyn.

7:05 PM BBT – Tyler tells JC he can control Kaitlyn if they keep her. JC points out that if Tyler is controlling Kaitlyn then why is she running around telling Faysal she has feelings for him?

8:27 PM BBT – Sam was just crying saying she wants to go home, but she composed herself. She tells JC she goes back and forth in her mind about being proud of herself this week and not being proud of herself.

8:30 PM BBT – Sam tells JC that she was never going to nominate him. She said she acted like she was going to nominate him to soften the blow for Rockstar. She wanted people to think if she was going to nominate someone she's close to like JC then she really believes this week will be null.

8:33 PM BBT – JC tells Sam there's a big chance the vote will be tied this week. He asks who she will vote out in the tie-breaker. She asks him who he wants out and he says Kaitlyn. She says to repay him for freaking him out at the veto meeting, she promises him she'll break the tie to evict Kaitlyn.

8:55 PM BBT – Tyler tells Kaycee that JC and Sam want Kaitlyn out and he doesn't want to make them mad, but he can control Kaitlyn and not Rockstar.

8:58 PM BBT – Scottie and Bayleigh talk about how keeping Kaitlyn around just to be a target is stupid. They agree they want to vote with the house but would rather have Rockstar here instead of Kaitlyn.

9:00 PM BBT – Scottie admits to Bayleigh that he was the extra rogue vote for Swaggy. He said he was trying to trend so their side would have a power.

9:24 PM BBT – Rachel and Angela say they're really worried about Scottie winning the next HOH. They agree he is the one person they're most afraid of in the game.

10:30 PM BBT – Tyler and Kaycee discuss how the votes will go. Kaycee thinks they can get Bayleigh's vote. Tyler agrees since Bayleigh wants to finally vote with the majority. He needs to work on JC next.

10:35 PM BBT – Rachel asks Faysal what he wants to do. He's nervous about keeping Rachel and having her come after him.

11:05 PM BBT – Kaycee talks with Bayleigh about her vote. Bayleigh says neither option is good for who should stay, but she thinks Kaitlyn staying would be worse and Tyler would enable her to cause more damage in the game.

11:25 PM BBT – Haleigh offers up to Bayleigh that they can stick together with Faysal, but Bayleigh points out that Faysal will obviously be focused on helping Haleigh. Bayleigh reminds Haleigh their numbers are dropping and they could be going down the wrong path by going against the numbers yet again.

11:30 PM BBT – Kaitlyn goes to Faysal and demands an apology if they're going to work together after she stays. She's sure she has Rachel's vote, putting her over the top to stay. Faysal doesn't like how she puts people on the spot. She pushes again for his decision but he won't give it after asking if she has anything else that she's been withholding from him.

11:50 PM BBT – Kaitlyn is getting upset with Faysal and tells him he's going to regret what he's saying to her about not fully trusting her. She expects him to accept her and move on while trusting her completely. Faysal wants to know who flipped their votes but believes everyone who has told him they didn't flip their vote. Kaitlyn calls Faysal sketchy which he points out she said about Swaggy when she targeted him.

12:00 AM BBT – Kaitlyn says it feels like their relationship is now tainted. She continues to question Faysal. He promises her his vote to stay then questions her again on why she went after Swaggy and blames her for things falling apart. Kaitlyn walks away.

12:10 AM BBT – JC tells Faysal they have to vote out Kaitlyn this week. Faysal agrees to vote with him.

12:25 AM BBT – Faysal lets Haleigh know his talk with Kaitlyn didn't go well. He fears she will put him up if she stays and gets HOH. Haleigh tells Faysal he needs to work on fixing that relationship as she tries to figure out if Kaitlyn would be staying.

12:50 AM BBT – RS is feeling down about the vote and doesn't think she'll stay. Bayleigh is giving her a pep talk to fight for the votes.

1:00 AM BBT – RS complains that HGs shouldn't keep Kaitlyn because her family has money. She says everyone has a beach house and hundreds of thousands in their accounts.

1:40 AM BBT – RS questions Sam on how she'd break a tie, but Sam says she hasn't considered it yet.

2:10 AM BBT – RS talks through her new campaigning ideas with Haleigh. She wants to try and smooth things over with Brett and then tell Sam that Kaitlyn is coming after her.

2:15 AM BBT – Haleigh suspects Kaitlyn's boyfriend isn't real and just a ploy to keep Kaitlyn from having to do a showmance but still allowing her to flirt with the guys.

2:40 AM BBT – RS is making her pitch to Brett. She wants to make Jury to show her daughter she could do it and how she'd vote there. RS promises she's not a threat to Brett's game. She offers herself up as a free agent in the game.

3:00 AM BBT – RS comments to herself that she thinks her talk with Brett went well.
Kaitlyn and RS will campaign away over the next few days, but really this decision will be made by the masses as the HGs try to either hold or form a new majority. Kaitlyn appears to be the leading favorite to stay, but with her volatilty and a few days to go anything is possible with Thursday's vote, especially with that Bonus Life waiting to happen.
You can watch all of these Big Brother events using the archives Flashback, the DVR-like feature of this year's Live Feeds which means it's always live, even when you missed it! Sign-up now to get the free trial to watch it all live & uncensored.

Gallery: Live Feeds Highlights
click images to see full-size