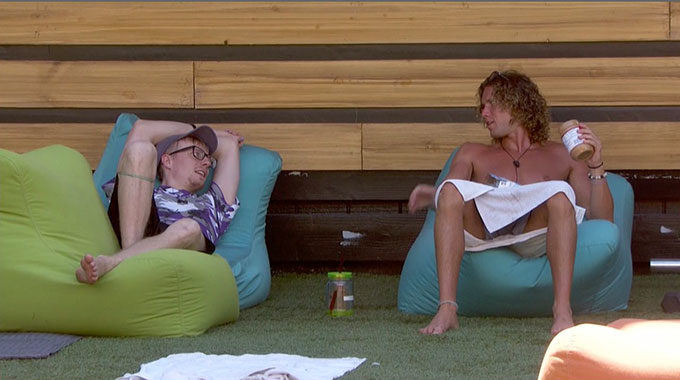 It was a quiet day in the Big Brother 20 house as Rockstar and company continued to think they have the votes for their side this week. That hasn't stopped Rockstar from campaigning though. She's confident, but not certain she's staying, so she's still putting in work. Meanwhile, the other side of the house continues to laugh at how oblivious the other side is.
If you've got the Live Feeds (Free Trial) then you can watch all of these moments with the Flashback feature to go back and watch those important conversations or funny scenes you may have missed.
Big Brother 20 Live Feed Highlights – Tuesday, August 14, 2018:
10:30 AM BBT – HGs getting a very slow start to the day.

10:50 AM BBT – RS pitches to Sam a F6 of them two plus Haleigh, Faysal, Scottie, and JC.

11:00 AM BBT – RS tells Tyler he's taking things out on her when she didn't do this to him. Tyler says he did want to hear her out and considered the options, but after what Haleigh did he couldn't do something that would help Haleigh.

11:20 AM BBT – Angela lets Kaycee know JC warned her that Faysal and Haleigh are definitely in a showmance.

11:40 AM BBT – RS pitches to Brett they could be their own alliance.

11:45 AM BBT – Brett goes outside and tells Tyler and Angela about RS making the offer to align.

12:20 PM BBT – Haleigh mentions how Tyler knew Kaycee would go up if Angela came down and he still did it. Scottie thinks they can use that to turn Kaycee against Tyler should she win a Jury Battle Back later (they expect her to be evicted).

12:25 PM BBT – RS tells Haleigh about her pitch to Brett to make a secret alliance between them. She says it wasn't a F2 though.

12:30 PM BBT – RS has been rehearsing her eviction speech for Brett and Haleigh. He helps her work out the details and what to say.

12:35 PM BBT – Sam lets Kaycee know she feels similarly about her (K) and RS for how they make her feel comfortable. Sam says she's nervous to say too much about her vote plans or she could be canceled by the Hacker.

1:15 PM BBT – HGs lounging around the house and can hear music outside.

2:02 PM BBT – Haleigh and Angela talking about jury. They agree they don't want to go but hope it's chill there. Haleigh says she doesn't want to go back to Texas after this.

2:55 PM BBT – Rockstar tells Scottie she talked to Tyler and he seems to think Brett and JC will vote to evict Rockstar, but she thinks he's wrong.

2:56 PM BBT – JC tells Brett Rockstar is pretty sure she has the votes to stay.

3:34 PM BBT – Tyler and JC have a toothpaste and shaving cream fight in the bathroom. They're both covered in toothpaste. Feeds cut at first because it looked like an actual fight. JC gets a "Stop that."

3:45 PM BBT – Tyler tells Brett that Rockstar cornered him today and said that she had nothing to do with anything that Haleigh did to him last week. He said he's guilty by association and she knows he was going on the block this week if he didn't win veto. He mentions again that she said, "Princess" (Angela) gets to walk around and not worrying about anything once again.

3:46 PM BBT – Brett tells Tyler that Rockstar came to him to help her with her eviction speech. He lets them know what some of the speech consists of. They say that stuff makes no sense and Brett says that's what he told her to say. Angela wonders what else Brett can tell her to say that makes no sense.

3:48 PM BBT – Tyler tells Brett to tell Rockstar to mention in her speech that Tyler and Angela are related. Angela, Tyler, and Brett talk about what they'll say to Rockstar in their goodbye messages because they were never going to get her jury vote anyway.

3:50 PM BBT – Brett says if Rockstar wants to talk about entitlement how about her going to the other nominee (Kaycee) and telling her she's sorry she's going home.

3:51 PM BBT – Sam, Rockstar and Kaycee are trying to figure out why they had a sudden indoor lockdown. They wonder if there was a plan or drone flying over.
So Rockstar doesn't stand a chance this week, it seems, which means her side of the house will once again be surprised when Brett, JC and Sam vote Rockstar out. Brett, Angela and Tyler are even planning scathing goodbye messages for Rockstar (which is really not too smart to do to a jury member).
You can watch all of these Big Brother events using the archives Flashback, the DVR-like feature of this year's Live Feeds which means it's always live, even when you missed it! Sign-up now to get the free trial to watch it all live & uncensored.

Gallery: Live Feeds Highlights
click images to see full-size