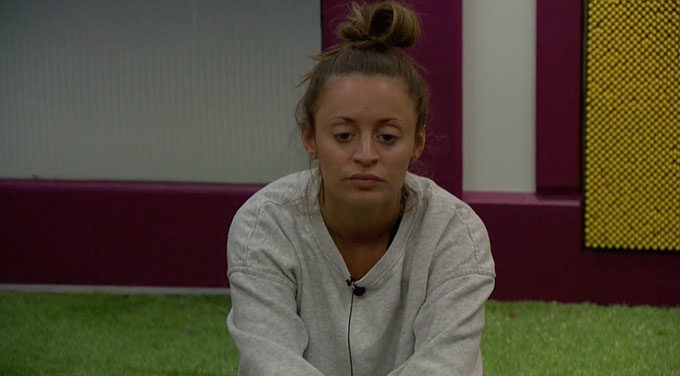 The debate raged on Wednesday morning and afternoon in the Big Brother 20 house. Who will be voted out tomorrow and get a chance to come right back in the house? That is anyone's guess at the moment. Just when it seemed like Rockstar's fate was sealed, people started changing their minds to Kaitlyn. Read on to find out who is leading the charge of the latest possible vote flip. It might surprise you.
If you've got the Live Feeds (Free Trial) then you can watch all of these moments with the Flashback feature to go back and watch those important conversations or funny scenes you may have missed.
Big Brother 20 Live Feed Highlights – Wednesday, July 25, 2018:
10:00 AM BBT – HGs got their wake up call.

10:30 AM BBT – Rockstar is campaigning to Sam who reminds her that if she stays this week but soon goes to Jury she'll be away from her kids for the rest of the season. Sam mentions she'll just randomly pick who to go if there is a tie.

11:20 AM BBT – Rachel is trying to teach Scottie a dance routine.

11:30 AM BBT – Rockstar is upset and lets Bayleigh know that she has been trying to campaign but isn't sure she has the votes.

12:30 PM BBT – JC works on Kaycee to get her vote against Kaitlyn. He says he can't stand Kaitlyn and needs her gone. JC reminds Kaycee that Rockstar isn't a threat in the comps. He lets her know that he is voting against Kaitlyn and believes Brett is doing the same. JC suggests Angela might be willing to join them in that vote.

12:45 PM BBT – JC promises Faysal that Kaitlyn will be going this week.

12:55 PM BBT – Haleigh, Faysal, JC, and Kaitlyn discuss medical issues. Kaitlyn mentions it took a long time for her issues to be diagnosed.

1:05 PM BBT – Kaycee talks with Angela about the vote. They're considering evicting Kaitlyn since they don't think Rockstar would nominate them. They do worry Tyler could be targeted by Rockstar but are sure they could protect him. Angela knows Kaitlyn is willing to get in bed with the guys to sway votes, but she won't do that. She wants Kaitlyn out because she does have a stronger social game than they do. Kaycee agrees that they should keep Rockstar since she's loyal to the girls while Kaitlyn's game is focused on the guys.

1:25 PM BBT – Angela says she doesn't want to risk being stuck in Jury with Kaitlyn. Rachel joins the talk and immediately pushes back on the idea. Rachel wants Rockstar out.

1:59 PM BBT – Tyler tells Sam that he is voting Kaitlyn to stay because Rockstar will come for him. Sam asks why because Rockstar is not a threat and says Kaitlyn is gunning for Sam.

2:00 PM BBT – Sam tells Tyler he needs to tell her night now if he and Kaitlyn have something. Tyler says they aren't as close as people think. Sam said that whole side of the house is going after each other and Kaitlyn needs to go first. Sam is getting upset that Tyler doesn't want to vote out Kaitlyn. Sam said Rockstar is not going to win HOH.

2:02 PM BBT – Tyler tells Sam he doesn't want Kaitlyn in this game, but Rockstar will come for him and maybe even nominate Sam as a pawn.

2:04 PM BBT – Sam tells Tyler that she can tell Rockstar that if she stays this week she has to nominate "this person and this person" and not him.

2:07 PM BBT – Rachel comes into the HOH room and Tyler leaves. Sam is really upset over Tyler wanting to keep Kaitlyn so she asks Rachel what she wants and says if people don't make up their minds and there's a tie, God is going to pick.

2:09 PM BBT – Sam asks Rachel what her preference is. Rachel says Kaitlyn. Sam says "Kaitlyn doesn't like me … who do you like more, me or Kaitlyn?" Rachel says you. Sam implies she should vote Kaitlyn out.

2:13 PM BBT – Rachel tells Sam that if she knows the vote is going to be a tie, she'll vote the other way even if it's not the way she wants to vote so Sam doesn't have to break a tie.

2:41 PM BBT – Rachel says she's going to say one last time why she wants Kaitlyn to stay. She says something and then everyone else starts saying why she should go so Rachel says F it, vote her out then.

2:44 PM BBT – Rachel says her mind is made up and they can all do what they want and she's not going to push it anymore.

2:46 PM BBT – Bayleigh says she thought Kaitlyn was going to be an easy target this week and look what happened, everyone wants her to stay. She says that scares her and makes her think no one will ever get her out.

2:47 PM BBT – They ask Brett his opinion and he says he wants them both out.

2:54 PM BBT – Angela says that they're only going back and forth on this because they have never known where Kaitlyn's head is. With Rockstar, they know. Bayleigh agrees. Rachel is still frustrated.

3:00 PM BBT – Rachel leaves the room and they talk about how she's upset but they don't seem to be changing their minds on evicting Kaitlyn.
Who would've thought Angela and Kaycee would decide to play the game on a Wednesday afternoon. They have currently decided they might want Kaitlyn to go this week. But Tyler is still pushing for Kaitlyn to stay, though, and he has had a lot of control over the game, so it'll be interesting to see if he gets what he wants this time.
You can watch all of these Big Brother events using the archives Flashback, the DVR-like feature of this year's Live Feeds which means it's always live, even when you missed it! Sign-up now to get the free trial to watch it all live & uncensored.

Gallery: Live Feeds Highlights
click images to see full-size