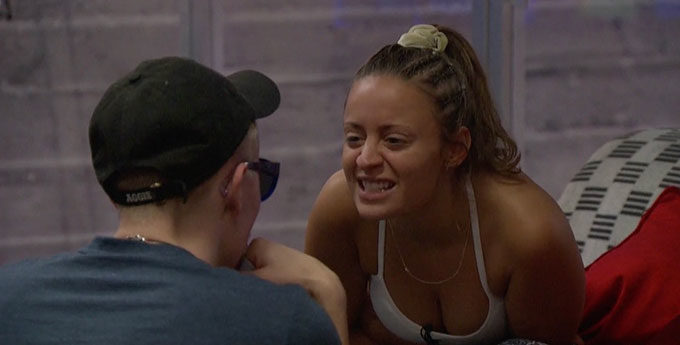 It was veto ceremony day in the Big Brother 20 house and even though Kaitlyn had a wacky conversation with Scottie that included confessing all of her BB sins, Scottie held strong with this plan to get the bros out this week. Read on for all the details from the day before and after the ceremony.
If you've got the Live Feeds (Free Trial) then you can watch all of these moments with the Flashback feature to go back and watch those important conversations or funny scenes you may have missed.
Big Brother 20 Live Feed Highlights – Monday, July 16, 2018:
9:47 AM BBT – HGs got their wake up call. We start off with Kaitlyn telling Angie that she flipped. Angie already knew. Kaitlyn says she had to or Sam's power would have caused someone on FOUTTE's side to be evicted in her place.

9:55 AM BBT – Kaitlyn tells Angie, Haleigh, and Bayleigh that she's suspect of Tyler now after he didn't rush to support her. She says they could put Tyler up next week and she wouldn't care.

10:10 AM BBT – Tyler trying to calm Kaitlyn down. She's upset that he didn't rush to her side. He says she didn't handle things well for her game with the blow up at the Bros last night.

10:20 AM BBT – Tyler turns the tables on Kaitlyn and says he thought she was his #1, but every day she's questioning him when he isn't the one who should be questioned. He promises he was staying quiet to her last night because he was thinking of how to fix that mess.

10:25 AM BBT – Kaitlyn blames Tyler for telling her about Sam's power in the first week. She wishes he hadn't said anything so she wouldn't have been responsible for saving the whole thing. Kaitlyn regrets having sent Swaggy homes and wishes he hadn't gone. Tyler challenges Kaitlyn to tell him to his face that she doesn't trust him. She refuses to say it.

10:30 AM BBT – Bayleigh lets Kaycee know that Kaitlyn is going to admit to Scottie that she flipped the vote in Week 1.

10:45 AM BBT – Winston and Brett discuss who should be targeted next week. They think Faysal is orchestrating things because Kaitlyn ran to him after their argument yesterday.

11:13 AM BBT – Kaitlyn tells Scottie not to freak out but she has to tell him something. She says Steve was her dad (he asks if he was actually her dad … she says no)… Then she tells him that she flipped her vote on Steve because she was told that if she didn't do that she would have been screwed by the power. She's acting crazy and is laughing and excited to be telling him. It's such a bizarre telling. Scottie just listens to it all, taking it all in (this is ahead of the veto meeting, mind you).

11:19 AM BBT – Kaitlyn finally pauses and asks Scottie if he's freaking out and he says no because he had a feeling she flipped on the Steve vote.

11:25 AM BBT – Kaitlyn still cannot believe the viewers didn't give her a power for backdooring Swaggy.

11:48 AM BBT – Tyler is concerned over Kaitlyn's antics (particularly telling Scottie about Sam's power – even though she has the details about the power all wrong) but she tells him he needs to trust her intuition.

11:59 AM BBT – Feeds cut for veto meeting.

12:57 PM BBT – Feeds return. Scottie did not use the veto. Brett and Winston remain on the block.

1:10 PM BBT – Winston tells JC he's not sure how to campaign and doesn't want to campaign against Brett.

1:45 PM BBT – Winston has been feeling people out about votes, but no one says they know what they're going to do yet.

2:00 PM BBT – Brett tells Rachel if he stays and wins HOH he'd put up Rockstar and a pawn and backdoor Faysal if possible.

2:27 PM BBT – Faysal and Scottie talking about who is going to go. Faysal says he doesn't care which one goes. Scottie says he doesn't either, but Brett might be the better one to go. Scottie says he thinks the girls are set on Brett going. Faysal says but the girls like Brett more and their plan changes every day.

2:29 PM BBT – Scottie wonders about Sam's power because if it expires this week she could use it. He said he needs to talk to her even though she doesn't know he knows about her power. Faysal said if it expires after this week why wouldn't she use it. Scottie says he's going to get yelled at for saying this, but if there's one person the DR could convince to use a power it's Sam. Scottie said he needs to talk to her before Thursday.

2:49 PM BBT – Scottie tells Bayleigh about the rumor of Sam having the power and her meeting with Brett. They think Brett knows about her power and if he tried to strike a deal with her. Bayleigh doesn't think Sam would actually use it on Brett.

2:50 PM BBT – Bayleigh tells Scottie that Kaitlyn and Tyler knew about Sam's power and that Tyler knew about it this whole time. Scottie says that's interesting because Tyler just told him that Tyler acted like he didn't know about the power. Bayleigh says she'll let him do with that what you choose.
So the bromance will be split up this week, but no one knows which one will be going. And of course Sam could still have a moment of weakness (aka DR interference) and use her power to give the evicted bro a chance to come back to the game. Things could really get even crazier this week.
You can watch all of these Big Brother events using the archives Flashback, the DVR-like feature of this year's Live Feeds which means it's always live, even when you missed it! Sign-up now to get the free trial to watch it all live & uncensored.

Gallery: Live Feeds Highlights
click images to see full-size