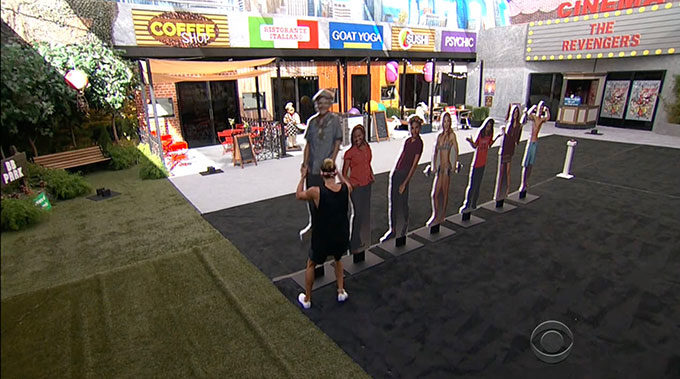 This week on Big Brother 20 Kaitlyn pulled off a move that she nor her alliance wanted to make all because of her intuition. And in case you're wondering, her intuition is named Tyler.
Kaitlyn is trying hard to convince us and herself that this bold move was both her idea and will benefit her in the long run. Neither of those things are true.
Wednesday night's episode picked up right after Kailtyn put up her two pawns, Scottie and Winston. "My main target this week is Swaggy," she tells us via Diary Room. "I am so done with him. He can go now." We never really get much a reason why she's done with him, though. Mostly because she doesn't know either.
Tyler is happy that everything is going in his favor: He got the newest power app, his main alliance is safe and his target, Swaggy, is being set up for a backdoor. Kaitlyn's alliance is also happy, including Swaggy. They are loving that Winston is up and they believe he is the target. Winston, however, isn't as happy. He knows he was told that he is the pawn, he still thinks it's too dangerous to remain on the block all week. All that will soon chance. Except for Tyler. He's going to be very happy.
At the veto draw, the backdoor plan is looking more and more likely  as the HGs find out joining Kaitlyn, Scottie and Winston in the veto competition are Faysal (via Kaitlyn's HG choice), Rachel and Tyler. But since Kaitlyn had to pick Faysal to keep up appearances, she lets him know that he shouldn't win the veto. She tells him that would be bad for his game. She doesn't tell him it's because she wants to backdoor their ally Swaggy, though. Basically the only thing she achieved was she made him nervous and less trusting.
Jessica and Cody from Big Brother 19 show up to host the Power of Veto competition. And they were given some lines to read, and that was very, very painful to watch. I don't think they learned anything about acting on their The Bold & The Beautiful appearances.
This week's veto competition is based on a dating app, and the HGs have to match dating profiles of past HGs — McCrae, Cody (BB16), Jodie (BB14), Boogie, Christmas, Michelle (BB18) and Jozea — to where they'd want to go on a date. Rachel is up first. Followed by Kaitlyn, Scottie, Winston, Tyler and then Faysal. The player who finishes in the fastest time wins the Power of Veto.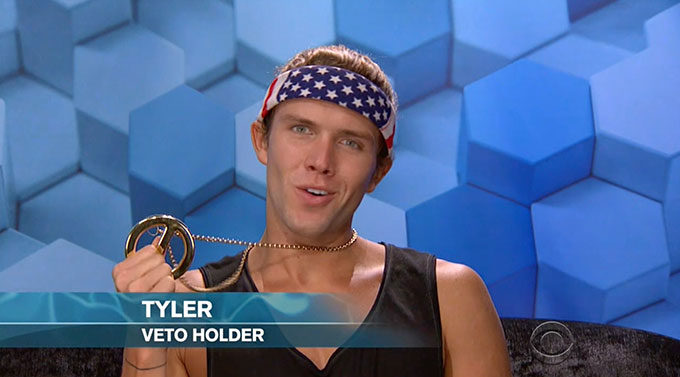 The results 
Rachel – 5:49
Scottie – 18:20
Winston – 20:00
Tyler – 5:29
Faysal – 6:22
Kaitlyn – 13:12
First of all, wow, Winston is really bad at Big Brother. But with a time of 5:29, Tyler won the Power of Veto, and the backdroor Swaggy plan is for sure a go. Or is it? Is that really want Kaitlyn wants? Well, it only matters what Tyler wants, so yes, it's for sure a go. Kaitlyn freaks out a bit and starts to realize this plan is bigger than she imagined. But since this is basically Tyler's HOH again, he reels her back in on the plan.
But who will Tyler take off the block? Tyler thinks that if he uses the veto on Scottie, that way Scottie will trust them more. Kaitlyn agrees with that plan.
Kaitlyn tells a couple of her allies she's going to do something they won't be too happy with, and as they, one by one, figure out what it is, they let it known they're not going to be ok with it. Faysal even denies her a hug when he figures out what she's going to do.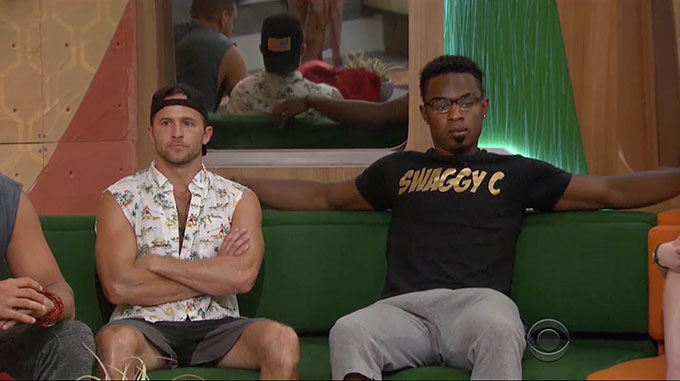 So at the veto ceremony, Tyler does use it to remove Scottie from the block and Kaitlyn names Swaggy as the replacement nominee. And everyone is shocked and angry. As expected.
What do you think of Kaitlyn's decision to go with Tyler's plan? Did she make the right choices?