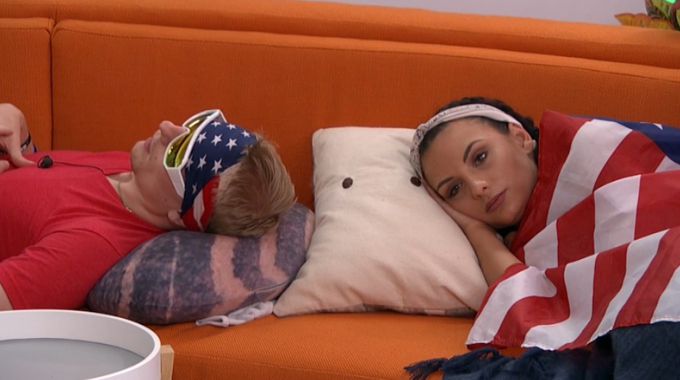 It was a lazy July 4th day in the Big Brother 20 house as the houseguests lounged in their patriotic attire and discussed this week's vote for the 1000000th time. It's going to be hard to determine who is really going to get evicted this week, but I know I'm ready for Week 2. Read on for all of the day's discussions.
If you've got the Live Feeds (Free Trial) then you can watch all of these moments with the Flashback feature to go back and watch those important conversations or funny scenes you may have missed.
Big Brother 20 Live Feed Highlights – Wednesday, July 4, 2018:
9:46 AM BBT – Winston whispers to Steve that things are happening and he should be okay with the votes this week. (Overnight The Bros decided to flip their votes to save Steve instead of Sam.)

10:20 AM BBT – Feeds are back from wake up call.

10:55 AM BBT – RoboSam is sporting a crown, torch, and plaque. She's dressed as Lady Liberty.

11:40 AM BBT – Sam is back.

11:55 AM BBT – Hamazon Delivery time for Faysal.

12:05 PM BBT – Sam shows off the basket she weaved from napkins while trapped on the other side of RoboSam.

12:10 PM BBT – Tyler lets Sam know that Haleigh is a lost cause on the votes. He wants to avoid any issues with Faysal so he's staying away from Haleigh and instead will focus his time on Kaitlyn. Sam wonders if she should tell Kaitlyn about the power, but Tyler doesn't like that idea.

12:30 PM BBT – Sam is campaigning to Scottie. She offers they could join forces if she says and Steve goes this week. She offers a pinky swear that she'd work with him and he accepts her pinky.

1:30 PM BBT – HGs lounging around the house in their festive Fourth of July attire.

2:05 PM BBT – Tyler warns JC that Haleigh and Rockstar aren't sure who JC is with so they are thinking he needs to go soon. JC confirms he's still voting Steve out this week. Tyler says he still has a last-minute plan to get Kaitlyn to vote Steve out.

2:30 PM BBT – Steve warns Kaitlyn that Sam is going to come to her for her vote. Kaitlyn tells him it won't do her any good.

2:48 PM BBT – JC and Tyler tell Steve not to worry what he's heard about votes because people are just telling Sam she has some votes to stay to make her feel better.

3:00 PM BBT – Tyler goes to Sam and tells her to stop talking to Scottie about the vote because he isn't going to change and all it does is hurt her chances of getting other votes. She told Scottie that he and Kaitlyn were swing votes and now Steve knows she said that. They want Steve to think he has more votes than he does (which he does now that Brett and Winston have flip-flopped).

3:50 PM BBT – Haleigh and Rockstar discussing the vote. Rockstar says she's still leaning toward voting to evict Sam. Rockstar says even if she wanted to keep Sam, she isn't enough to make it happen. Haleigh is seeming a bit doubtful about keeping Steve.
So it's once again not looking too good for Sam. The HGs do keep flip-flopping, though, so it's probably going to be one of those votes that gets decided on eviction day while the feeds are down. We might be in for a surprise come the Big Brother 20 live show.
You can watch all of these Big Brother events using the archives Flashback, the DVR-like feature of this year's Live Feeds which means it's always live, even when you missed it! Sign-up now to get the free trial to watch it all live & uncensored.

Gallery: Live Feeds Highlights
click images to see full-size