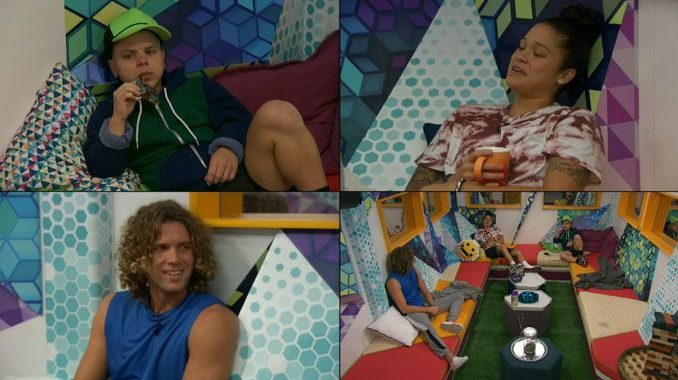 The Final 3 celebrated their accomplishment last night on Big Brother 20's Feeds but the party couldn't last too long with the first of the final HOH competition rounds breaking up the night. An endurance battle wore these HGs out but they still had the energy to stay up late and excitedly chat about how close they've come to the end of the season.
If you've got the Live Feeds (Free Trial) then you can watch all of these moments with the Flashback feature to go back and watch those important conversations or funny scenes you may have missed.
Big Brother 20 Live Feed Highlights – Thursday, September 20, 2018:
7:27 PM BBT – Feeds return from eviction show after a delay.

7:28 PM BBT – F3 wonders how the Jury House will react to Angela arriving. Tyler worries they'll be mean to her.

7:40 PM BBT – Tyler tells Kaycee that JC told him the F2 between Tyler and Kaycee better be fake. They both say neither told Angela before their goodbye message about their F2 deal.

7:55 PM BBT – Kaycee tells Tyler they need to make sure to be careful when talking and to know where JC is before they talk. They're confident one of them will win the first round tonight.

7:57 PM BBT – F3 laughing about the other side being shocked and confused by the votes. JC says he'll never forget Bayleigh's face after that first vote.

8:06 PM BBT – JC tells Tyler he was able to convince Kaycee to vote out Angela today instead of Tyler after he originally told Kaycee that he didn't care who she voted out.

8:15 PM BBT – HGs discussing the other side's alliance and the bad moves they made. They wonder how the Jury will react to Angela's arrival. Tyler thinks Haleigh could have done a lot better with a little more maturity.

8:25 PM BBT – Kaycee thinks Angela was shocked by her eviction.

8:35 PM BBT – Tyler tells Kaycee that if it's the two of them left in the comp tonight (after JC drops) then she (Kaycee) should take the win on this round. Kaycee agrees and says he'll do better in the mental against JC anyway. Kaycee is excited to have her ride or die with her at the end.

8:40 PM BBT – Kaycee mentions how JC doesn't seem to know what's going on with her and Tyler's deal.

9:00 PM BBT – HGs are lounging and waiting for the comp. They're chatting and joking in the Lounge.

9:40 PM BBT – JC tells Tyler how hard it was trying to work around Angela and that while he liked her she was bad for his game.

9:45 PM BBT – Tyler says he's worried Kaycee will cut him if she wins R3. JC says he didn't make a F2 with Kaycee.

9:47 PM BBT – Feeds cut for the final HOH Round 1 competition.

12:45 AM BBT – Feeds are back. HGs are discussing how hard the competition was for them. Talks reveal Tyler won Round 1.

1:05 AM BBT – While JC is in the shower Kaycee and Tyler talk quickly about what happened. Tyler says he was going to drop after JC fell but then she fell first. Tyler says he could have kept going a lot longer. He reassures Kaycee that even if she doesn't win the next round he'll get the third round and they'll be fine.

1:20 AM BBT – F3 is doing another round of toasting. This time while Kaycee is in the shower.

1:30 AM BBT – More pats on the back between Kaycee and Tyler for doing so well in the comp. They're feeling good about their status to reach the end.

2:05 AM BBT – JC tells Tyler that even if he beats him in the F2 then he'll still be happy. Tyler says he'll be happy too.

2:20 AM BBT – JC has been detailing out to Tyler all the accomplishments he believes he made this season. It's interesting and not completely accurate. JC suggests he put his own game in jeopardy to save Tyler throughout the season.

3:15 AM BBT – Lights are out but HGs are still chatting. The bedroom wall has been completely opened up.

3:20 AM BBT – Tyler is teasing JC by talking about how much the pillows smell like Angela. He offers one to JC who isn't pleased.

3:25 AM BBT – JC tells Tyler his speech would have made him sick if he had eaten before the live show. He didn't like Tyler calling her his love on TV.

3:45 AM BBT – HGs are all asleep.
Tyler and Kaycee appear committed to reaching the F2 together so JC better start studying his days and events for R2 or he might not have any chance at all for reaching the last leg of the finale. Do you think either Kaycee or Tyler would flip on their C2C deal?
You can watch all of these Big Brother events using the archives Flashback, the DVR-like feature of this year's Live Feeds which means it's always live, even when you missed it! Sign-up now to get the free trial to watch it all live & uncensored.