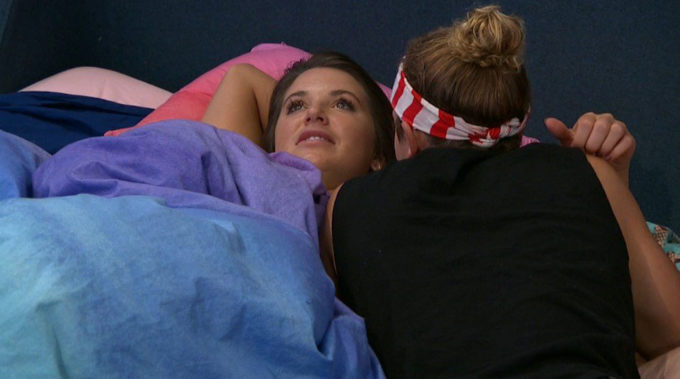 The Big Brother 20 Live Feeds returned following Wednesday night's episode aired on the West Coast and we got all the details we missed during the blackout. Read on to find out what went down with the veto competition and what the eviction plans are for tonight.
If you've got the Live Feeds (Free Trial) then you can watch all of these moments with the Flashback feature to go back and watch those important conversations or funny scenes you may have missed.
Big Brother 20 Live Feed Highlights – Wednesday, September 19, 2018:
9:02 PM BBT – Feeds return. Kaycee & JC are upstairs discussing the game. Tyler & Angela are downstairs cuddling and lamenting their pending doom.

9:04 PM BBT – Tyler thinks whichever of them stays will win. Angela isn't so sure.

9:06 PM BBT – Kaycee and JC celebrate that they'll never see the Jury House now that they're F3 for sure. Kaycee and JC agree this is a hard decision (evicting either Tyler or Angela) because they're both their friends.

9:07 PM BBT – Tyler admitted to Angela that he's a superfan. She's surprised and jokingly questions him about his lies.

9:15 PM BBT – Tyler tells Angela that he's been to BB finals before and says he's happy he didn't actually get cast on Big Brother Over The Top now.

9:21 PM BBT – Angela tells Tyler that they are the most hated in the jury house so the one of them who stays will get taken to final 2 easily.

9:25 PM BBT – Angela talking about how she thinks about how things could have been different had they sent JC out instead of Sam. Tyler tells her they can't dwell on that. Tyler tells her he feels like he's already won though because he met her.

9:32 PM BBT – Tyler tells Angela he has one more secret to tell her but he will tell her before this eviction.

9:47 PM BBT – Kaycee asks how Angela and Tyler are doing. Angela says she's doing and she says she doesn't even want to think about what has to happen. Kaycee says that they're both her best friends. Angela says they know that and whatever she decides to do they will both understand.

9:51 PM BBT – Tyler, Angela, and Kaycee discuss if and when they tell JC about Level 6. Tyler says probably at the finale.

10:00 PM BBT – JC tells Kaycee that he is 50/50 on who should go based on what he was asked in the Diary Room. He says he is stressed out even though he's not the one making the decision. He says he wishes he could tell her what they were asking him in the DR. Production cuts in with you are not allowed to talk about DRs.

10:08 PM BBT – Angela tells Tyler she thinks he will win America's Favorite Player. He says not a chance and thinks JC will win if JC doesn't make it to Final 2.

10:45 PM BBT – JC talking to Tyler about his worries over who Kaycee will take. He wonders if Kaycee is planning to keep Angela for a better chance at winning. Tyler says he'll talk with Kaycee and see what he can do.

11:00 PM BBT – JC is feeling good for his chances at endurance against both Kaycee and Angela but fears the mental competition against Angela.

11:05 PM BBT – JC explains to Tyler how Angela is still in the game because of him (JC) and how he's protected her almost as much as he's protected Tyler. He credits Tyler for getting Kaitlyn to flip against Swaggy.

11:10 PM BBT – JC questions Tyler if he would have voted out Angela had he won Veto. Tyler says he would have and since he promised he would have kept that.

11:11 PM BBT – Tyler promises JC his vote if he gets voted out then stops and backtracks saying he wouldn't vote for him so don't evict him hoping to get his vote.

11:30 PM BBT – Tyler reports back to Angela that JC says Kaycee is 50/50 on what to do. Angela wonders if that's true.

11:40 PM BBT – Tyler talking again about being a superfan and applying for past seasons. He says he was cut at the last minute for BBOTT.

12:00 AM BBT – Kaycee and Tyler discuss what's going to happen. Kaycee says JC has no idea what's going on so she was just playing along listening to what he was pitching.

12:05 AM BBT – Kaycee suggests they have a signal during round one for which of them (her or Tyler) should win that round. Tyler worries that JC knows the dates well but Kaycee thinks he'll get anxious in the comp and mess up. They agree if they're both in round three then that means they're F2 too since they're taking each other.

12:07 AM BBT – Kaycee congratulates Tyler on making the F3.

12:15 AM BBT – Tyler plans to let Angela know in his goodbye message instead of while she's still here so she doesn't get upset.

12:20 AM BBT – Kaycee tells Tyler she's going to stay upstairs with JC so he can have downstairs with Angela.

12:25 AM BBT – Kaycee heads upstairs to hang out with JC. He's excited that they both made F3 and doesn't care whether it's Angela or Tyler who joins them.

12:30 AM BBT – HGs are going to sleep.
Next eviction is coming up tonight (Thursday) and it certainly looks to be the end of the road for Angela. Kaycee seems set on keeping her deal with Tyler and will be the sole eviction vote against Angela to give us our F3.
You can watch all of these Big Brother events using the archives Flashback, the DVR-like feature of this year's Live Feeds which means it's always live, even when you missed it! Sign-up now to get the free trial to watch it all live & uncensored.