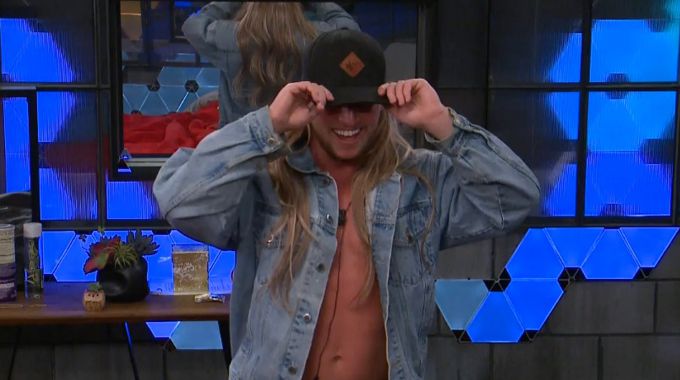 It was a quiet day but a busy night on Tuesday in the Big Brother 20 house. A couple of late-evening conversations sure gave us a look into what could be coming up during Thursday's double eviction. Brett and Tyler had "the talk." As in do they target the girls this week if it's a double? Both made points for and against, but the most shocking part of all was that Tyler didn't seem against it as he has previously with JC. That discussion was soon walked back to the parts of L6 and that alliance looks ready to fall apart.
If you've got the Live Feeds (Free Trial) then you can watch all of these moments with the Flashback feature to go back and watch those important conversations or funny scenes you may have missed.
Big Brother 20 Live Feed Highlights – Tuesday, September 11, 2018:
10:15 AM BBT – HGs are getting their day started.

1:20 PM BBT – JC tells Brett he's mad at him but won't say why.

1:45 PM BBT – Angela lets Sam know that she's safe this week and to not be worried about seeing Haleigh with them all the time. Sam thanks her for helping her feel better about this.

2:47 PM BBT – Brett relays to JC that Haleigh suggested Tyler and Angela sounded like they were getting very intimate last night. JC thinks Haleigh is just making it up to worry them about Tyler and Angela.

3:45 PM BBT – Haleigh talks with Angela to see her chances of staying. She's trying different angles. Haleigh mentions Sam is unpredictable and might have been the vote for RS to stay. (It was Scottie.) Angela shifts the decision back to Kaycee and says she doesn't know what she wants them to do.

3:47 PM BBT – Angela reminds Haleigh that she (H) put her (A) and Kaycee up while Sam didn't.

3:53 PM BBT – Haleigh pitches that she would be a stronger ally for Angela than Sam could be. Angela notes that Tyler may be worried that she (H) would put her (A) and Tyler up together. Haleigh isn't sure how to dissuade him of that concern.

4:00 PM BBT – Angela lets Kaycee know that Haleigh was campaigning and she'll tell her more later.

4:05 PM BBT – HGs worrying about how long they'll be on lockdown as production told them it'd be a long time.

4:30 PM BBT – Angela lets Brett know that Haleigh was campaigning to her but she deflected it by saying she was waiting to hear what Kaycee wanted them to do. Angela says she reassured Sam that she was fine and Haleigh was just trying to play her game this way with being around them the whole time.

4:40 PM BBT – JC poses the question for what they'd do if Big Brother offered the game to go on another three months. Angela and Tyler both agree they'd keep going.

5:05 PM BBT – Brett discussing if Rachel was trying to pursue him for a showmance. He thinks he could have had one with her but was never really available for the opportunity.

6:20 PM BBT – Sam is talking to herself about being worried about what will happen when the season is over and she has to deal with reactions outside the house.

7:52 PM BBT – Angela tells Kaycee that she has a weird feeling about JC and Brett. Angela says she's just worried and has this weird feeling that JC is up to something.

8:22 PM BBT – Angela mentions to Kaycee that JC is trying to make everyone fat. She asks what is up with that.

8:35 PM BBT – Brett and Tyler are talking about what to do if this week is a double eviction. Brett says the girls have been good to them and very loyal. He says if they turn on them it could increase their odds of getting to the end but they're also guaranteed to get to final four with them if they stick with them. Brett says they can beat Sam and JC easier in competitions at the end, but then they risk making Angela and Kaycee really bitter jurors.

8:40 PM  BBT – Brett says he doesn't want to turn on the girls on a personal level but brings up Kaycee finishing this past veto in 2 minutes. He says she destroyed them. Tyler says he thought he was fast but didn't even come close to Kaycee. Brett says that's something they have to think about.

8:41 PM BBT – Brett then says if they just stick to the plan then Kaycee/Angela and Sam/JC take shots at each other and not the two of them. Brett says then they can win when they have to. Tyler says that's what he's thinking. Brett thinks JC and Sam won't be bitter for them cutting them but Angela and Kaycee would.

8:45 PM BBT – Brett asks Tyler if they take Angela and Kaycee to final four and then risk the two guys getting third and fourth. Tyler says he doesn't want to get third and fourth. Brett says he doesn't either. Brett asks Tyler if it's a double who goes. Tyler says I think we already know who goes. Brett asks if he means Angela. Tyler says yes. Brett says if they evict Angela they have Sam. Bret and Tyler agree that whoever sends Angela out is going to make the jury very happy.

8:50 PM BBT – Tyler and Brett decide not to speak a word further of this and then see who wins Thursday and then they talk.

9:10 PM BBT – Angela and Kaycee discussing Brett and JC again. Angela is still sketched out by JC. They decide they need to talk to Brett and just make sure he's OK. Kaycee said she felt good with Brett when they spoke recently.

9:15 PM BBT – Angela tells Kaycee they need to come up with some seeds to plant to make the others think they're going to turn on each other.

10:30 PM BBT – Tyler warns Angela that Haleigh knows about their showmance. He overheard Haleigh telling Brett about their noises sounding like the noises Bayleigh and Swaggy were making.

10:45 PM BBT – L6 meets in HOH room and agrees again that Sam needs to be the one to go next.

10:57 PM BBT – L6 agrees to not take any sort of temptation if it appears.

11:05 PM BBT – L6 jokes about Angela letting Haleigh wear one of her dresses for Thursday night so he's comfortable but then they're going to evict her.

11:20 PM BBT – JC and Haleigh wonder why the other HGs (minus Sam) are up in the HOH room together. Haleigh thinks they could be conspiring but JC dismisses this possibility.

11:40 PM BBT – Kaycee tells Haleigh if there is a tie vote then she'll keep her.

11:55 PM BBT – JC and Brett discuss going after Angela first if they get through the expected DE. JC thinks he can talk Tyler into that.

12:00 AM BBT – JC working on Brett to nominate Kaycee and Angela together if he gets HOH.

12:05 AM BBT – Angela tells Tyler she's worried Brett might try something. She doesn't trust JC and wonders if Brett will join him.

12:10 AM BBT – Kaycee lets Brett know she lied to Haleigh about keeping her in the chance of a tie. She doesn't want that to spread and L6 to think she's flipped.

12:12 AM BBT – JC reassures Sam that they've got her back this week and she's fine. He encourages her to keep her head down and let the other side take each other out.

12:30 AM BBT – Brett is wearing Angela's hair extensions and walking around as "River Dan" looking for someone to go to the Kid Rock concert and share some beers with him.

12:37 AM BBT – Tyler warns Kaycee that Brett might really be up to something. He tells her how Brett asked about who would be easier to beat in the F4 and if they should be considering going after Kaycee and Angela. Kaycee is shocked but says she won't react to it.

12:40 AM BBT – Tyler explains how Sam and JC want Angela out so Brett thinks it'd be better to do that too. Kaycee is upset. Tyler says they've got to make sure Angela wins HOH to keep her safe. He warns JC is making Brett see Angela and Kaycee as a duo.

12:42 AM BBT – Kaycee and Tyler contemplate if they should take a shot at Brett before he could get them. Tyler notes it would be easier to play in F4 against Sam or JC. Kaycee is annoyed that Brett would go against the alliance.

12:45 AM BBT – Kaycee asks if they should try to take the shot at Brett during the DE. Tyler agrees that'd work. He says if Brett isn't HOH and there's a renom then he goes up and out. As a backup, if Brett wins HOH and puts up Kaycee and Angela then he'll gun for Veto, save one, and they'll vote out who Brett renoms.

1:00 AM BBT – Tyler and Kaycee continue to debate the option to go after Brett. They agree it could be done with a renom and blindside him after saving JC with the Veto. Tyler thinks the Jury would love them for it.

1:05 AM BBT – Tyler says if things go wrong then Angela is the one to go. They both agree to keep this info about Brett quiet from Angela until the last minute.

1:10 AM BBT – Kaycee expects Tyler would be safe if he goes up because he'd have Kaycee and JC's vote.

1:15 AM BBT – Tyler and Kaycee reaffirm that they're getting Brett out sooner than later now.

2:35 AM BBT – Brett whispers to himself that he needs to avoid winning this next HOH.
Brett is in danger here. He's primed for targeting on Thursday and if he isn't planning on winning that HOH then it could be an easy shot to take him out and keep the likes of JC and Sam. Will L6 pull themselves back together or is the party over?
You can watch all of these Big Brother events using the archives Flashback, the DVR-like feature of this year's Live Feeds which means it's always live, even when you missed it! Sign-up now to get the free trial to watch it all live & uncensored.


Gallery: Live Feeds Highlights
click images to see full-size