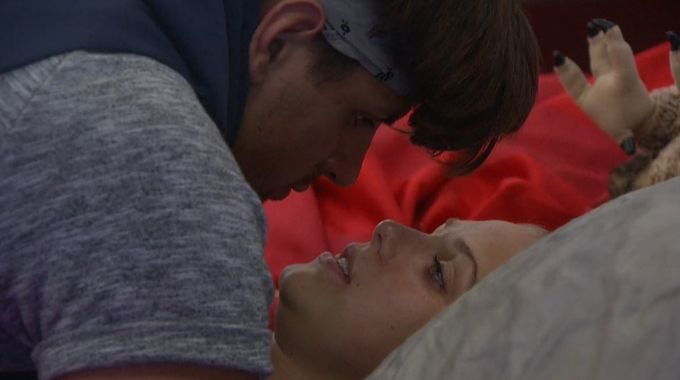 Hive is struggling yet again this week on Big Brother 20 as they held the HOH but lost the Hacker before heading into the Veto competition that would decide if Haleigh would lose one of her own allies or not. By the end of the night tipsy Haleigh had a plan, not a very good one, and Faysal finally seems to have gotten what he came for, Haleigh's final rose.
If you've got the Live Feeds (Free Trial) then you can watch all of these moments with the Flashback feature to go back and watch those important conversations or funny scenes you may have missed.
Big Brother 20 Live Feed Highlights – Saturday, August 11, 2018:
7:15 AM BBT – HGs got their wake up call but are slow to stir.

8:00 AM BBT – Sam has been up but most of the HGs are still in bed.

8:40 AM BBT – Feeds go down for players pick.

9:48 AM BBT – Feeds return. Tyler, Brett, & Faysal added to the PoV comp. RS is complaining to Haleigh that when she (H) was in the DR Kaycee cussed her out after she (RS) accused her of involvement with the renom.

9:50 AM BBT – Sam notes all the most physically competitive players were picked to play. Scottie overhears and jokingly thanks her.

9:55 AM BBT – Haleigh tells RS she thinks Kaycee was the Hacker since Tyler was picked to play. Haleigh notes Kaycee would have the votes with her allies if Tyler wins and saves Angela and Kaycee goes back up.

10:00 AM BBT – Haleigh says RS has to stop hanging out with her so much since HGs are seeing them as a pair. RS asks who she's supposed to hang out with then. Haleigh says she just doesn't want the two of them to get put up together when the other side gets power.

10:05 AM BBT – Haleigh and RS wonder if Kaycee is telling the truth about not being the Hacker and it's actually Scottie. Haleigh says all the cameras were on Kaycee though just like last week when she (H) won.

10:15 AM BBT – Angela reveals to Kaycee that she was trying out to be an Olympian and quit college to pursue being a professional pole vaulter.

11:25 AM BBT – Haleigh is frustrated with the Veto draw. She wonders what were the odds of Tyler, Angela, and Kaycee all getting to play together after all. Haleigh tells Brett that Tyler promised to work with her on what to do if he won the Veto. Haleigh wonders if Tyler is tight with those girls and even questions Brett on if he is with them because of how he reacted when she came in to visit last night. Brett passes it off as a reaction to Sam's strange behavior.

11:30 AM BBT – Brett and Haleigh discuss Sam's erratic behavior and how she thinks everyone is talking about her.

11:45 AM BBT – Brett tells Haleigh he's not that close to Tyler. Haleigh doesn't think anyone is. She suspects Tyler doesn't have anyone and is just working with Angela and Kaycee out of necessity at the moment since he's otherwise alone. Brett suggests Scottie is close to Tyler. He advised RS to pick Scottie but she went with Faysal.

12:05 PM BBT – Haleigh is trying to figure out what The Cloud power might be (they saw it on the screen thanks to production's screw up). She figures it's something about a backup or protection.

12:40 PM BBT – RS complains to Sam that everyone is a mean bitch to her in the game. Sam is surprised. RS goes down the list.

3:25 PM BBT – Faysal says he likes their odds with their three against the other side's three players. Scottie says they should try to fluster Tyler before the comp by talking smack.

3:35 PM BBT – Haleigh says she trusts Brett, Faysal trusts JC, and Scottie says he trusts Brett. She thinks Brett might feel like he's in with them now.

3:37 PM BBT – RS advises Haleigh to not try and BD Tyler. Haleigh says she doesn't think she will try anymore anyway because she's already upset two HGs (Angela and Kaycee) so she doesn't want to upset a third.

3:42 PM BBT – Brett reports back to Angela and Kaycee that Haleigh is thinking of renom'ing Kaycee instead of trying to BD Tyler.

4:15 PM BBT – Angela and Kaycee discuss BD'ing Scottie next week.

4:25 PM BBT – Veto comp time!

6:37 PM BBT – Feeds are back. RS is angry. Tyler looks happy.

6:50 PM BBT – RS is angry at herself as she admits she accidentally helped Tyler in an early round by correcting the wrong name he brought back. She hopes he won't screw her over since she inadvertently helped him win.

7:10 PM BBT – Tyler and RS talk. She promises him he wasn't going to go up. Tyler reminds her what Haleigh did to him last week. She promises Tyler she wouldn't nominate him or BD him.

7:15 PM BBT – RS pleads with Tyler to not make her stay on the Block for Thursday and have to give another speech.

7:20 PM BBT – Brett tells Angela and Kaycee it was a struggle to not cheer for them. He says the other side thinks he's with them so he had to contain himself. They discuss if they should try to get someone else on the Block to target instead of RS, but they decide it's too risky and should just evict RS.

7:25 PM BBT – Haleigh and Faysal discuss renom options. Haleigh says Brett has been hanging out with them a lot so she thinks they'll have his vote and shouldn't renom him. She worries Kaycee might have that extra power which could be an issue if she renoms her. Faysal points out Haleigh already nom'd her once so just do it again.

7:30 PM BBT – Haleigh is frustrated that RS helped Tyler to stay in the comp when they could have BD'd him.

7:35 PM BBT – Faysal notes how it was Tyler vs Faysal, Haleigh, and RS when Angela and Kaycee were the first two out. He thought they'd be able to beat Tyler 3 vs 1.

7:40 PM BBT – Haleigh tells Faysal she believes she has Brett and he's in need of a group since he doesn't have one.

7:45 PM BBT – Haleigh says she doesn't trust anyone in the house, not even Faysal all the time. He gets angry and storms out.

7:55 PM BBT – Haleigh tells Scottie she's going to renom Kaycee if Tyler takes down Angela. She relays that Tyler said Scottie was his #1. Scottie isn't surprised.

8:05 PM BBT – Haleigh is sure JC would vote to keep RS so he doesn't become the new pawn of the house. Scottie agrees. She admits to being a little tipsy after her win when she told Faysal she doesn't trust him.

8:25 PM BBT – Tyler tells Kaycee and Angela that Haleigh actually thinks he'll do what she wants after she tried to get him evicted last week.

8:40 PM BBT – Haleigh talks with RS and believes they'll have Brett, JC, Faysal, and Scottie all going to Tyler trying to convince him to not save Angela.

9:15 PM BBT – Haleigh continues with RS. She thinks Tyler will struggle to get her out just like she fought to get him. Haleigh says she has HGs who back her up, but he doesn't.

9:25 PM BBT – Haleigh thinks she can flirt her way to controlling Tyler.

9:50 PM BBT – Brett and Tyler discuss that Kaycee will probably be the renom. Tyler says he'll make sure she's okay with that first.

10:00 PM BBT – Haleigh and RS are pitching to Tyler that they'll keep him safe. Tyler asks Haleigh if she nom'd him last week as the Hacker. She tries to skirt the discussion and says this week is what's important. Tyler presses. She admits to it being a possibility.

10:10 PM BBT – Haleigh promises Tyler if Kaycee has some power that keeps her from going up then she won't renom him either. Tyler reminds her he won the Veto so she can't renom him.

10:30 PM BBT – Haleigh tells Tyler if RS goes home on her HOH then she will self-evict.

10:50 PM BBT – RS leaves. Tyler presses again for confirmation on whether Haleigh was the Hacker last week. She admits she was. She promises Tyler she's not coming after him. She claims Angela is her target, not him.

10:55 PM BBT – Haleigh tells Tyler that while he may owe Angela for saving him last week she can actually offer him more people and better safety if he helps her instead of Angela.

11:05 PM BBT – Haleigh lets Tyler know she thinks Brett is getting close with her and Scottie and could be a free agent to pick up for them.

11:15 PM BBT – Haleigh repeatedly promises Tyler she was the Hacker last week.

11:20 PM BBT – Haleigh says if RS goes this week then she won't speak to anyone for the rest of the season and will request to be nominated. Tyler tells her to sober up. Haleigh says she's not drunk then admits to being tipsy.

11:30 PM BBT – Faysal is back in the HOH room and upset that after 53 days Haleigh doesn't trust him. He threatens to call a House Meeting and tell everyone that he likes Haleigh.

11:35 PM BBT – RS comes upstairs and reports that she saw Tyler and Angela together giggling.

11:50 PM BBT – Faysal carries Tipsy Haleigh to the bed and lays on top of her to continue his speech about how much she should trust him.

12:10 AM BBT – Faysal says Tyler would be dumb to use the Veto and he'll be a BD target next week.

12:20 AM BBT – Brett thinks Sam will come back to them now that they've got the power again. He thinks this is all an act and she's just playing the game.

12:40 AM BBT – Kaycee knows Faysal was telling JC they need to keep RS over Kaycee if she goes back up.

12:55 AM BBT – Tyler says the decision is easy. Last week Haleigh put him up and Angela saved him so why would he help Haleigh instead of Angela?

1:20 AM BBT – HGs got the backyard again and are excited for it.

1:55 AM BBT – RS talks to Sam about being nervous for Kaycee to go back up and then use a power that could get someone else in that spot who could stay over RS.

2:05 AM BBT – Faysal and Haleigh seem to be kissing. Feeds eventually cut away.

3:30 AM BBT – Sam is still up and wandering the house.

4:15 AM BBT – HGs are all in bed for the night.
Haleigh has a terrible grasp on the dynamics of the house. She thinks she's got Brett and Tyler is alone in the game. Maybe next time she shouldn't get drunk then have a game talk with Tyler, but that worked out in Faysal's favor as it looks like he finally got what he wanted. There could be plenty of disappointment around Hive over the next few days at this rate.
You can watch all of these Big Brother events using the archives Flashback, the DVR-like feature of this year's Live Feeds which means it's always live, even when you missed it! Sign-up now to get the free trial to watch it all live & uncensored.


Gallery: Live Feeds Highlights
click images to see full-size