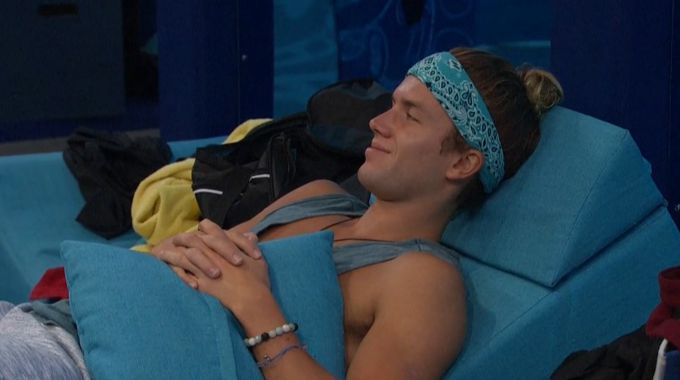 Veto Day for the Big Brother HGs did not disappoint even with nearly six hours of downtime to complete the challenge. We had plenty of drama thanks to Rachel before the comp and even more after the results were revealed. She's not having this situation, that she helped make, and now L6 is trying to figure out how to keep it altogether.
If you've got the Live Feeds (Free Trial) then you can watch all of these moments with the Flashback feature to go back and watch those important conversations or funny scenes you may have missed.
Big Brother 20 Live Feed Highlights – Saturday, July 28, 2018:
8:30 AM BBT – HGs are starting to get up for the day.

8:40 AM BBT – Rachel wastes no time going straight to Bayleigh's room to discuss the noms situation. Rachel feels like she agreed to Brett's eviction when she okay'd going up as a pawn against him. Bayleigh tries to calm her by saying she was never a target.

8:45 AM BBT – Rachel thinks JC has a power because he told her he did, but Bayleigh says he told her that he doesn't have a power. Bayleigh promises Rachel she's going to renom Scottie if Brett comes down, but Rachel is freaking out that maybe Scottie has the power.

9:05 AM BBT – Rachel is still in panic mode and Bayleigh is not happy with her. She's trying to calm Rachel and Rachel is apologizing for her frantic reactions.

9:50 AM BBT – Feeds are back from players pick. JC, Tyler, and Sam will be participating in the Veto comp.

10:35 AM BBT – Tyler checks in with Kaycee. He suggests Angela or Sam would go up if the Veto is used (not according to Bayleigh). Tyler says if the noms stay the same he wants to keep Brett. Kaycee wants to keep Rachel. Tyler says they'll figure it out later.

10:50 AM BBT – Sam and Bayleigh talk upstairs. Bayleigh is really annoyed with Rachel. She says she won't throw this comp because she doesn't want to have to name a renom. Sam says she's playing to win too.

11:00 AM BBT – Rachel tells Angela that Bayleigh has been sending mixed signals on whether or not she'd save Rachel with the Veto.

11:15 AM BBT – Angela is upstairs talking with Bayleigh. Bayleigh claims Rachel threw her (A) and Kaycee under the bus in their earlier talk.

11:25 AM BBT – Bayleigh tells Angela that Rachel tried to push Scottie as a revenge move for Scottie, but Bayleigh says she's playing for herself now and Swaggy is gone so that doesn't make sense for her.

11:35 AM BBT – Tyler advises Sam not to throw the Veto comp. Sam says she wouldn't throw it and is planning to play hard for it.

11:45 AM BBT – Sam tells Tyler she won't use the Veto if she wins it.

12:15 PM BBT – Kaycee and Angela discuss that Rachel needs to calm down because she's causing problems and digging a hole for herself.

12:40 PM BBT – Feeds cut for the Veto.

6:22 PM BBT – Feeds return. HGs gathered in the living room. Tyler is wearing the medallion.

6:25 PM BBT – Rachel and Angela agree that Bayleigh would probably put up another guy if Rachel comes down.

6:40 PM BBT – Brett and Rachel expect Tyler to probably save Brett with the Veto. Tyler joins the talk and says he's planning to use the Veto.

6:55 PM BBT – Tyler and Bayleigh are having their talk about his Veto win and what she wants to happen. Bayleigh is strongly opposed to the Veto being used. She's excited that he won and thinks they'll be great working together from here on. Tyler starts planting seeds that Scottie is his number one and how Scottie tells him everything.

7:20 PM BBT – Bayleigh and Tyler still talking. Bayleigh excitedly discussing how they can win back to back comps and cruise to the end together. Tyler continues to pepper in comments about Scottie per his plan to get Scottie renom'd.

7:30 PM BBT – Bayleigh says she doesn't care which nom goes. Tyler suggests maybe it was Rachel who did the flip vote.

7:35 PM BBT – Tyler leaves and Bayleigh celebrates alone for a moment in the HOH room.

7:50 PM BBT – Scottie and RS discuss Tyler's strength in the comps. They think it might require a BD to get him out.

8:35 PM BBT – Bayleigh talking with Scottie and agree it looks like they've made Jury barring any other twists.

8:55 PM BBT – Bayleigh talks with Angela, RS, and Haleigh. She tells them Tyler isn't going to use the Veto. Bayleigh explains she hasn't considered a renom.

9:00 PM BBT – Rachel goes upstairs and is crying to Bayleigh. She's stressed about being on the Block. Bayleigh comforts Rachel and says she doesn't think Tyler would use it on Brett, but if she sees them talking to be sure to get in on the conversation. Bayleigh mentions Tyler suggested Angela as a renom.

9:30 PM BBT – Rachel in panic mode again. She is believing Bayleigh that Tyler is suggesting something that would break up L6.

9:55 PM BBT – Tyler explains his plan to Angela and says he'll only use the Veto if he's completely sure that Scottie would be the renom.

10:05 PM BBT – Rachel talks with Angela. Rachel believes Bayleigh over Tyler about the renoms.

10:15 PM BBT – Angela talks with Kaycee. They agree that Bayleigh's story doesn't make any sense and they don't think Tyler would suddenly flip on them now. Kaycee strongly disbelieves it, but Angela is still a little unsure.

10:24 PM BBT – Tyler explains to Kaycee what he's trying to do by making Scottie a target for the renom, but he won't use it unless he's sure that has worked.

10:35 PM BBT – Kaycee updates Angela and Rachel about Tyler's plan. The ladies have calmed down and trust Tyler again. They don't think he's trying to break up their alliance after all.

11:15 PM BBT – Haleigh talks with Angela about renom options. They suspect Bayleigh would renom a guy if the Veto gets used.

11:25 PM BBT – Rachel, Angela, and Kaycee are still trying to figure out if Tyler is lying or on their side. Tyler arrives and explains Bayleigh suggested Angela would go up if the Veto is used. After Tyler leaves the ladies return to debating the situation. They agree it doesn't make sense with Bayleigh's version if she is also saying she doesn't want the Veto used.

11:40 PM BBT – Kaycee tells Tyler that Angela is worried because Bayleigh told her Tyler suggested Angela as a renom if he used the Veto. Tyler says that's not true at all. Tyler tells Kaycee he probably won't use the Veto.

11:55 PM BBT – Tyler gets to walk with Angela. He explains everything and she agrees that makes more sense than what Bayleigh was claiming. Angela says she's loyal to Tyler, not Rachel and wonders if they have the votes to get Rachel out.

12:05 AM BBT – Tyler and Kaycee recover the hidden beers and privately celebrate their F2 before announcing the drink arrival. HGs are excited to have alcohol.

12:10 AM BBT – Tyler and Angela discuss voting out Rachel this week instead of Brett.

1:05 AM BBT – HGs playing "never have I ever" in the backyard.

1:25 AM BBT – The game ends with Tyler asks if anyone has made out with a guy in the house. Bayleigh gets up and leaves to the squealing delight of the other HGs.

2:15 AM BBT – Bayleigh and RS discuss how the HG count shrunk so quickly and that it's hard now to target such a smaller core of people

3:00 AM BBT – HGs still hanging around the house. Sam and Faysal chatting outside. Rachel listening to music upstairs while Bayleigh and RS chat in the HOH room.

4:10 AM BBT – Brett and Faysal are still up and hanging out in the hot tub while the house sleeps.
Tyler's got some good moves he's working on with Bayleigh but he won't have much more time to put it together, especially if Rachel won't calm down and trust her ally for the past month. She runs the risk of talking her way out of this game if she doesn't pull it together soon.
You can watch all of these Big Brother events using the archives Flashback, the DVR-like feature of this year's Live Feeds which means it's always live, even when you missed it! Sign-up now to get the free trial to watch it all live & uncensored.


Gallery: Live Feeds Highlights