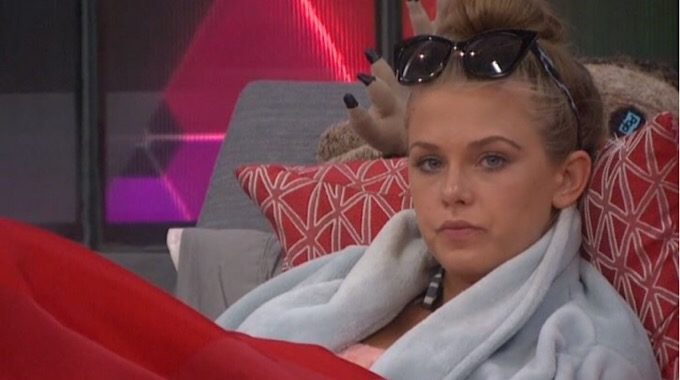 It's official, the Hive is completely delusional. Yesterday on the Big Brother 20 live feeds, the POV Ceremony happened and as we watched the POV Ceremony fallout, we listened to Haleigh's talks about votes and we were all left scratching our heads. She thinks that she has five votes to keep Rockstar this week. Faysal, Scottie, JC, Sam, and Brett. Let's break this down.
Faysal
Faysal is loyal to Haleigh and Haleigh is loyal to Rockstar, so he will most likely vote to keep Rockstar over Kaycee. However, this is probably the only solid vote they have to keep Rockstar and Kaycee is going to cancel it anyway, so it doesn't matter.
Scottie
Scottie still continues to play both sides of the house and it's still really hard to put my finger on which side he is actually loyal to. While he is sharing information with both sides, he is also keeping information from both sides at the same time. If I had to guess, Scottie will go where ever the numbers are and at this point, it looks like that will be with L6. 
JC
Faysal thinks that he has JC under control, but JC is not playing the game for anyone but himself. JC has been a wildcard this season, but he told Tyler that after the POV Meeting he was going to stop talking game with the other side of the house. He has done this and Rockstar has noticed that he is hanging out with Tyler and Angela more than he has with their side. Not to mention, he doesn't care for Rockstar much so my guess is that JC will vote to evict her this week. 
Sam
While I know we have had the Sam discussion time and time again, I really believed her when she told Tyler yesterday that her vote was for Kaycee to stay. While I know that she has had her mental stability in question as of late, she has always prided herself on an honest game and I don't think she would start lying now. In past weeks she told people that she wasn't sure what she was going to do with her vote when she was torn, but that wasn't the case yesterday. As much as she loves Rockstar, I think she will stick to her word here. 
Brett
This is probably the most laughable of the bunch. He has Haleigh convinced that he is loyal to her and that she can trust him. So much so that she has actually talked game with him and doesn't see him as a threat. Brett will most definitely vote with his real alliance this week, L6. 
If the votes go this way, this could be the first unanimous vote of the season. It will definitely make for good television and some great reactions from the Hive, or what's left of them. What do you think of Haleigh's vote count? Do you think she has any of these in the bag?