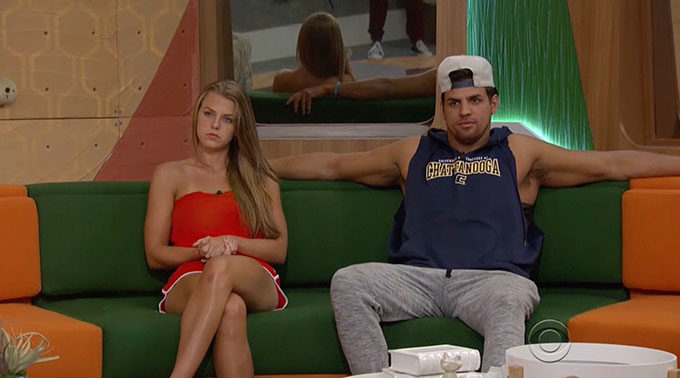 Even though there's a chance the person evicted from the Big Brother 20 house tonight might be coming right back in after the Battle Back, they've still got to be evicted first.
So who is is going to be, Faysal or Haleigh? When Angela nominated the two of them this week, she made it pretty clear to us (and even Haleigh) that Faysal is her target. And when Kaycee won the Power of Veto on Saturday, nothing changed. Faysal was still the target, as we saw on Wednesday night's episode.
The veto ceremony was on Monday so the houseguests have had a couple of days to sit on the idea of which of the two nominees should be evicted next. Haleigh has spent the week socializing with everyone while Faysal has been sleeping and trying to make Haleigh feel guilty for not spending their last days in the house together. And no one is campaigning. But none of that has changed anything as Faysal is still the one positioned to face the other three jurors in the Battle Back tonight.
Let's take a look at how the votes should fall tonight.
Votes to Evict Faysal: Tyler, Kaycee, Brett and JC. 
Votes to Evict Haleigh: Sam
It's looking like Sam will be the one vote to keep Faysal. She's never liked Haleigh and the house is onto Sam's only strategy and that's sucking up to HGs right before they're evicted, probably hoping for jury votes. There's a possibility that JC will also vote to keep Faysal, but that's very doubtful. At any rate, it only takes three votes to evict this week, and those votes are solid right now.
The only thing I see changing is if the HGs are tipped off that there's a Battle Back going down and they freak out and think Haleigh would be more likely to lose it than Faysal. But again, that's a stretch. I think we are certainly going to see Faysal facing off with Scottie, Rockstar and Bayleigh.
Who do you think will be evicted from the Big Brother house tonight?