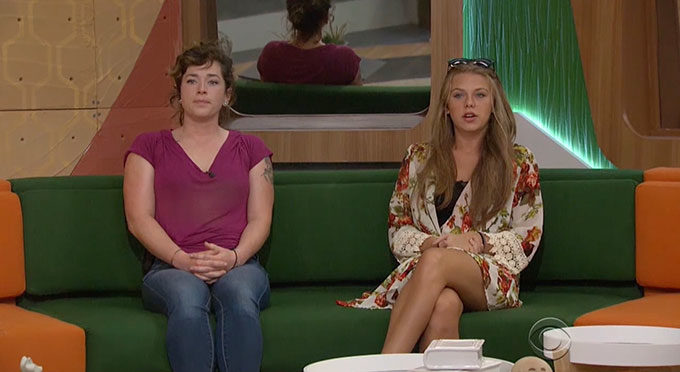 It's double eviction night on Big Brother 20, and while there will be two people sent out the door tonight, we can only really make our first prediction since we don't know who will win HOH or the power of veto.
As you know, Kaycee is the Head of Household this week and nominated Haleigh and Sam for eviction. Haleigh is finally the target after three weeks on the block. Sam was simply put there as a pawn. As we saw on Wednesday night's episode of Big Brother Kaycee won the Power of Veto, holding onto all the power this week. And she did not use the veto, leaving Haleigh up as the target and Sam as the backup.
Since Haleigh's numbers are all gone, the vote should be simple this time around. No one is going to vote to keep her, and no one wants to. But let's take a closer look at the votes anyway.
Votes to Evict Haleigh: Angela, Tyler, JC, Brett
Votes to Evict Sam: None.
That's 4-0. And Haleigh is off to jury.
As for the second eviction of the night, we broke down many scenarios already, but when that published, Brett was less of a target than he is now. In the past day, Tyler let Kaycee know that Brett has been talking about going after her and Angela, so now Level 6's sole plan at the double eviction is to take Brett out. So we could actually see Brett walking out behind Haleigh tonight. That will be pretty unexpected, considering Sam and JC were long thought to be the DE target.
We'll know soon enough who the final 5 will be. Who do you think will be the first evicted tonight? And Who will go in the Double Eviction at the end of the night?